Popcorn Maker Blue - 8 oz
Manufacturer: Royal Catering | item number: EX10010842 | Model: RCPR-1350
Perforated bottom for an easy sieving
Quick heating to 250 °C
Easy to use function switch
Relaxing lights for the popcorn chamber
Professional quality
Popcorn Maker Blue - 8 oz
The popcorn maker RCPR-1350 from Royal Catering allows you to prepare, maintain and serve popcorn in the most professional manner. The machine has been specially designed for commercial use and is perfect for cinemas, snack buffets, events, festivals, carnivals or other occasions that call for the popular snack.
Material, casing
Steel aluminium, galvanised steel
Colour, casing
Blue
Material, inside kettle
Teflon coated aluminium
Output per heating process
8 oz / 227 g
Max. capacity, kettle:
1,350 ml
Amount of oil
50 ml per serving
Amount of sugar
50 g per serving
Amount of corn
150 g per serving
Frying time per 150 g serving
110 s
Max. temperature, kettle:
250°C
Max. heating temperature, chamber
50°C
Dimensions, popcorn chamber (LxWxH)
33,7 x 47,6 x 51,7 cm
Length, power cable
1,6 m
Dimensions (LxWxH)
37 x 52,5 x 68 cm
Shipping dimensions (LxWxH)
60 x 47 x 74 cm
Download PDF
Popcorn maker RCPR-1350
Operating instructions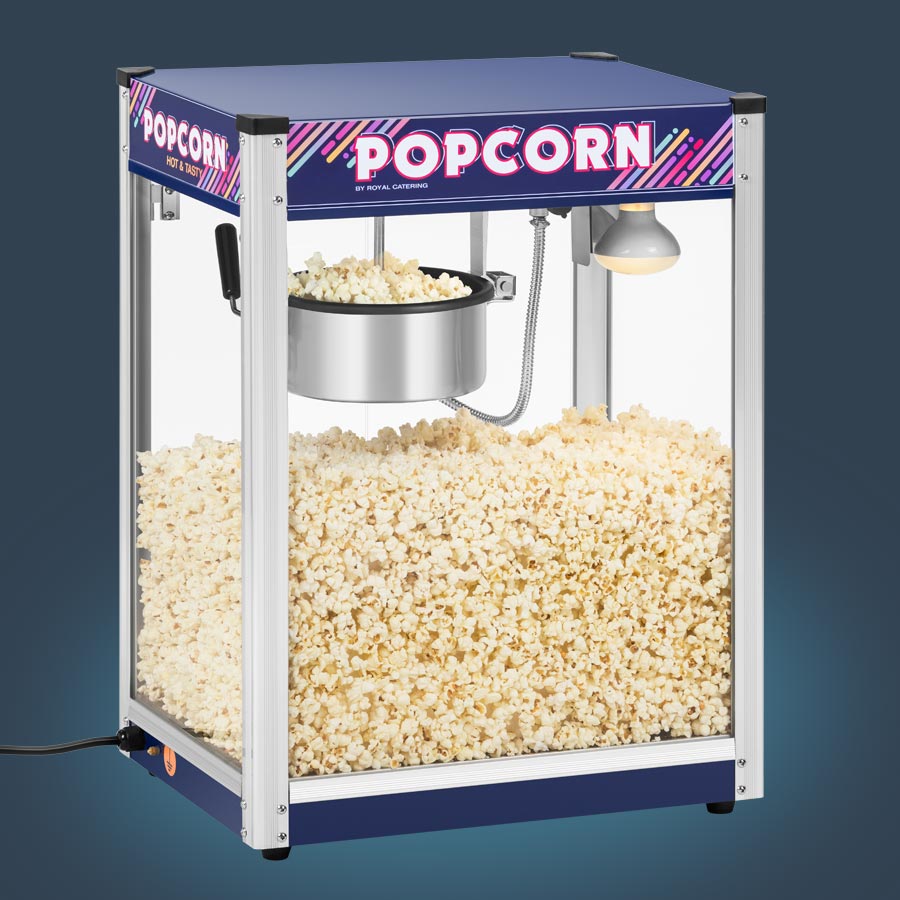 High output of 1,350 W ensures rapid preparation
Device produces up to 5 kg / hr
Ideal for cinemas, festivals and stands in tourist booths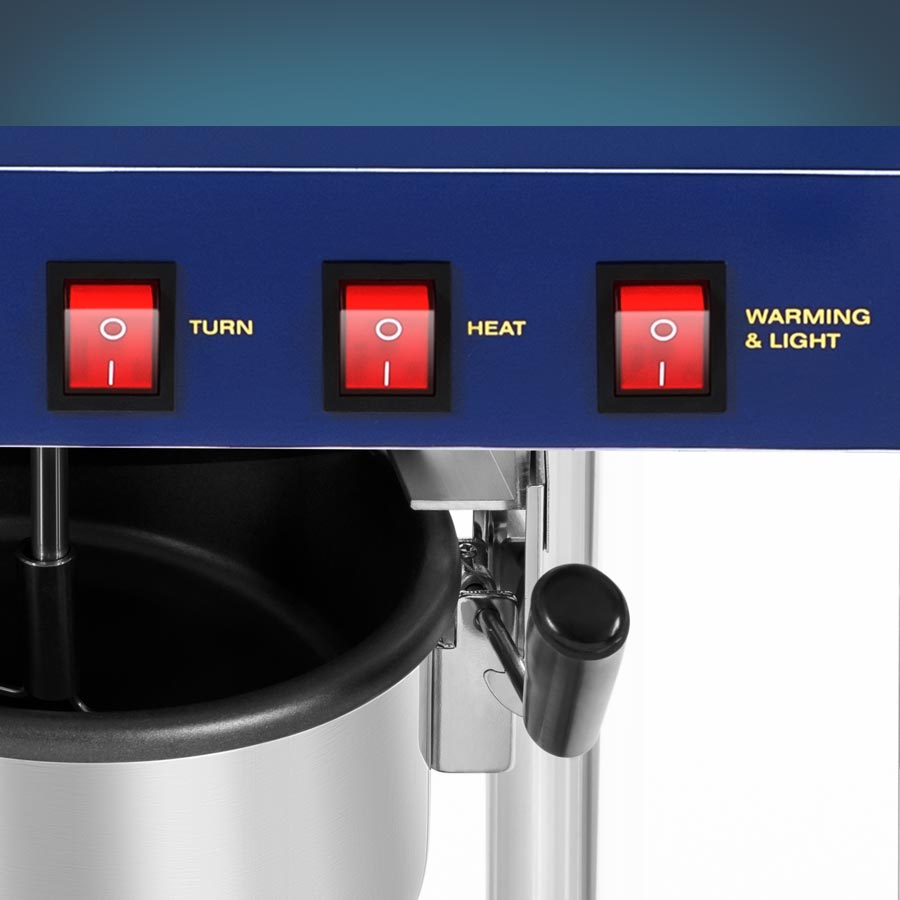 Intuitive 3-button operation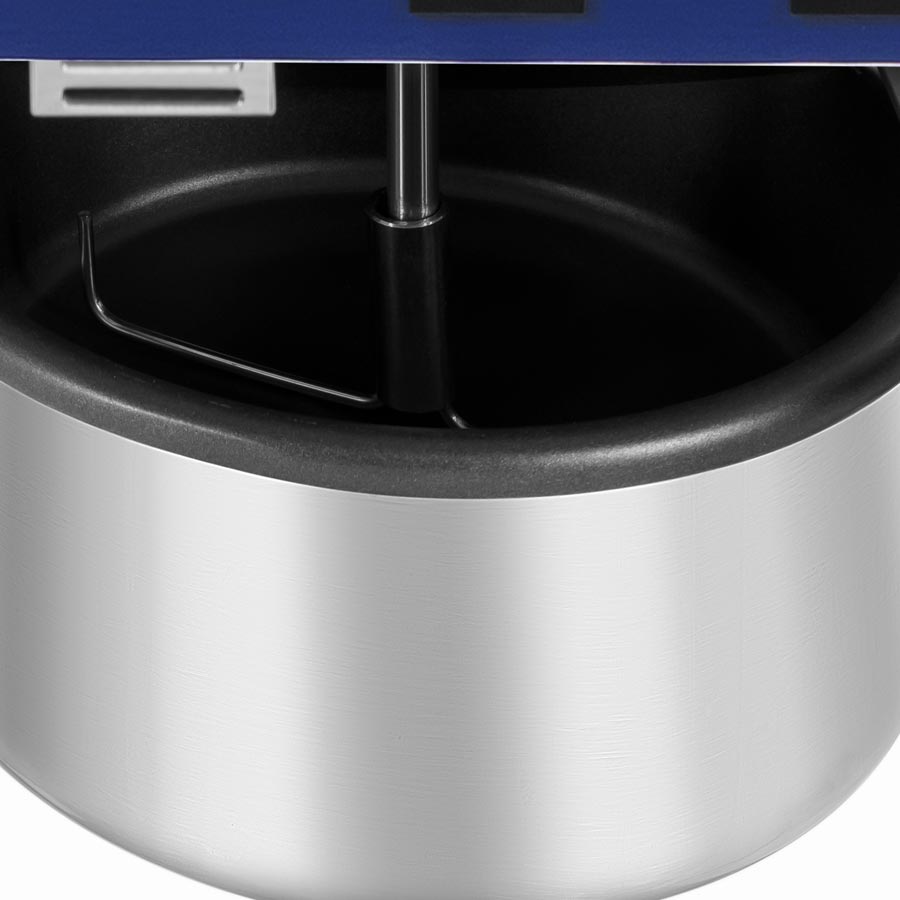 Kettle with anti-stick Teflon coating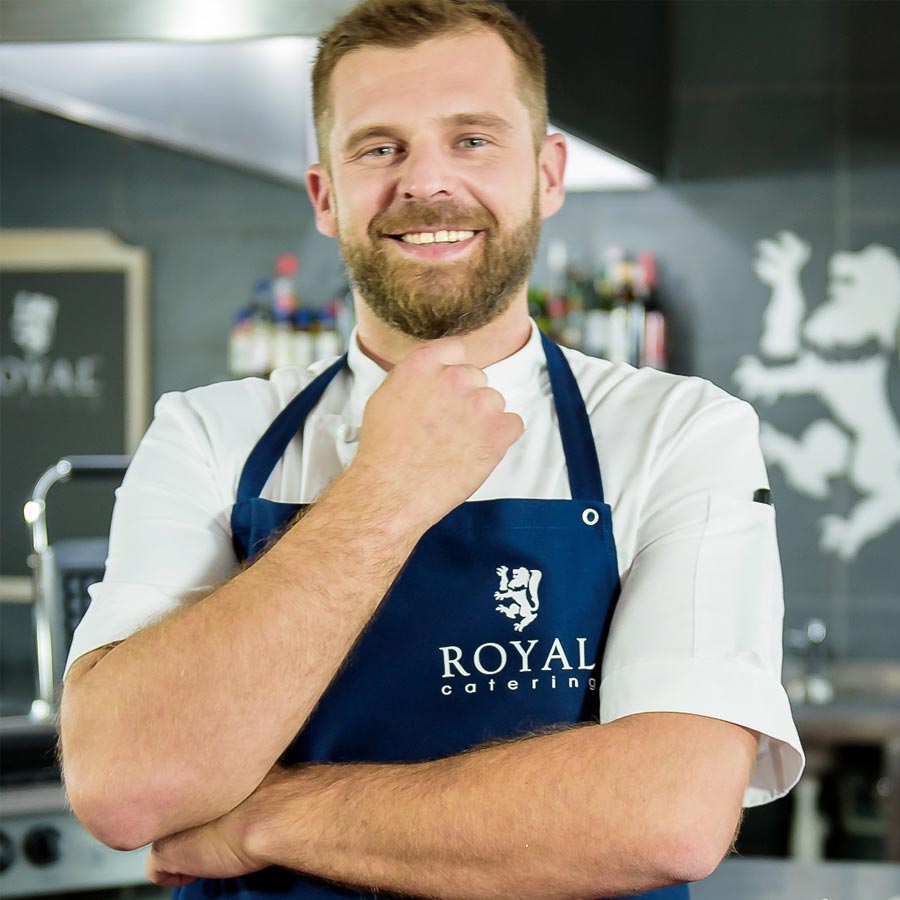 Tested by Michał Orłowski, head chef of prestigious restaurants in Sydney and Warsaw. An experienced and professional restaurateur, just like our customers.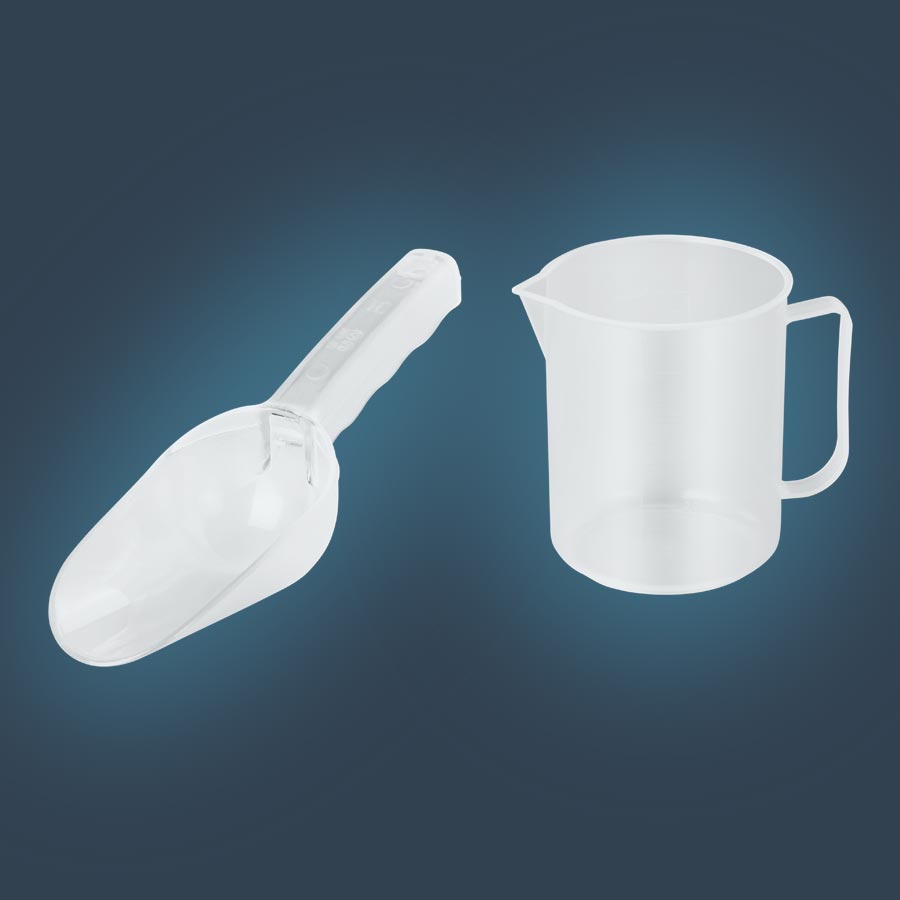 Incl. measuring cup and scoop for serving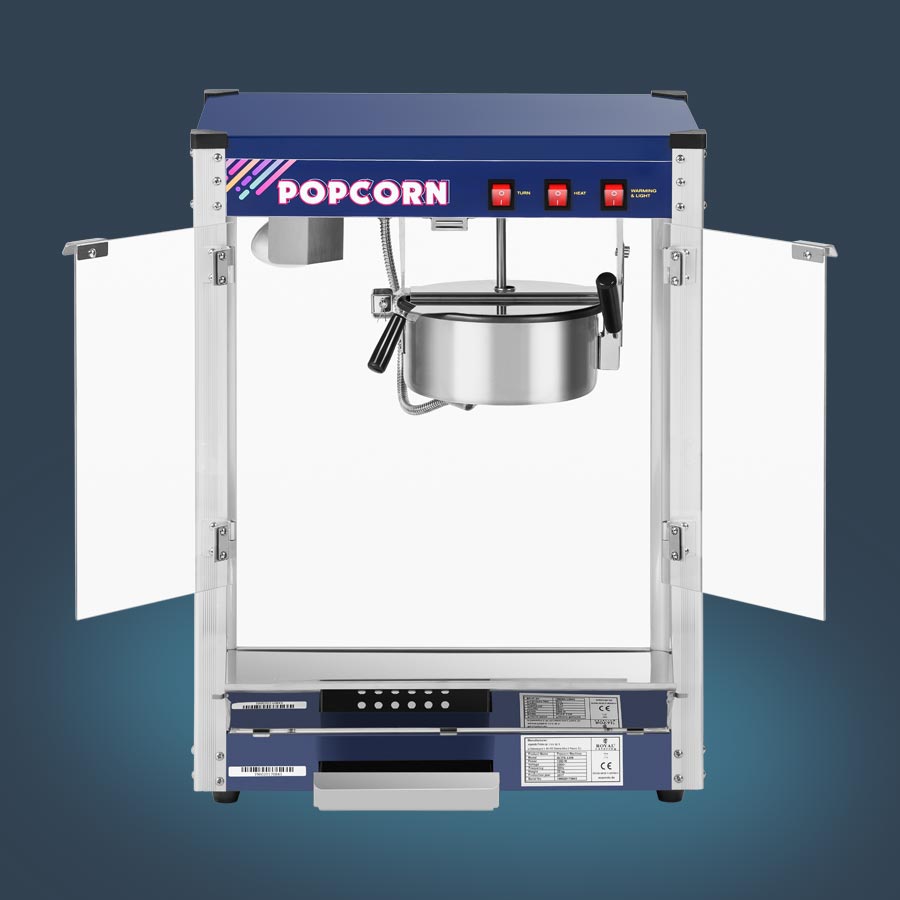 Easy access to interior via swinging door
Mixing system prevents the snack from burning
Robust tempered glass for safety in small spaces
PRO TIP
I recommend using coconut oil with one tablespoon of salt per 50 ml to make crispy, delicious popcorn.
To improve the flavour, I recommend experimenting with a few spice mixes of your own. This will make your popcorn taste amazing.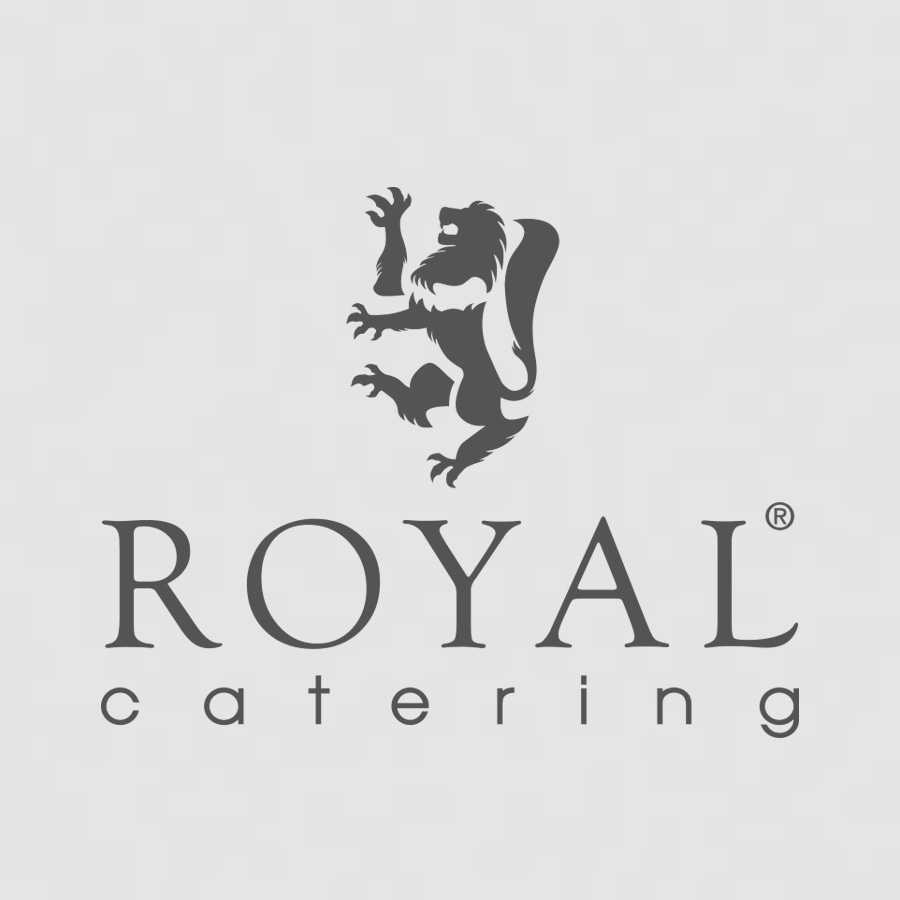 Attractive appearance thanks to glass walls
Keep-warm option prevents popcorn from cooling
Robust zinc-plated aluminium construction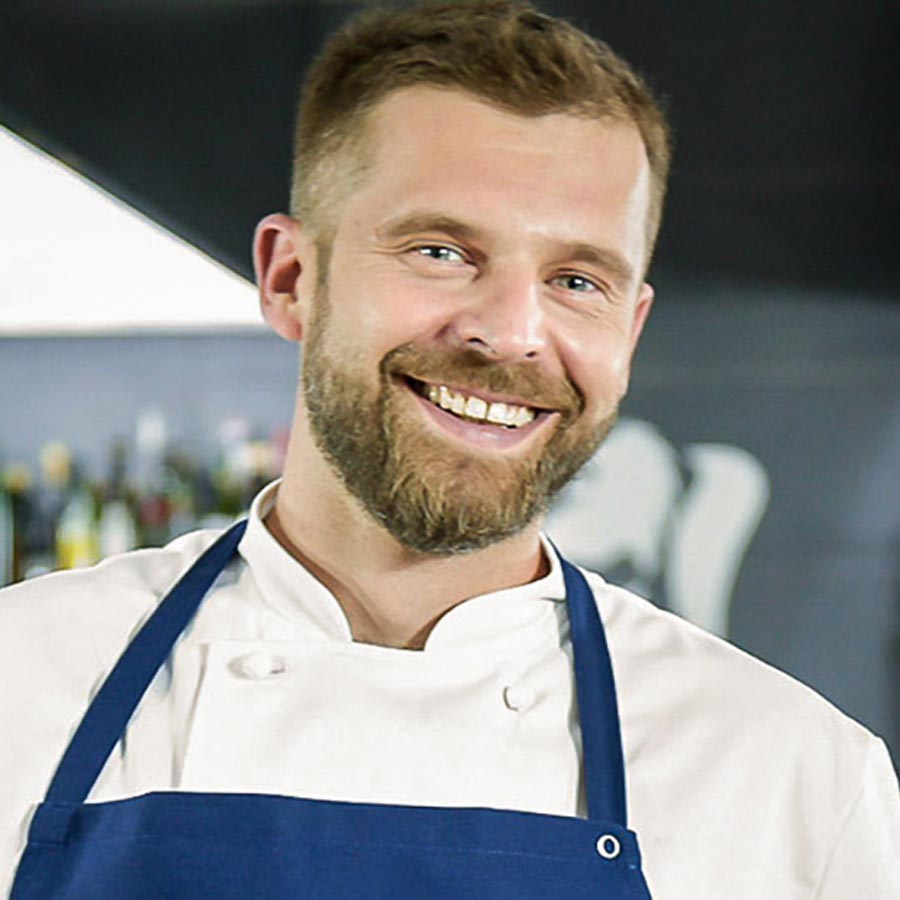 ---
Sort by...
---
Leave a review (5 stars is highest, 1 is lowest)
★
★
★
★
★
Click on the link sent to your e-mail address and confirm your opinion! It will be published after verification.
Reviews from Anonym (4 Dec 2021)
Reviews from Anonym (4 Dec 2021)
Tut, was sie soll
Spaß für Groß.und Klein
Reviews from Schöb (7 Nov 2021)
Reviews from Schöb (7 Nov 2021)
1000x besser als Mikrowellenpopcorn
Sehr fein, besser als im Kino, sicher auch besser für die Gesundheit als die Mikrowellenpopcorn. Reinigung klappt problemlos, die Pfanne muss auch nicht jedesmal weggenommen werden, es reicht zwischendurch. Der Geschmack nachher verbleibt zwar lange im Raum, darum in einem gut gelüfteten Zimmer aufzustellen empfohlen. Die Freude der Kinder überwiegt auf jeden Fall!!
Reviews from Herr Flügger (15 Mar 2021)
Reviews from Herr Flügger (15 Mar 2021)
Super zum verschenken & bestimmt auch gewerblich
Ich habe die Popcornmaschine meiner Freundin zum Geburtstag geschenkt und Sie war sehr begeistert. Die Maschine war für mich ein super Kompromiss, da sie nicht so groß war wie die anderen Maschinen, aber dennoch groß genug und vor allem Leistungsfähig. Die Maschine macht super Popcorn, sie ist sehr einfach zu bedienen und auch die Teile lassen sich sehr gut auseinander nehmen, sodass man sie relativ einfach reinigen kann. Das Design gefällt mir auch viel besser als ich gedacht habe, die Maschine ist optisch auch ein echter Hingucker. Ich kann Sie nur jedem Empfehlen der genug Platz hat und keine Plastikmaschine von Amazon kaufen möchte die viel weniger leistet und auch weniger wertig ist obwohl die nur 50 Euro günstiger sind. Ich bin froh die 50 Euro mehr in die Hand genommen zu haben, die Maschine ist einfach Top.
Still not sure?
Our experts are ready to help!
Mon - Fri 09:00am - 04:00pm