Electric Deep Fryer - 1 x 10 L - Timer - 230 V
item number: EX10011146 / Model: RCEF 10EB
Electric Deep Fryer - 1 x 10 L - Timer - 230 V
item number:

EX10011146

Model:

RCEF 10EB

In the product range since:

2018
Ready to ship today,
Delivery time appr. 4-6 workdays
Your benefits at a glance
Highlights
Large capacity of 10 litres for large quantities of food
Temperature range of 50 - 200 °C and a timer for up to 60 minutes - perfect for a variety of foods, for example fish and chips
Cold zone protects food against burning and retains the natural taste of the oil
Stainless steel – corrosion-resistant and low-maintenance
Automatic thermostat - easily select the right temperature
Basket, oil container and lid are dishwasher-safe
Electric Deep Fryer - 1 x 10 L – Timer - 230 V
You can use the electric fryer RCEF 10EB for preparing large quantities of chips, wings, or fish. With a total capacity of 10 litres and a power of 3,200 watts, this device will help you provide for your guests in restaurants, at official functions and conventions as well as for food trucks or open-air events with many hungry attendants.
Prepare even more chips in less time with the fryer from Royal Catering
The fryer has a 10-litre container, which can be filled with up to 5 litres of oil. This allows you to fry large quantities at one time. It is versatile for commercial use and ideal for preparing fish, vegetables, wings, chips and more. The integrated timer can be set up to 60 minutes, allowing you to focus on other tasks during the frying process.
Due to the high performance of the removable 3,200-watt heating element, the oil in the deep fryer quickly reaches the maximum temperature of 200° C. Once it reaches a temperature of about 180° C, you can prepare large quantities of chips in a short amount of time due to the size of the basket and the high power. The highly-sensitive, energy-saving thermostat keeps the heat of the oil basin at a constant temperature.
The frying basket of the electric fryer RCTF-10EB measures 22 x 20 x 10 cm and is equipped with heat-insulating handles. The lid (included in delivery) and the basket are also dishwasher-safe. The fine mesh basket can be hung on a bracket on the edge of the basin to allow the oil to drain. Food that falls out of the frying basket or sinks down through cooling accumulates in the cold zone at the bottom and does not burn, allowing the oil to retain its natural taste.
The electric fryer is made of stainless steel, which is excellent for preparing food due to its hygienic properties. The smooth surfaces are particularly easy to clean. The heating element is removable, so that all surfaces in the container can be easily reached for cleaning.
When the heating element is removed, a fuse automatically shuts off the device, protecting it from accidents. The deep fryer also has a thermal fuse, which protects against overheating. When you don't need the container or after cleaning, the fryer can be covered with the lid and protected from dust or other contaminants. The non-slip rubber feet ensure firm footing.
The control panel is very clearly designed and easy to operate. The on switch lights up as soon as you start the device. The temperature is adjusted with a seamless control dial. The light indicates when the appliance is heating up or when the required temperature is reached so you always know when the oil is hot enough for frying.
Voltage / Frequency
230 V / 50 Hz
Dimensions, basket
22 x 20 x 10 cm
Measurements, container
24 x 29,8 x 15 cm
Heating temperature
50 - 200 °C
Material, casing
Stainless steel
Material, handles
Plastic
Dimensions (LxWxH)
35 x 29 x 30 cm
Shipping dimensions (LxWxH)
50 x 36 x 35 cm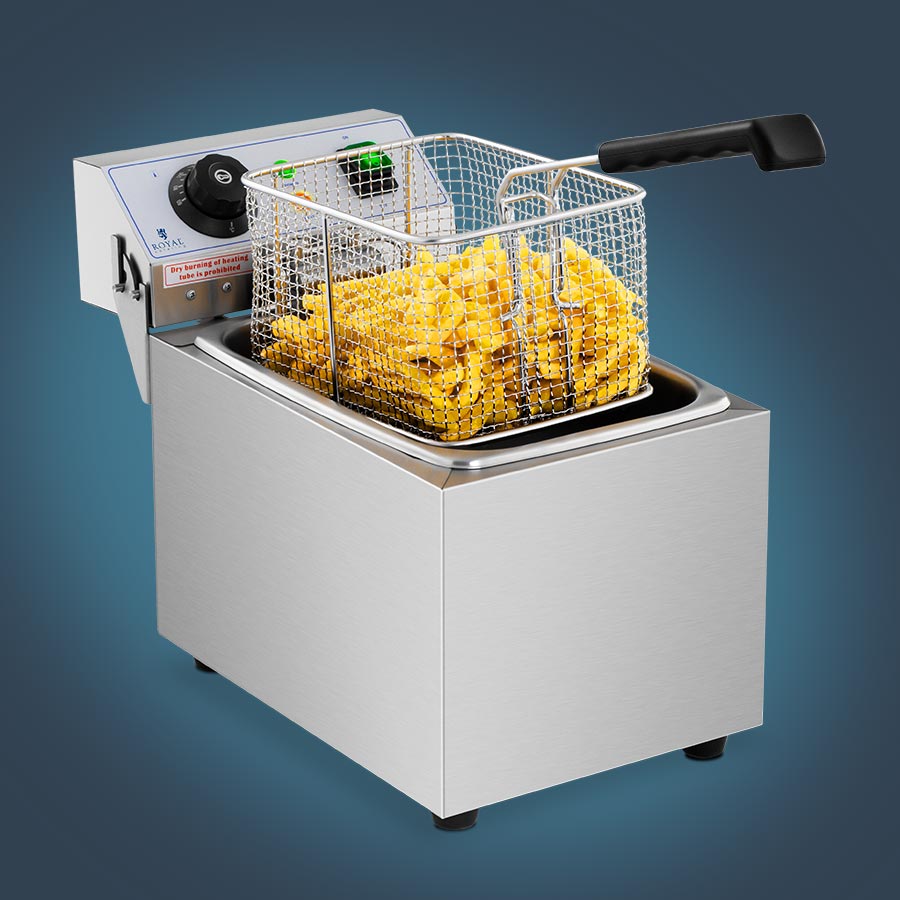 leistungsstarke 3.200 W für die schnelle Erwärmung des Öls
großes Fassungsvermögen von 10 l ideal für die Gastronomie
hervorragend geeignet für Fisch, Chips und Nuggets, etc.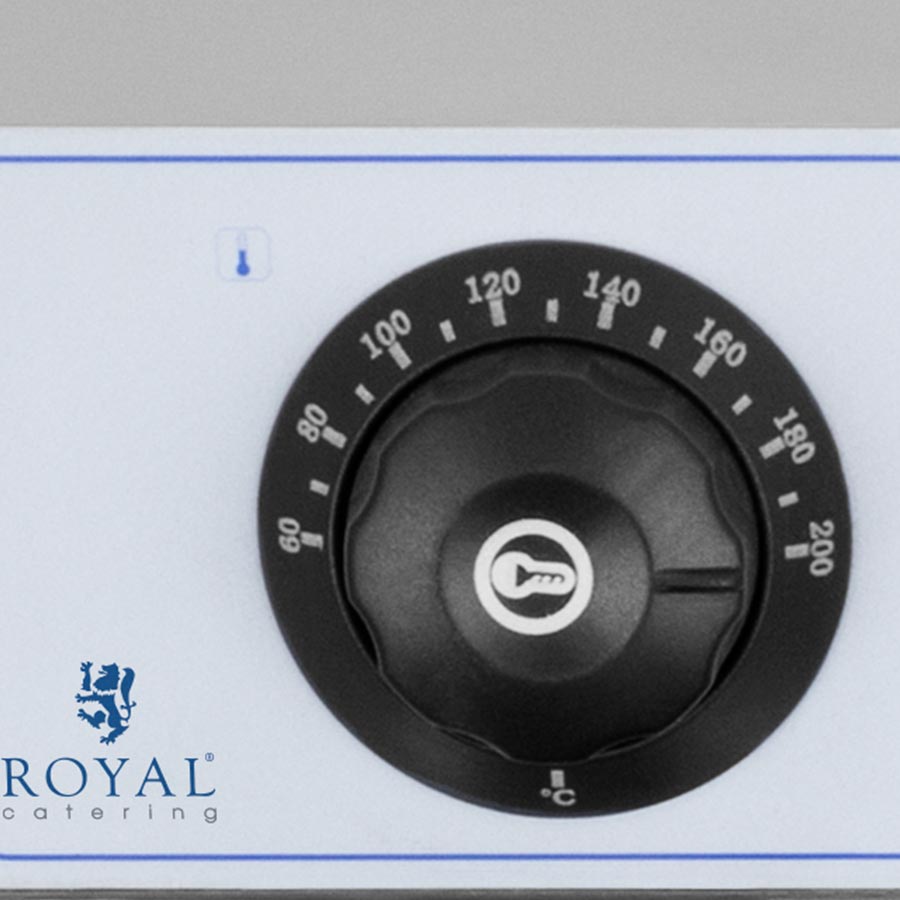 Thermostat hält die gewählte Temperatur bis zu 200 °C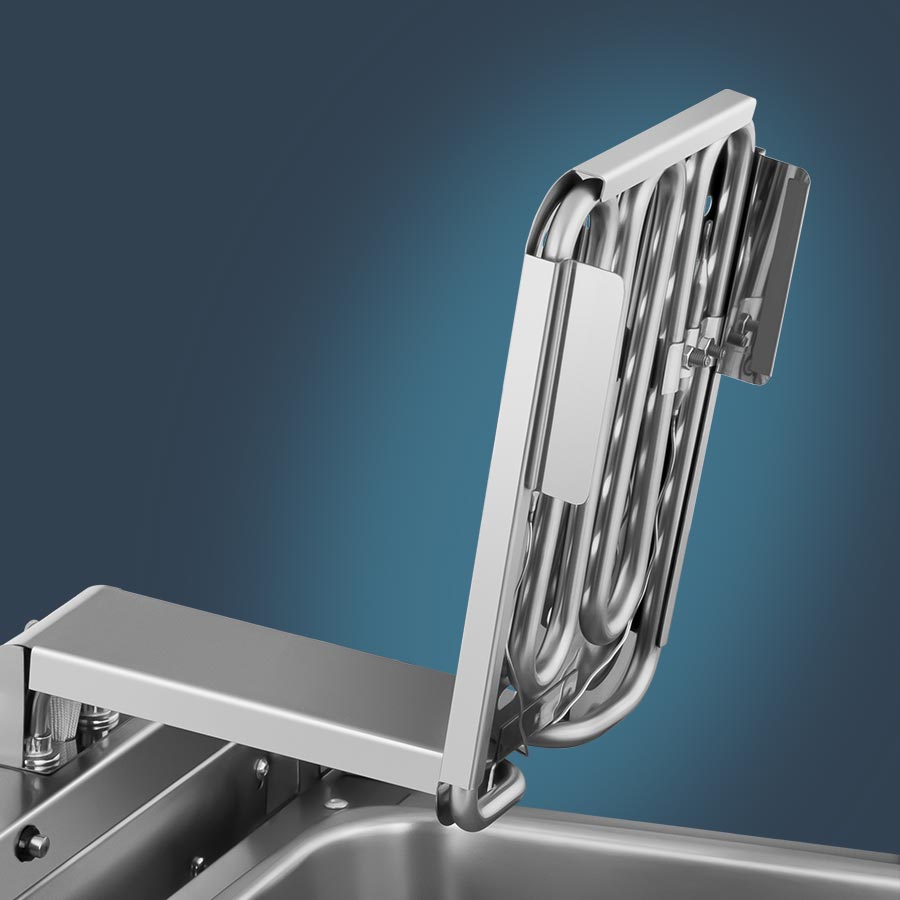 herausnehmbares Heizelement für einfachen Zugang zum Innenraum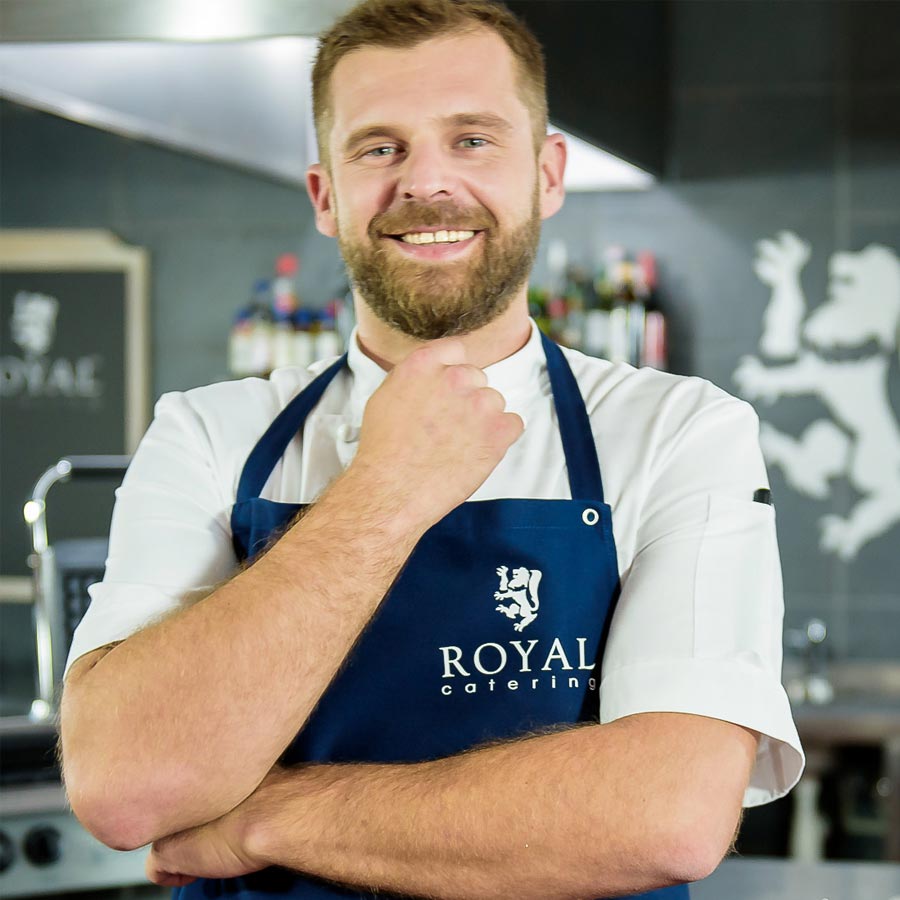 Getestet von Michał Orłowski, Chefkoch renommierter Restaurants in Sydney und Warschau. Ein professioneller und erfahrener Gastronom, genau wie unsere Kunden.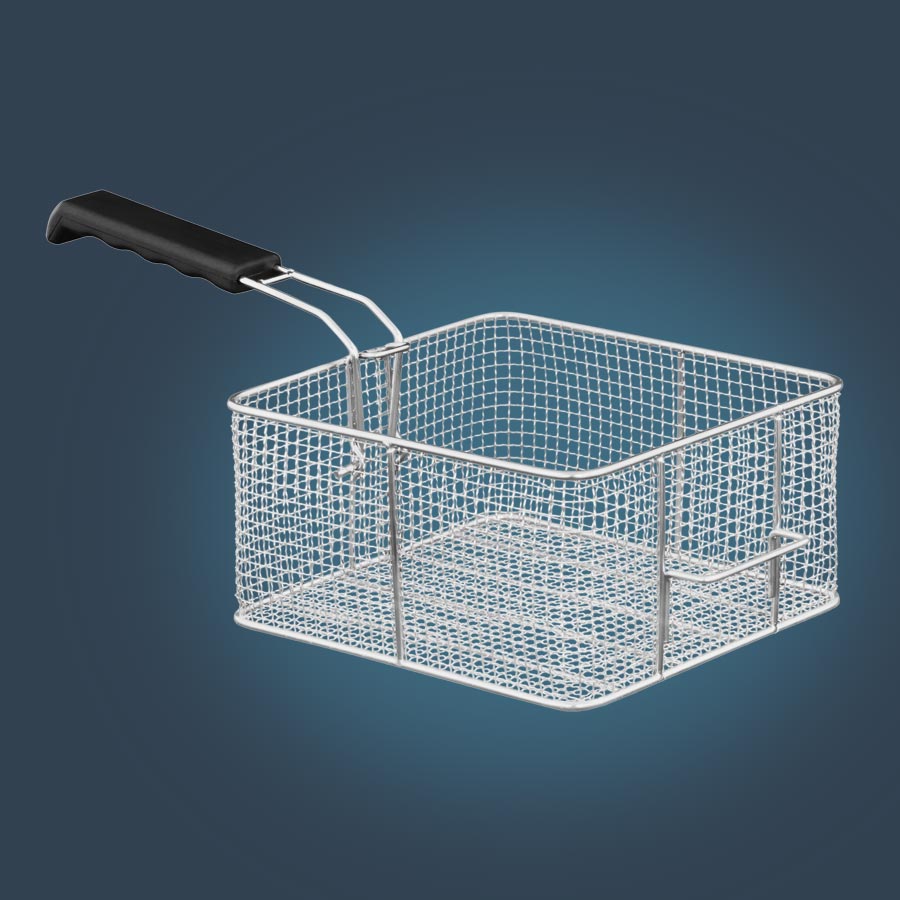 Korb mit hitzeresistenten Griff inklusive
Kaltzone verhindert das Verbrennen von Resten und erhöhen den Nutzen des Öls
Abdeckung schützt den Innenraum vor Verunreinigungen
rutschfeste Beine stabilisieren die Geräte
PRO TIP
Um die beste Wirkung zu erzielen, d.h. goldene und knusprige Pommes, sollten sie zweimal frittiert werden.
Eine gute Fritteuse garantiert gute Ergebnisse. Verwenden Sie kein gewöhnliches Öl, da es sehr schnell verbrennt und das Produkt beschädigt.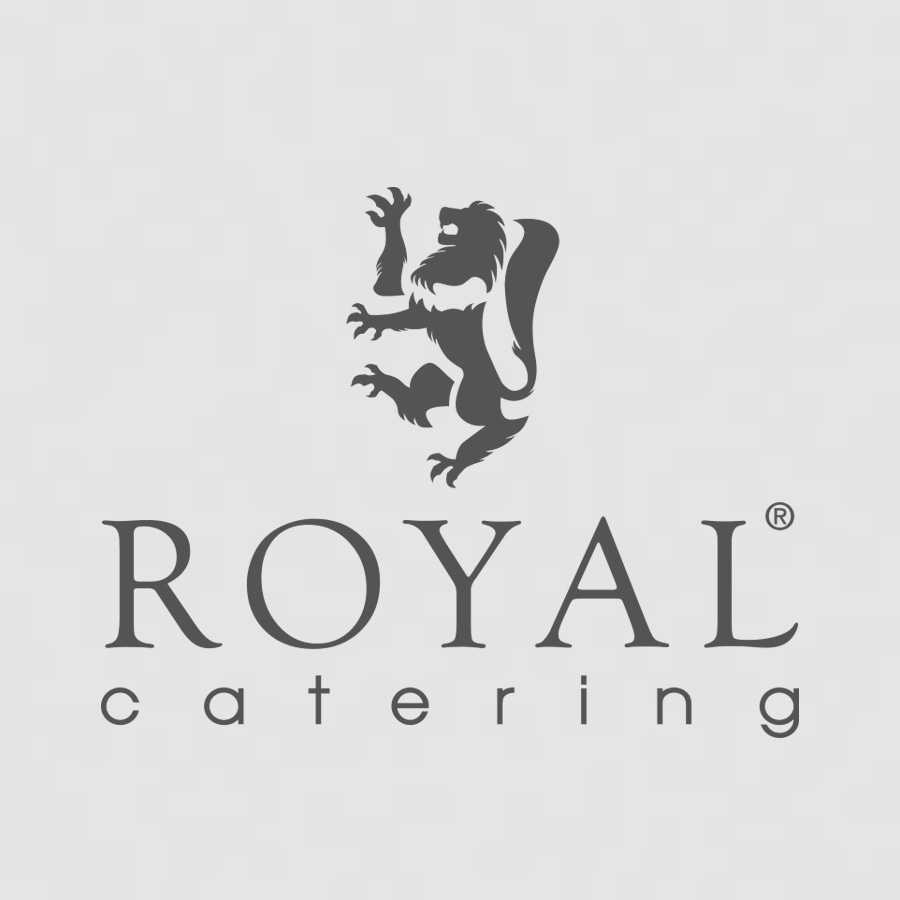 präzise Einstellung der Frittierzeit bis zu 60 min
hergestellt aus langlebigem, lebensmittelechtem Edelstahl
Thermosicherung schützt das Gerät vor Überhitzung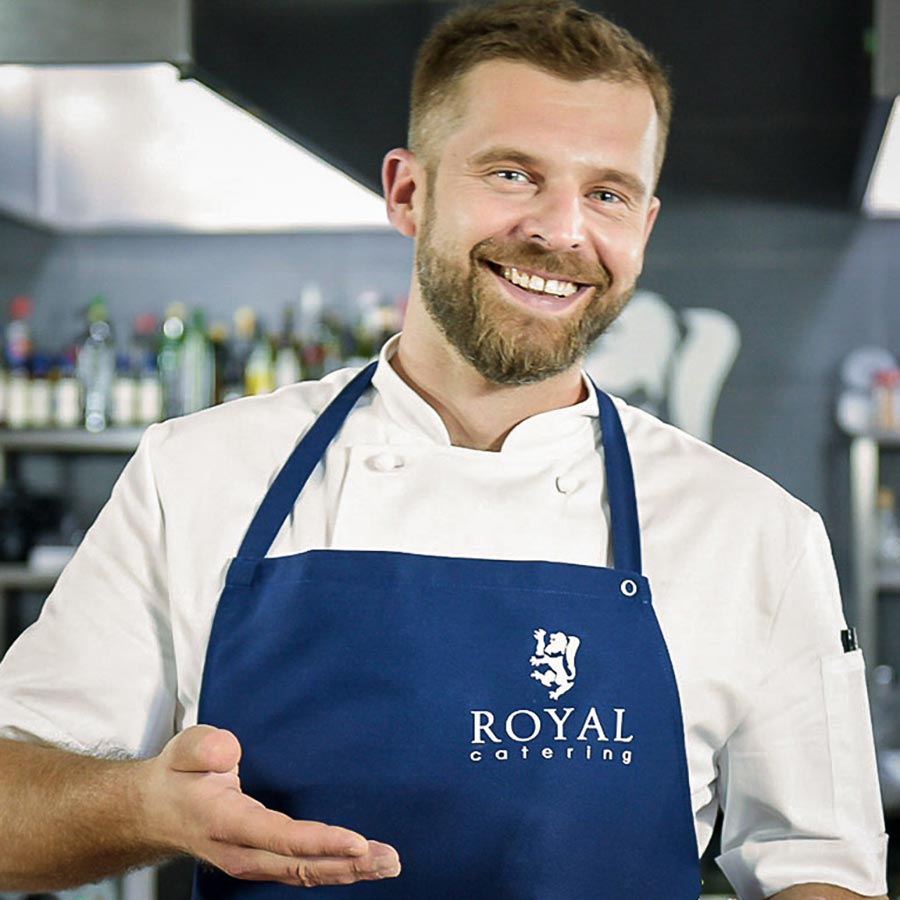 What oil do you recommend using in the fryer?
The best and healthiest oil for frying is an oil with a high smoke point.
What if the machine breaks down?
We offer our customers a 3-year warranty and authorised EU-wide service. Just contact us!
What is the minimum and maximum amount of oil for the fryer?
We recommend checking the minimum and maximum amounts with the markings on the fryer.
Electric fryer RCTF 10EB
Basket with handle
Oil container
Lid
Instruction manual
★
★
★
★
★
Write the first review for this product
---
---
Evaluations will be activated after verification.