Electric Hot Plate - 3 halogen lamps - 1,550 W
Manufacturer: Royal Catering | item number: EX10010383 | Model: RCHP-100H
Product highlights
Power: 1,550 W
Dimensions, work surface: 100 x 50 cm
Temperature range: 30 - 110 °C
Material: Stainless steel
Halogen lamps: 3
Total output of 1,550 W for high performance
Perfectly presented dishes thanks to upper and lower heating and illumination
Ideal for sensitive foods thanks to precisely adjustable temperature range from 30 - 110 °C
Large working surface enables you to display multiple dishes simultaneously
High-quality stainless steel is easy to clean and durable
Electric Hot Plate - 3 halogen lamps - 1,550 W
The hot plate RCHP-100H from Royal Catering is perfect for gently keeping delicious meals at the ideal temperature for long periods of time in buffets, catering or canteens. This tabletop device ensures your guests are served their meals at the perfect temperature no matter the occasion. The hot plate is not only ideal for keeping foods hot in containers or bowls, it is also suited for displaying foods directly on the heated surface.
Material housing / surface
Stainless steel
Material, cover
Plexiglas
Voltage / Frequency
230 V / 50 Hz
Heating element power
650 W
Number of halogen lamps
3
Power per halogen lamp
300 W
Workspace dimensions
100 x 50 cm
Distance between lamps and surface
38 cm
Temperature range
30 - 110 °C
Dimensions (LxWxH)
53 x 104 x 60 cm
Shipping dimensions (LxWxH)
107 x 56 x 26 cm
Download PDF
Download PDF
Hot plate RCHP-100H
3 halogen lamps
2 plexiglass panes
Instruction manual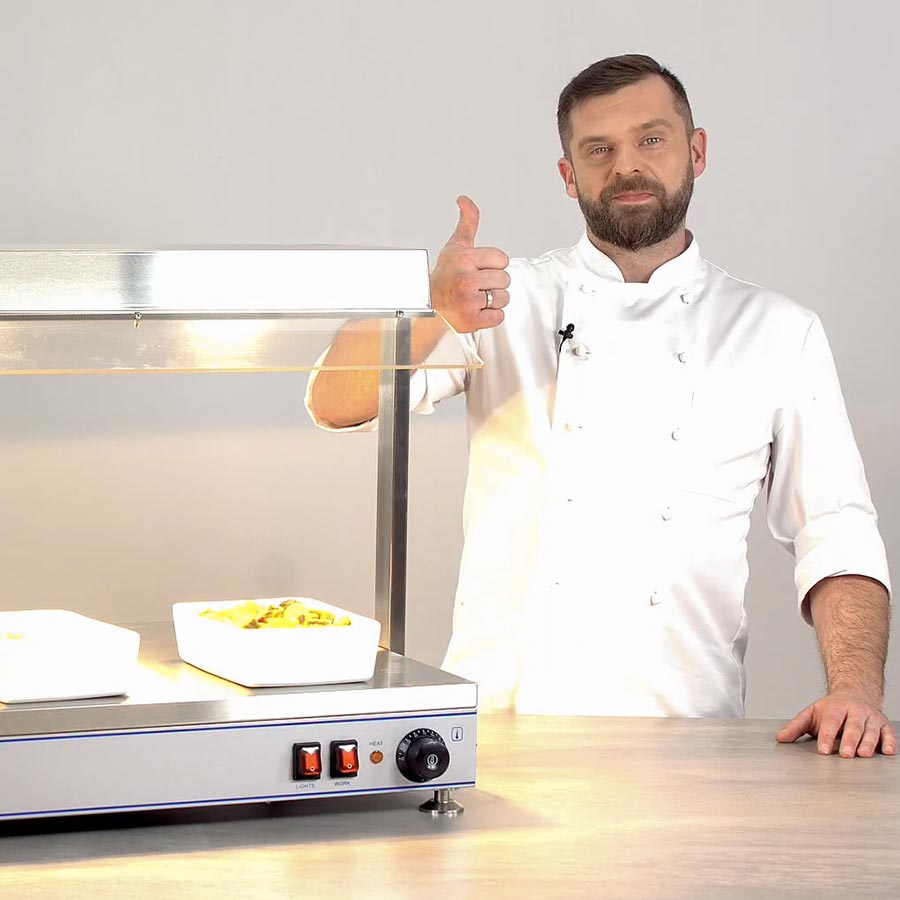 High efficiency thanks to 1,550 W output
1,000 x 500 mm area for many dishes
Ideal for buffets, canteens or catered parties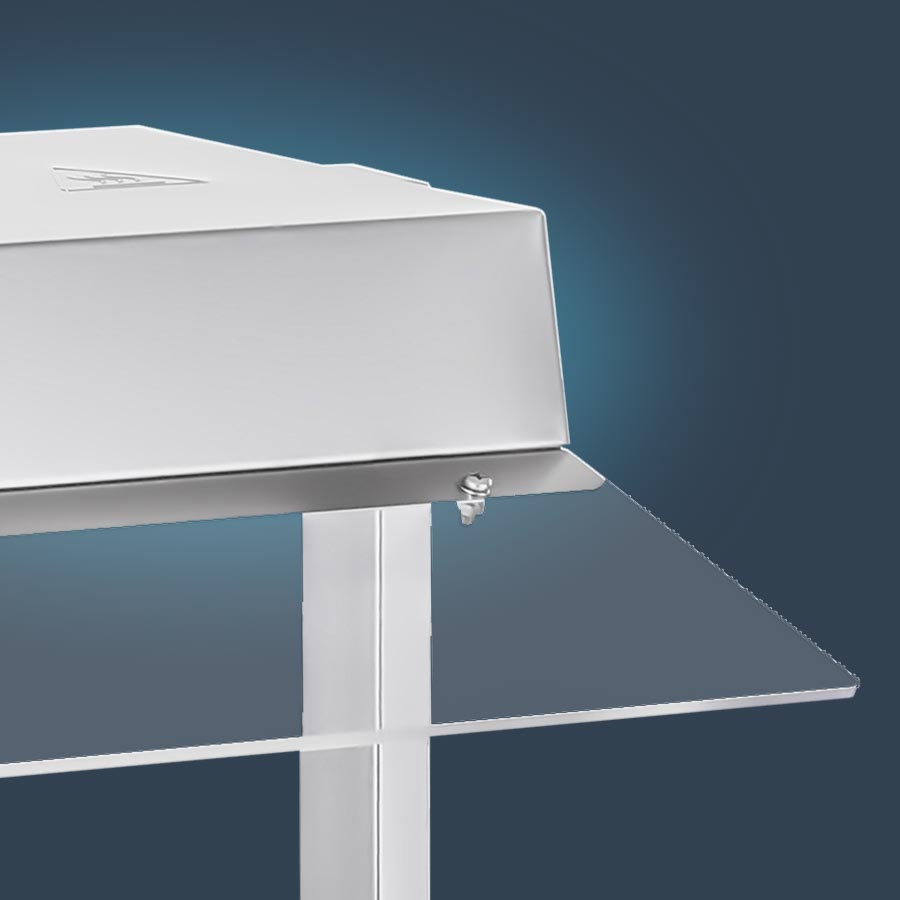 Plexiglass covers lightbulbs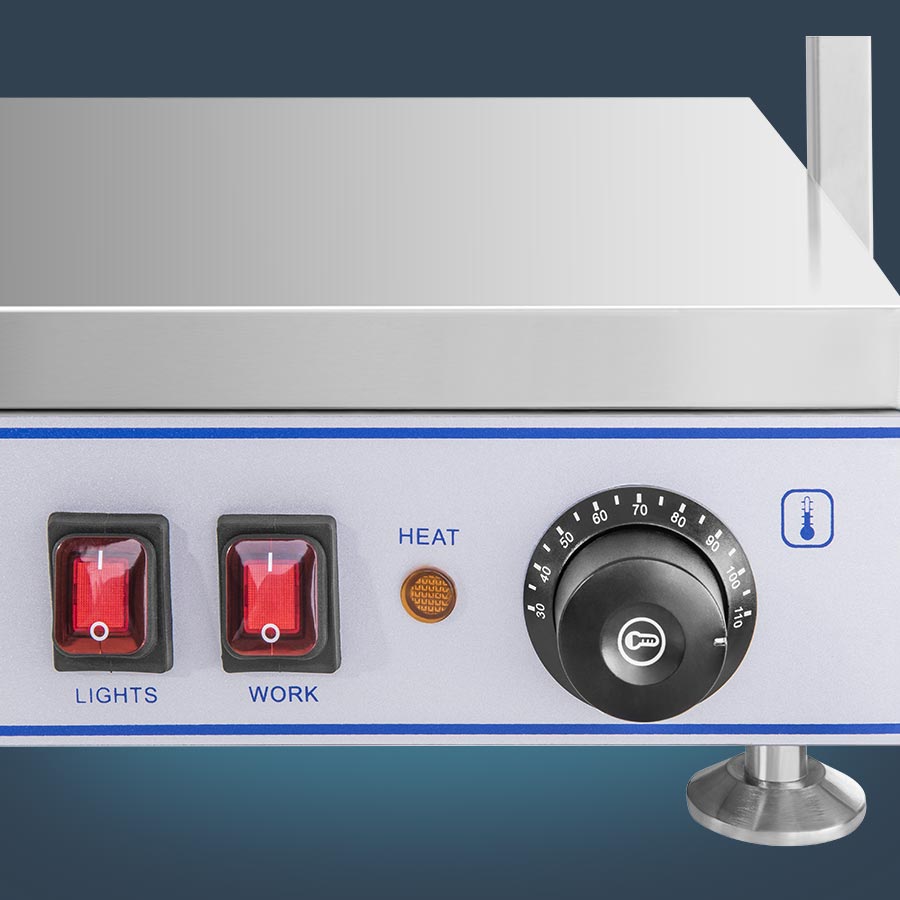 Simple operation with dial and 2 buttons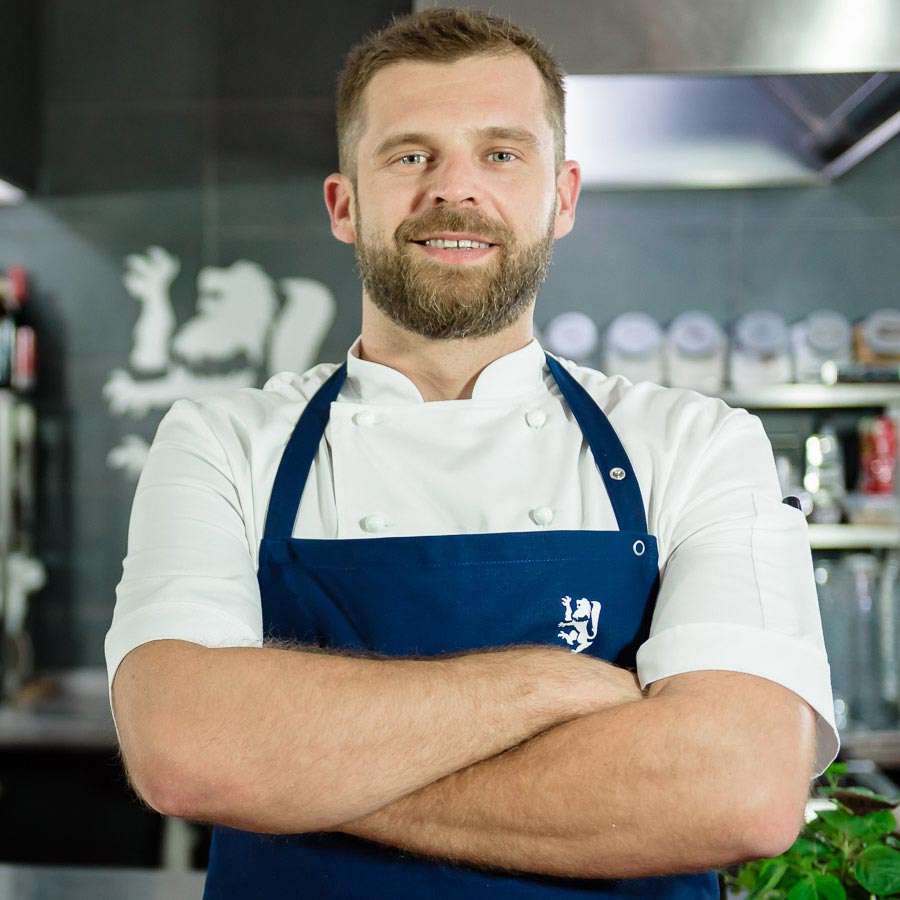 Tested by Michał Orłowski, head chef of prestigious restaurants in Sydney and Warsaw. An experienced and professional restaurateur, just like our customers.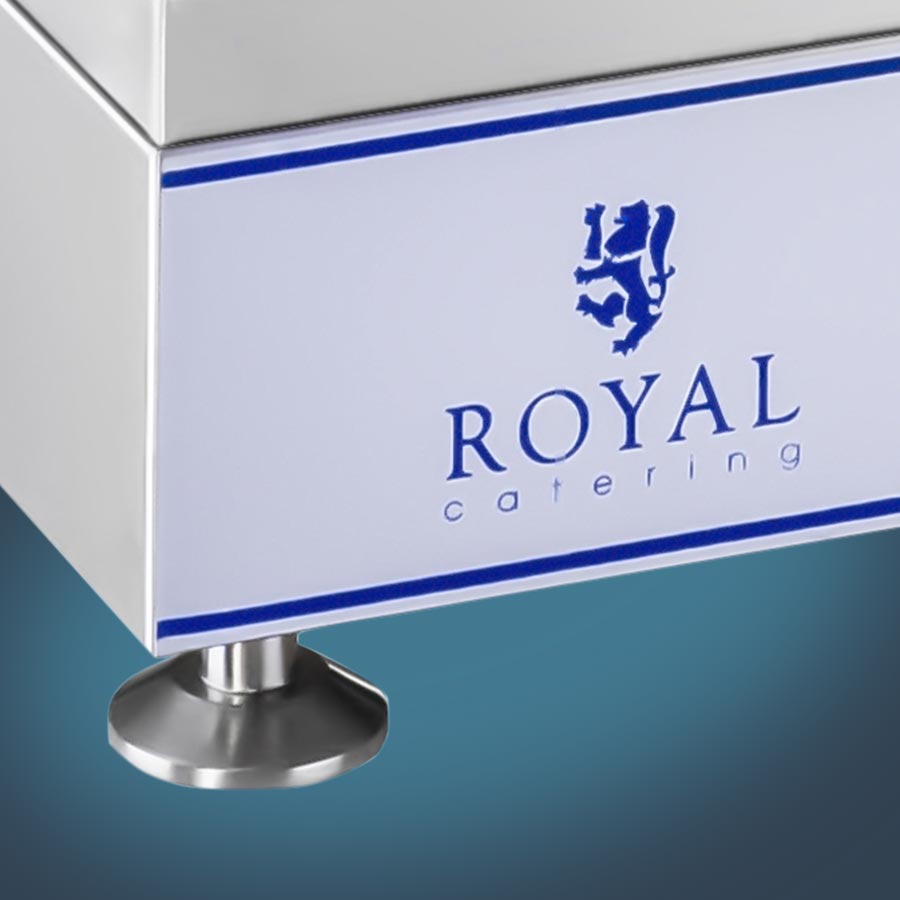 4 adjustable legs provide stability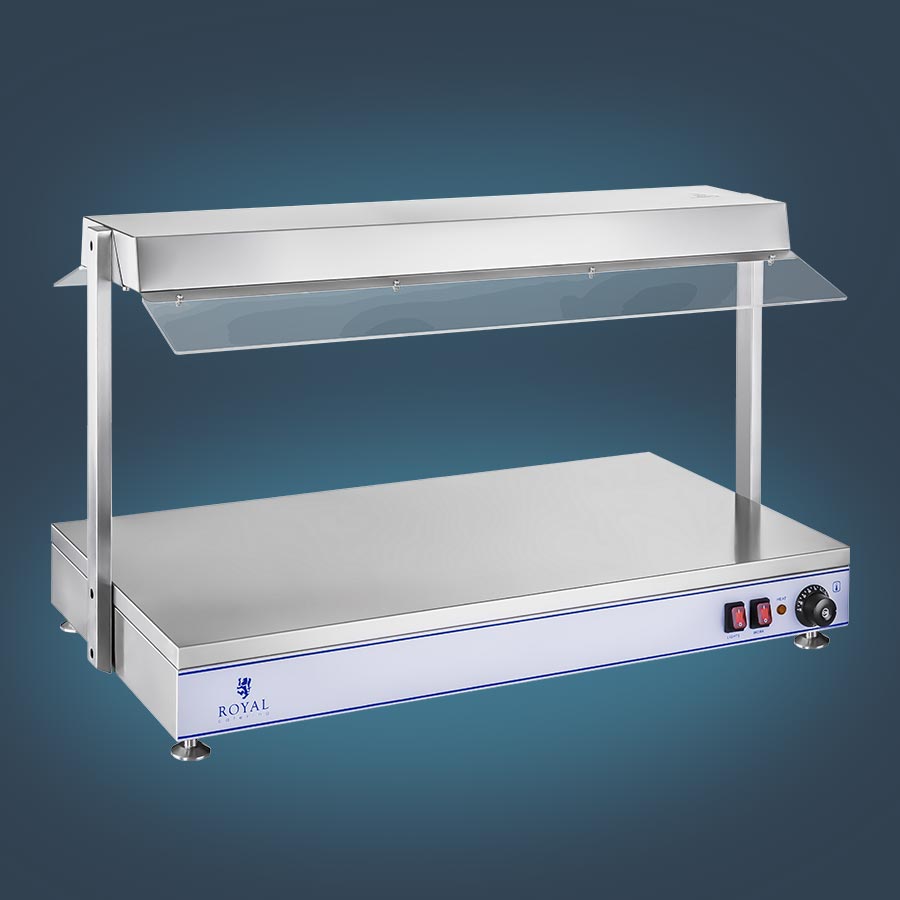 Perfect for GN containers, plates, saucers
Hot plate made of durable, food-safe stainless steel
Cover can be removed if needed
PRO TIP
Keeping food warm guarantees the preservation of its taste.
I recommend warming trays because dishes should always be served at the right temperature.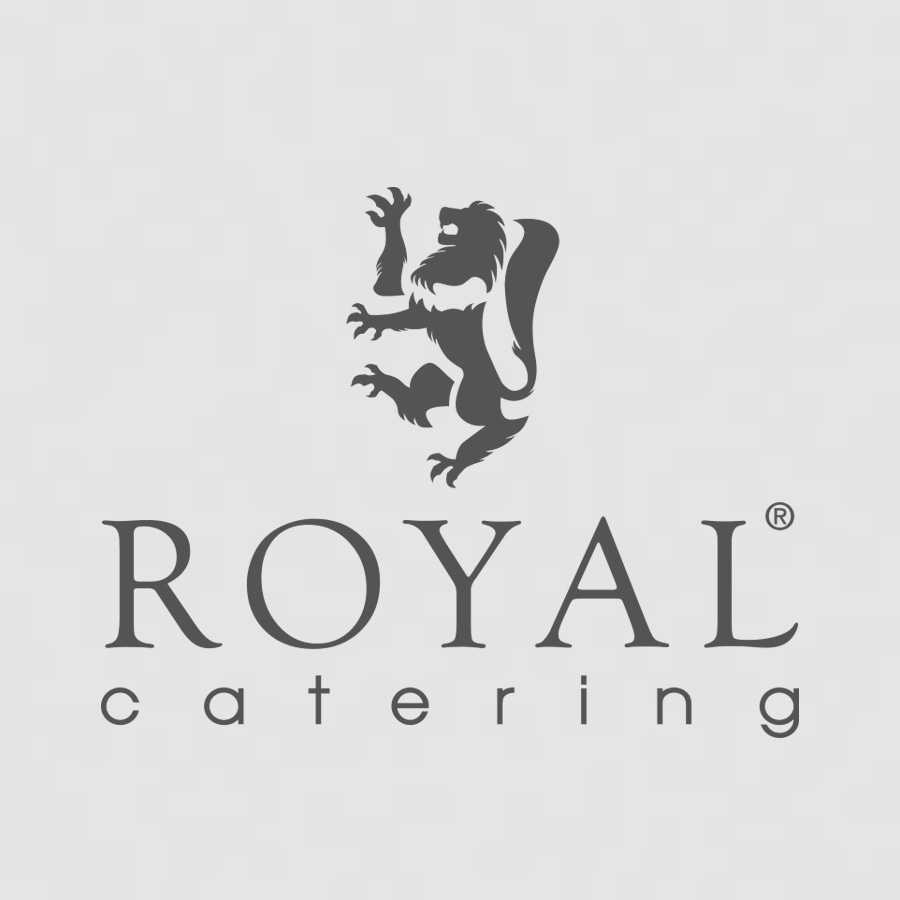 Precise temperature regulation up to max. 110 °C
Even heating thanks to 2 heat sources
3 halogen lamps provide attractive lighting for food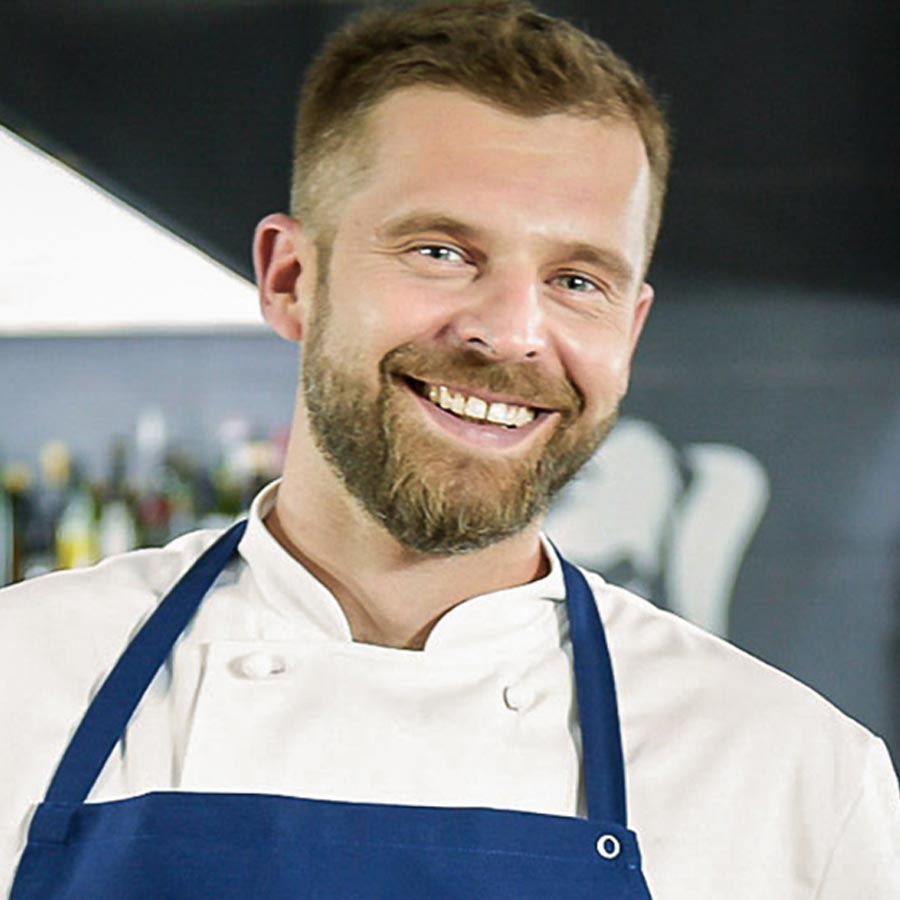 I work with professional products every day. For this video, I made sure to test the device thoroughly. You can take a close look at how this product works and then decide which model is best for your business. I hope my video and tips will help to make your business even more successful.
Head chef of prestigious restaurants in Sydney and Warsaw. An experienced and professional restaurateur
What happens if the device reaches the desired temperature and then begins to cool down again?
The thermostat kicks in as soon as the temperature begins to fall. The orange indicator light turns back on and the heating element begins heating again.
How do I know when the device has reached the set temperature?
The orange indicator light turns off when the device reaches the pre-set temperature, and the heating process stops automatically.
Is the material used safe and durable?
The food warmer is made of high-quality stainless steel which shows little wear and is especially well-suited for use with foodstuffs.
★
★
★
★
★
Write the first review for this product
---
---
Leave a review (5 stars is highest, 1 is lowest)
★
★
★
★
★
Click on the link sent to your e-mail address and confirm your opinion! It will be published after verification.
Still not sure?
Our experts are ready to help!
Mon - Fri 09:00am - 04:00pm
This product
Power: 1,550 W

Dimensions, work surface: 100 x 50 cm

Temperature range: 30 - 110 °C

Material: Stainless steel

Halogen lamps: 3
Ready to ship today,
Delivery time appr. 4-7 workdays
Electric Hot Plate - 3 halogen lamps - 1,550 W
Ready to ship today,
Delivery time appr. 4-7 workdays
Power: 1,550 W

Dimensions, work surface: 100 x 50 cm

Temperature range: 30 - 110 °C

Material: Stainless steel

Halogen lamps: 3
Power: 1,100 W

Dimensions, work surface: 70 x 50 cm

Temperature range: 30 - 110 °C

Material: Stainless steel

Halogen lamps: 2
Ready to ship today,
Delivery time appr. 4-7 workdays
Hot Plate - 2 halogen lamps - 1,100 W
Instead of: 289.00€
249.00€
Ready to ship today,
Delivery time appr. 4-7 workdays
Power: 1,100 W

Dimensions, work surface: 70 x 50 cm

Temperature range: 30 - 110 °C

Material: Stainless steel

Halogen lamps: 2
Power: 2,000 W

Dimensions, work surface: 120 x 50 cm

Temperature range: 30 - 110 °C

Material: Stainless steel

Halogen lamps: 4
Ready to ship today,
Delivery time appr. 4-7 workdays
Electric Hot Plate - 4 halogen lamps - 2,000 W
Ready to ship today,
Delivery time appr. 4-7 workdays
Power: 2,000 W

Dimensions, work surface: 120 x 50 cm

Temperature range: 30 - 110 °C

Material: Stainless steel

Halogen lamps: 4