Sausage Maker - 7 Litres - Horizontal
Manufacturer: Royal Catering | item number: EX10010342 | Model: RCWF-7L-F
Free shipment to Ireland

?

This product is currently not available.
Product Highlights
Horizontal design
Capacity: 7 litres
Cylinder: 14 x 46 cm
Transmission: 2 speeds
incl. 4 filling tubes
Highlights
Perfect for butchers, food suppliers, delicatessens or restaurants
Horizontal design
Cylinder and base plate made of stainless steel
7 litres capacity
highly efficient power transmission
Ergonomic hand crank
Easy operation thanks to 2-speed gearbox
Venting valve
Quick disassembly for easy cleaning
4 rubber feet
Includes 2 screw clamps
incl. Filling tubes with 16, 22, 32 and 38 mm diameter
With the right tools the production of homemade sausages can be easy. The RCWF-7L-F sausage maker from Royal Catering will help you create a variety of homemade sausage varieties that will not only please with the added personal touch, but also due to natural ingredients selected resulting in no added additives. Whether salami, Cumberland or the famous German bratwurst or Krakauer - with the RCWF-7L-F sausage maker, each sausage receives an even, consistent and visually pleasing form.
The sausage maker is made of high quality and stainless steel and due to this first-class workmanship the sausage maker is extremely robust and durable. This compact device is ideal for butchers, hunters, the gastronomy sector as well as all meat processing areas.
The horizontal RCWF-7L-F sausage maker is designed for a filling capacity of 7 litres. To fill the profiler, the cylinder is unlocked and then removed. The cylinder can then be filled comfortably. Due to the horizontal arrangement, it is particularly suitable for coarser and firmer meats compared to the vertical sausage maker.
Four filling tubes are supplied in the sizes 16, 22, 32 and 38 mm, which allows you flexibility in sausage production as you can determine not only the type but also the diameter of the sausage itself. The filling tubes are also made of stainless steel and are 18 cm long. The change of the filling pipes is quick, as you need only to use the large and handy union nut.
A high-quality 2-speed gearbox is installed in the sausage maker and thanks to this two gear system, you are able to perform the filling process at different speeds. Additionally, the quick gear facilitates the rapid compression and extension of the pressure ram. The transmission is a ball bearing and all the components hardened. This makes the sausage stuffer from Royal Catering particularly low-wear and long-lasting, therefore ensuring a long product life.
The drive crank is ergonomically shaped and is close to the housing, which allows for an extremely efficient force transmission, which combined with the compact design achieves an exceedingly high stability. The pressure plate has a high-quality, hygienic and long-lasting silicone seal, which reliably prevents leakage of the sausage from the cylinder.
The cleaning of the sausage filler is very simple and easy. Thanks to the removable cylinder, all areas are easily accessible and the cylinder can be washed separately. In addition, the pressure plate has a venting valve to prevent soiling and to allow trapped air to escape. There are also two screw clamps with which the horizontal sausage maker can be fixed either on the right or left side.
Dimensions (LxWxH)
21 x 69 x 20,5 cm
Shipping dimensions (LxWxH)
72 x 26 x 28 cm
Download PDF
RCWF-7L-F Sausage Maker
2 x screw clamps
4 filling tubes (16, 22, 32 and 38 mm)
Hand grip
Rotating attachment
Instruction manual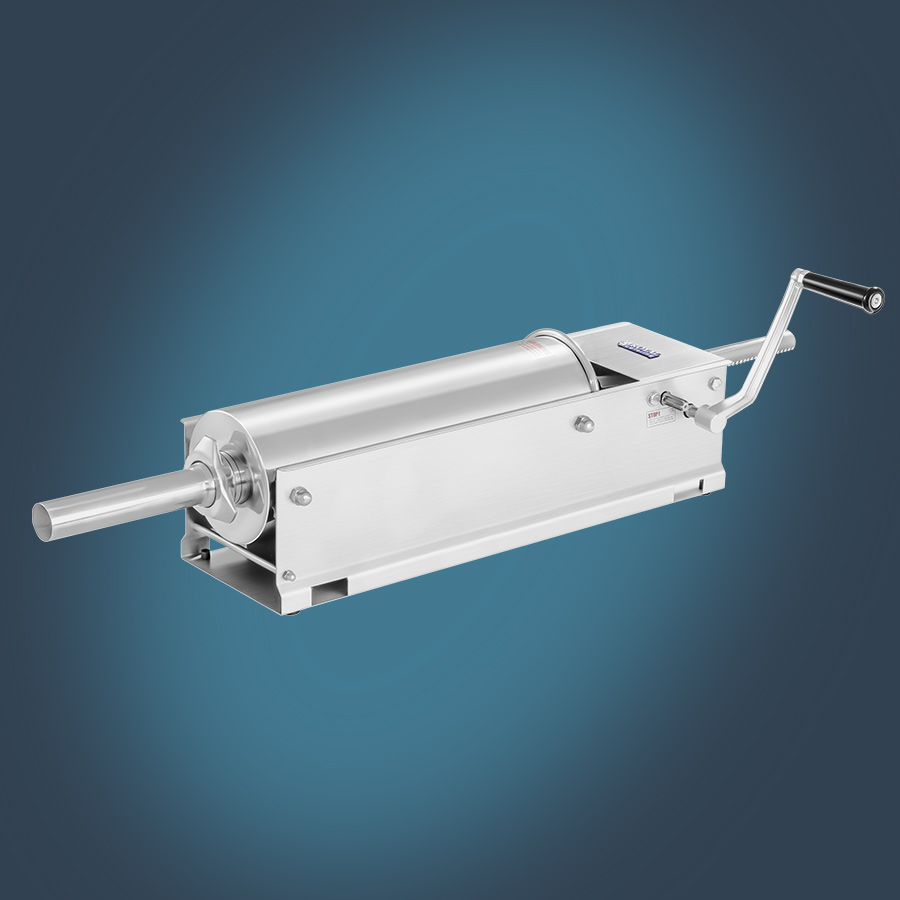 Large filling capacity of 7 L
Up to 35 large sausages with one filling
Ideal for butcher's shops, restaurants and home cooking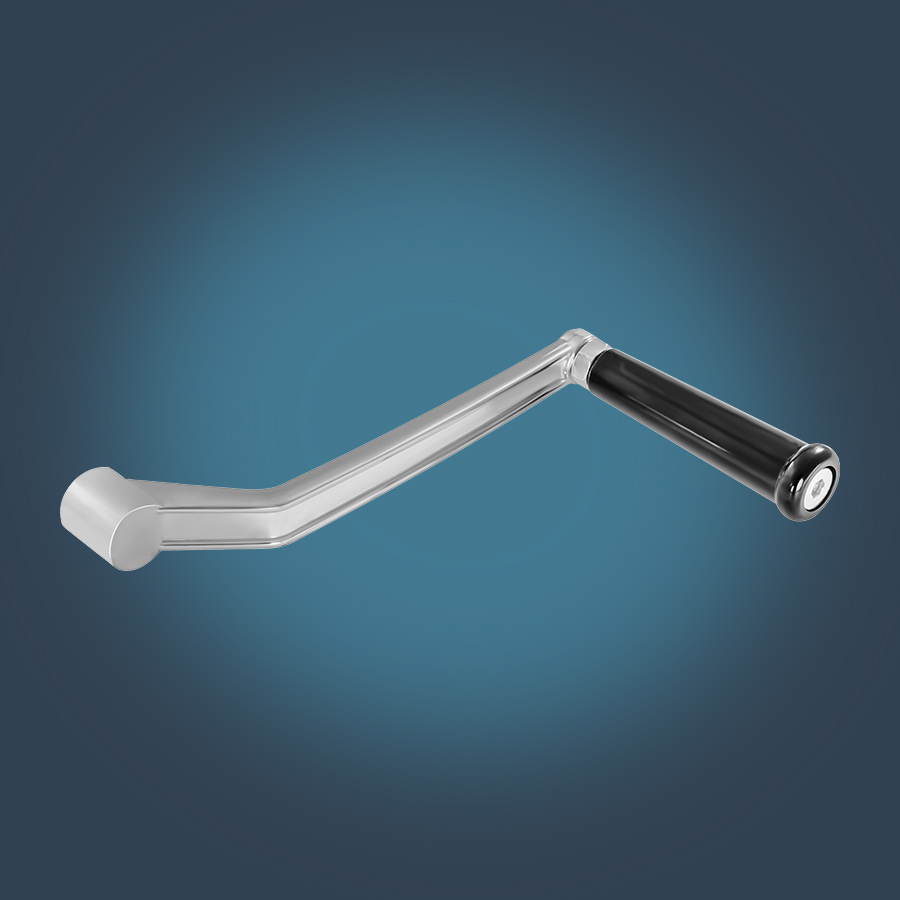 Ergonomic crank is quite handy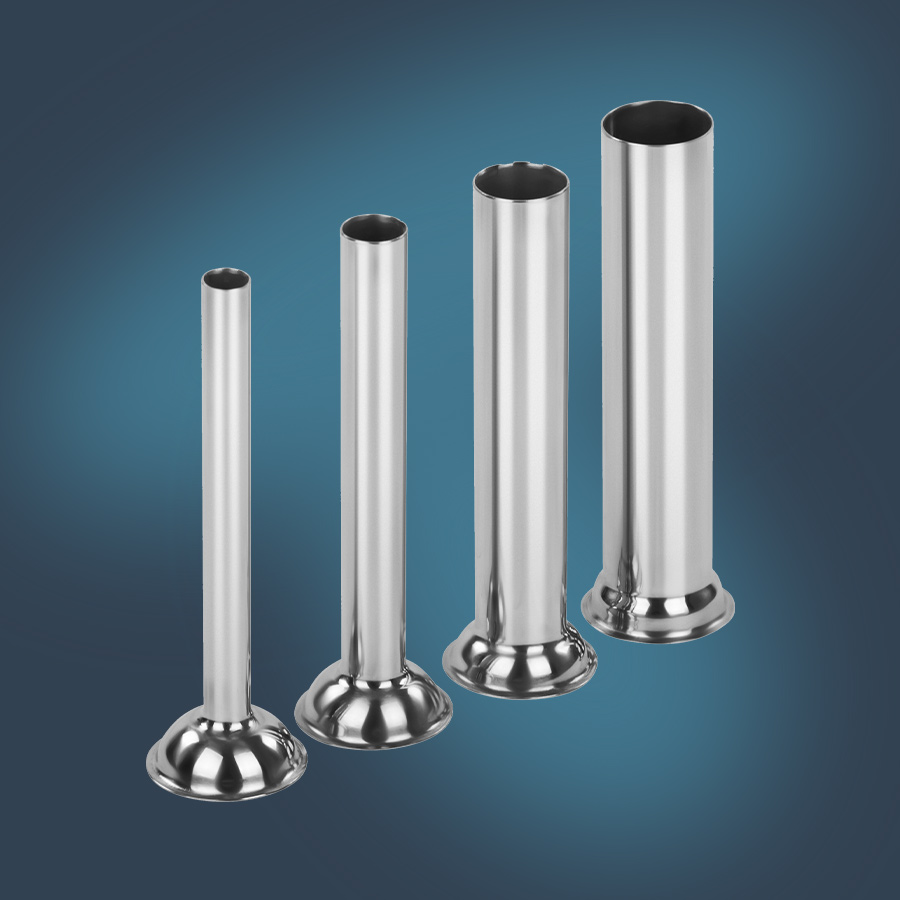 Incl. set of filling funnels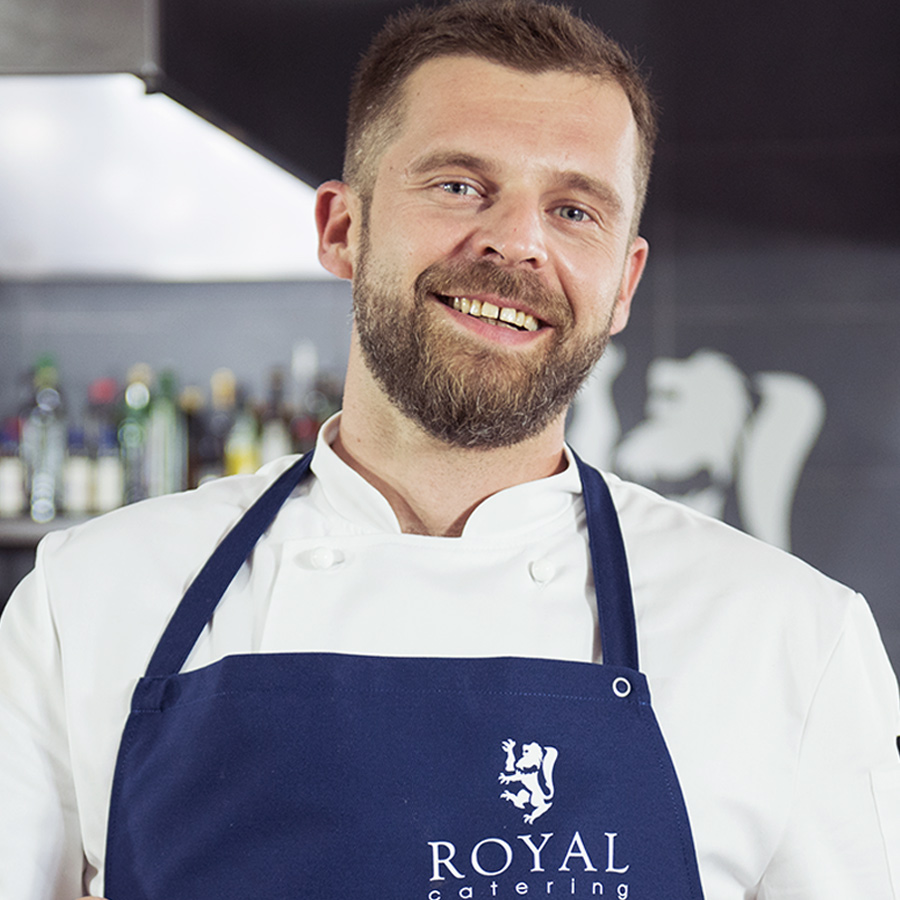 Tested by Michał Orłowski, head chef of prestigious restaurants in Sydney and Warsaw. An experienced and professional restaurateur, just like our customers.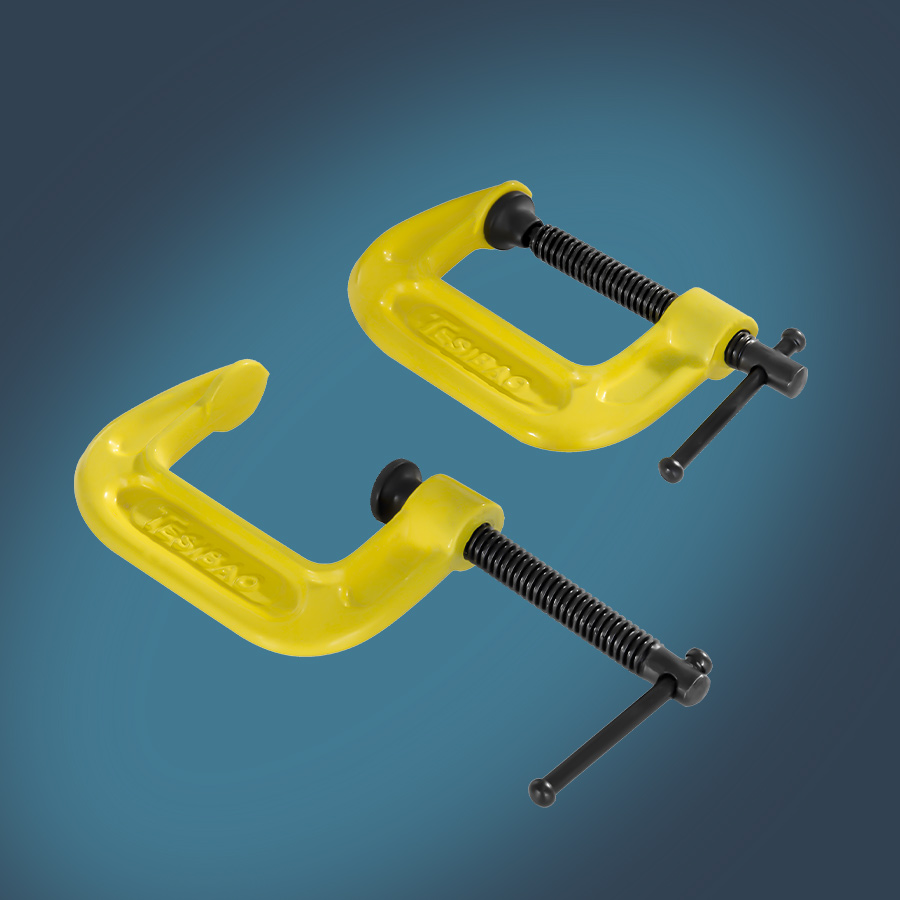 2 clamps stabilise the device on the tabletop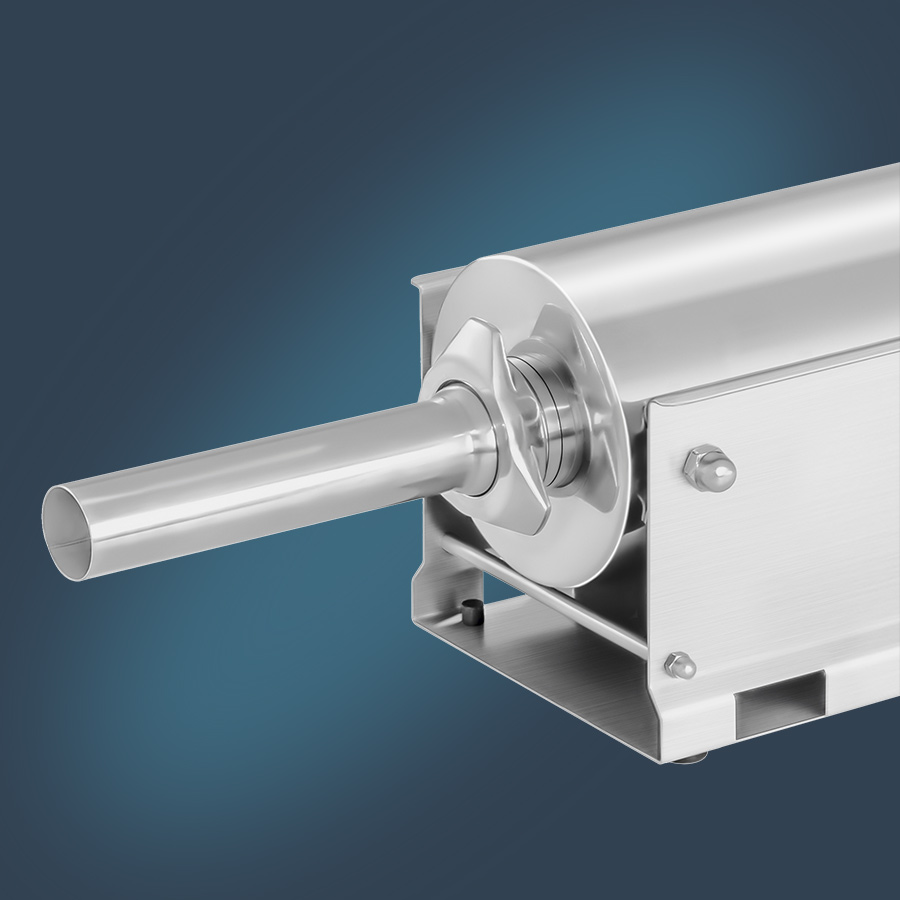 Compact design doesn't take up much spacekompaktes Design nimmt wenig Platz in Anspruch
Removable cylinder is easy to fill and to wash
Ventilation valve ensures smooth sausage structure
PRO TIP
I recommend experimenting with the filling. Fish sausages with coriander are delicious!
The crank should be turned at an even and steady speed. This guarantees evenly-filled casings and prevents them from tearing.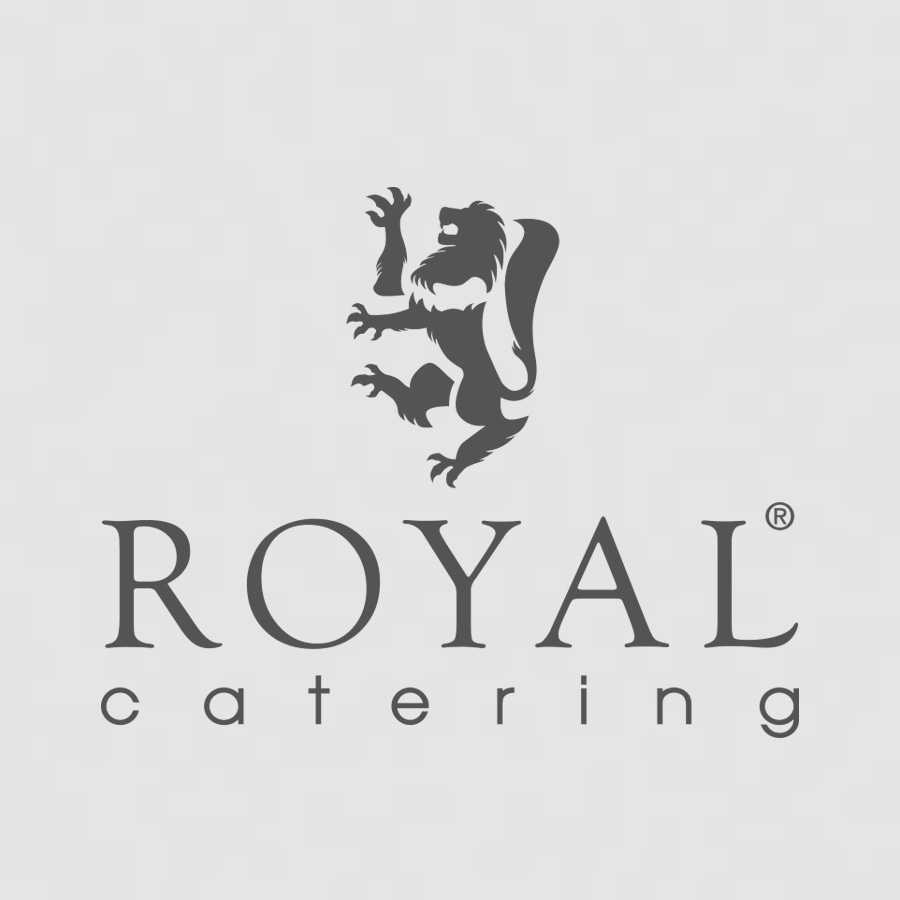 Made of durable, food-safe stainless steel
Possible to produce sausages with 16, 22, 32 and 38 mm diameter
Convenient 2-speed speed control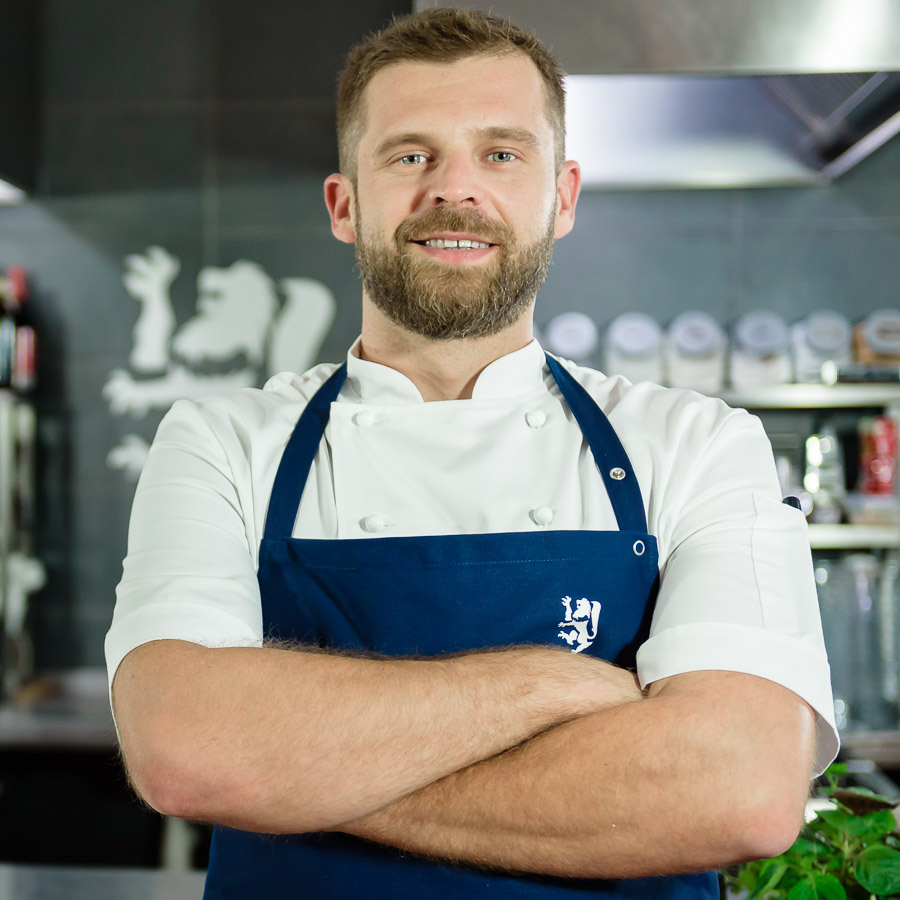 ---
Sort by...
---
Evaluations will be activated after verification.
Reviews from Anonym (5 Aug 2020)
Reviews from Anonym (5 Aug 2020)
nach dem ersten Einsatz
Die Handkurbel hat im Griff spiel, was störend ist, dazu kommt, das sie auf den beiden Zahnrädern recht locker auf sitzt, hier wäre zB eine Flügelschraube von Vorteil mit der man die Kurbel fixieren könnte. Bei dünnen Därmen fehlt eine wursttülle in der Grössenordnung 10mm, kann man so eine zusätzlich kaufen ?
Im Einsatz war der Wurstfüller ansonsten ok. Wenn man bei den Durchmessern der Tüllen eine grössere Auswahl hätte wäre es schön
Reviews from Nasser (23 May 2020)
Reviews from Nasser (23 May 2020)
Worstvuller 7 liter
veel goed
Still not sure?
Our experts are ready to help!
Mo - Fr 08:00 - 18:00 Uhr
This product
Horizontal design

Capacity: 7 litres

Cylinder: 14 x 46 cm

Transmission: 2 speeds

incl. 4 filling tubes
This product is currently not available.
Sausage Maker - 7 Litres - Horizontal
This product is currently not available.
Horizontal design

Capacity: 7 litres

Cylinder: 14 x 46 cm

Transmission: 2 speeds

incl. 4 filling tubes
Horizontal design

Capacity: 3 litres

Cylinder: 14 x 20 cm

Transmission: 2 speeds

incl. 4 filling tubes
Ready to ship today,
Delivery time appr. 4-6 workdays
Sausage Maker - 3 Litres - Horizontal
Ready to ship today,
Delivery time appr. 4-6 workdays
Horizontal design

Capacity: 3 litres

Cylinder: 14 x 20 cm

Transmission: 2 speeds

incl. 4 filling tubes
Horizontal design

Capacity: 5 litres

Cylinder: 14 x 32 cm

Transmission: 2 speeds

incl. 4 filling tubes
Ready to ship today,
Delivery time appr. 4-6 workdays
Sausage Maker - 5 Litres - Horizontal
Ready to ship today,
Delivery time appr. 4-6 workdays
Horizontal design

Capacity: 5 litres

Cylinder: 14 x 32 cm

Transmission: 2 speeds

incl. 4 filling tubes