Hotdog Grill - 11 rollers - Warming drawers - Stainless steel
Manufacturer: Royal Catering | item number: EX10010467 | Model: RCHG-11WO
Product highlights
max. number of sausages: 20
Power: 2600 watts
Rollers coating: stainless steel
2 separate heating zones
Warming drawers for buns
Extremely versatile, can be used at events, restaurants, hotel bars, takeaways, …
Rollers and casing made from stainless steel
11 rollers/heating rods for up to 20 large sausages
Cover made from tempered glass
Two separate heating zones / Temperature range from 0-250°C for grilling and keeping warm
Warming drawer for warming up buns (0-110°C) / Drip tray ensures cleaniness
Hotdog Grill - 11 rollers - Warming drawers - Stainless steel
Hotdogs are one of the most popular snacks, whether you are at a large open air event or experience a pang of hunger in a hotel bar. With the professional hotdog grill RCHG-11WO you can prepare hotdogs in large quantities and even warm up the traditional hotdog buns to the right temperature.
The heater has 11 automatically rotatable heating rods with a length of 46.5cm each and is spacious enough to hold up to 20 hotdogs or other large sausages at the same time. This means that you can easily satisfy a large demand. The temperature of the grill surface can be regulated separately. The temperature ranges between 0-250°C and the grill is powered by 2600W. Hotdogs can be quickly prepared and be kept warm for a prolonged period of time.
The grill has a warming drawer which allows for a simultaneous warming of the hotdog buns. The temperature ranges between 0-110°C so that you always have freshly warmed-up buns ready to hand.
The cover of the grill is made from tempered glass and protects the hotdogs during the grilling from all wind and debris to ensure a hygienical food preparation. Fat and crumbs that may occur during the grilling are gathered in a drip tray, which ensures a neatly kept cooking station. The tray can be easily removed from the grill and cleaned.
The casing and the rollers of the hotdog grill are made from high-quality stainless steel and are very easy to clean. The sturdy construction and quality manufacturing ensure the longevity of the grill. The safety mechanism of the grill makes for a safe operation.
Voltage /Frequency
230V / 50hz
Material, casing
Stainless steel
Material, cover
Tempered glass
Temperature range, front
0–250°C
Temperature range, back
0–250°C
Temperature, warming drawer
0-110°C
Max. sausages
20 (large sausages)
Coating, rollers
Stainless steel
Distance between rollers
12mm
Number of rollers / heating rods
11
Measurements (LxWxH)
58,5 x 46 x 53,5 cm
Transportation measurements (LxWxH)
66 x 58 x 51 cm
Transportation weight
28,8 kg
Download PDF
Download PDF
Hotdog grill RCHG-11WO
Cover made from tempered glass
Instruction manual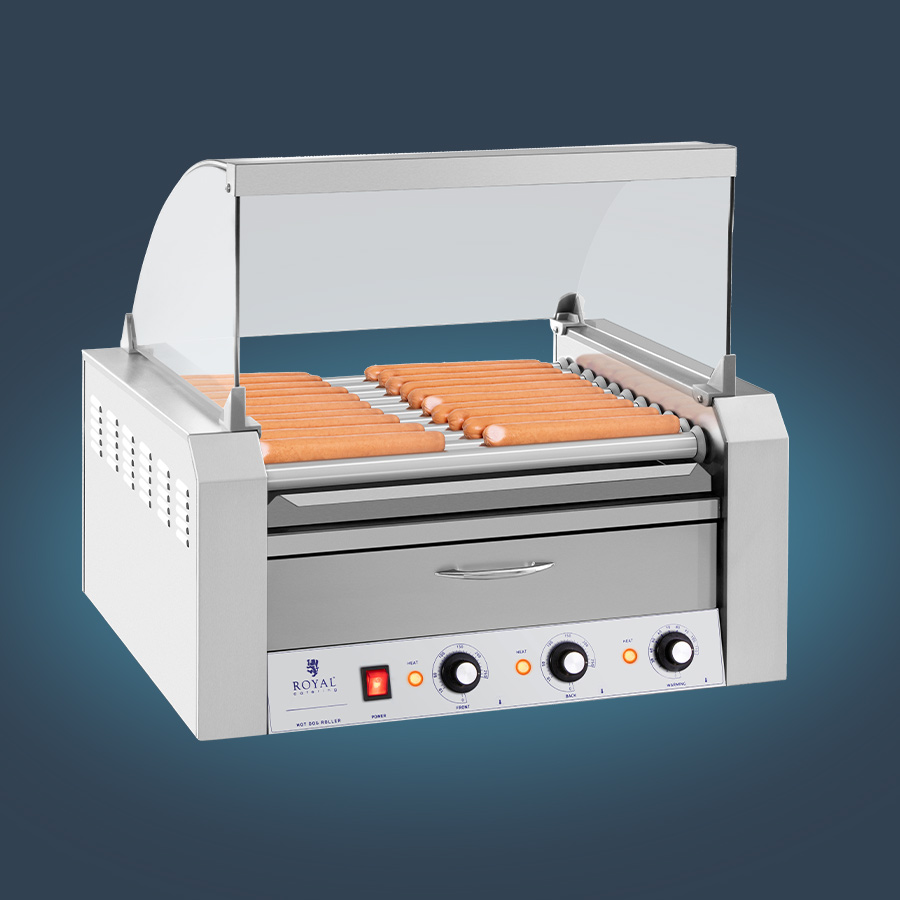 High output of 2,600 W for quickly heating hot dogs
Heat up to 20 hot dogs at once
Ideal for small restaurants, food trucks, petrol stations, etc.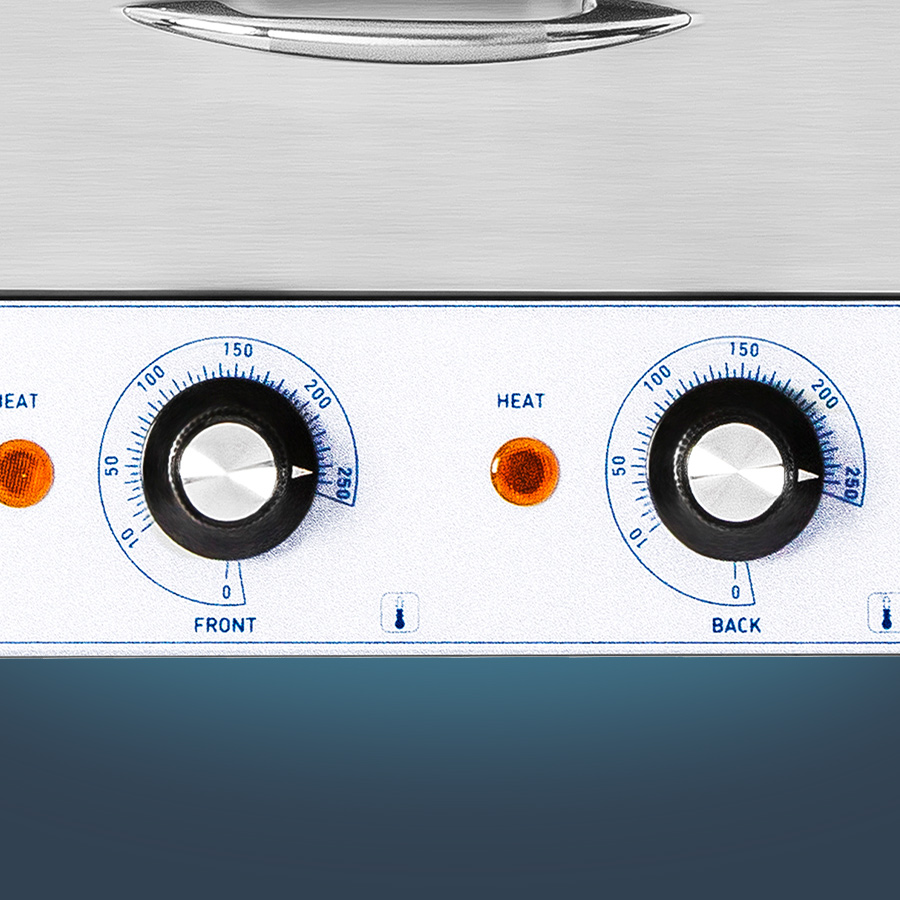 Separate temperature controls for each heating zone up to 250 °C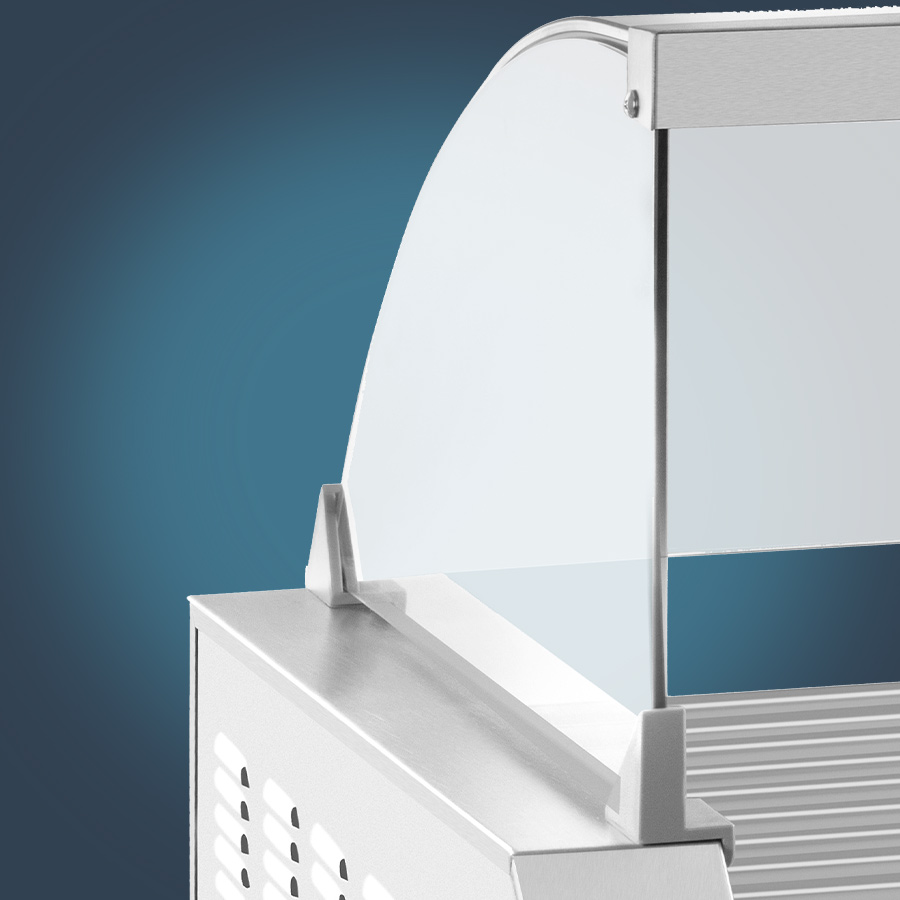 Glass protection against dust and dirt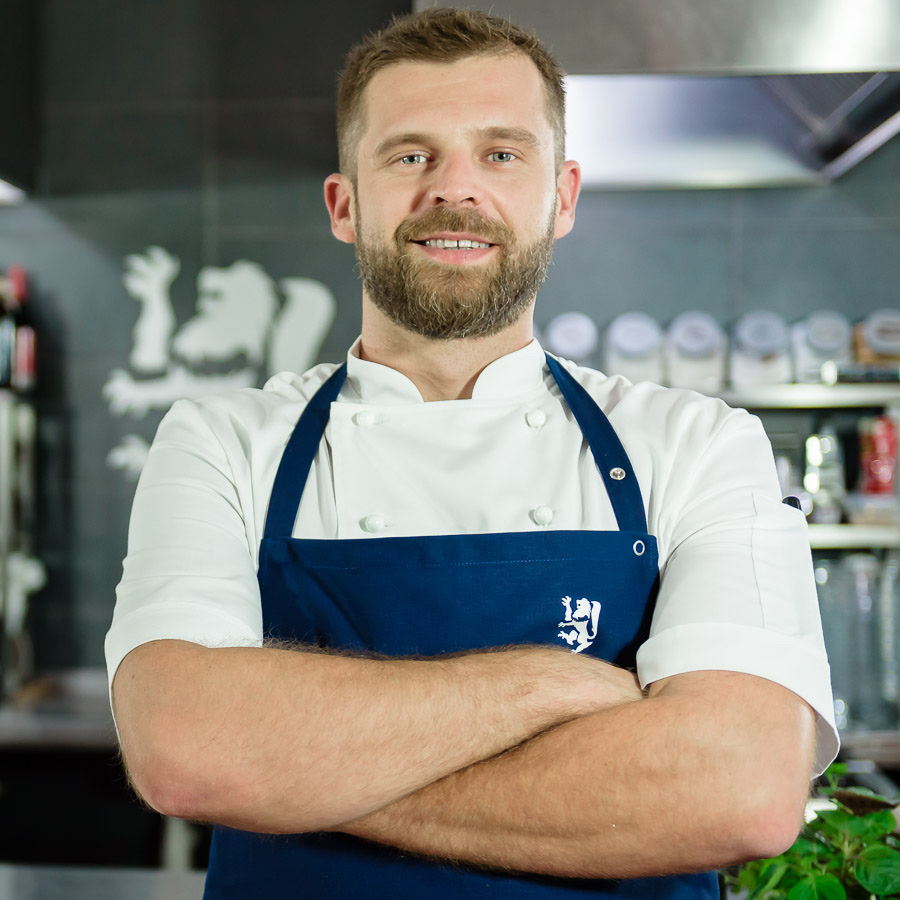 Tested by Michał Orłowski, head chef of prestigious restaurants in Sydney and Warsaw. An experienced and professional restaurateur, just like our customers.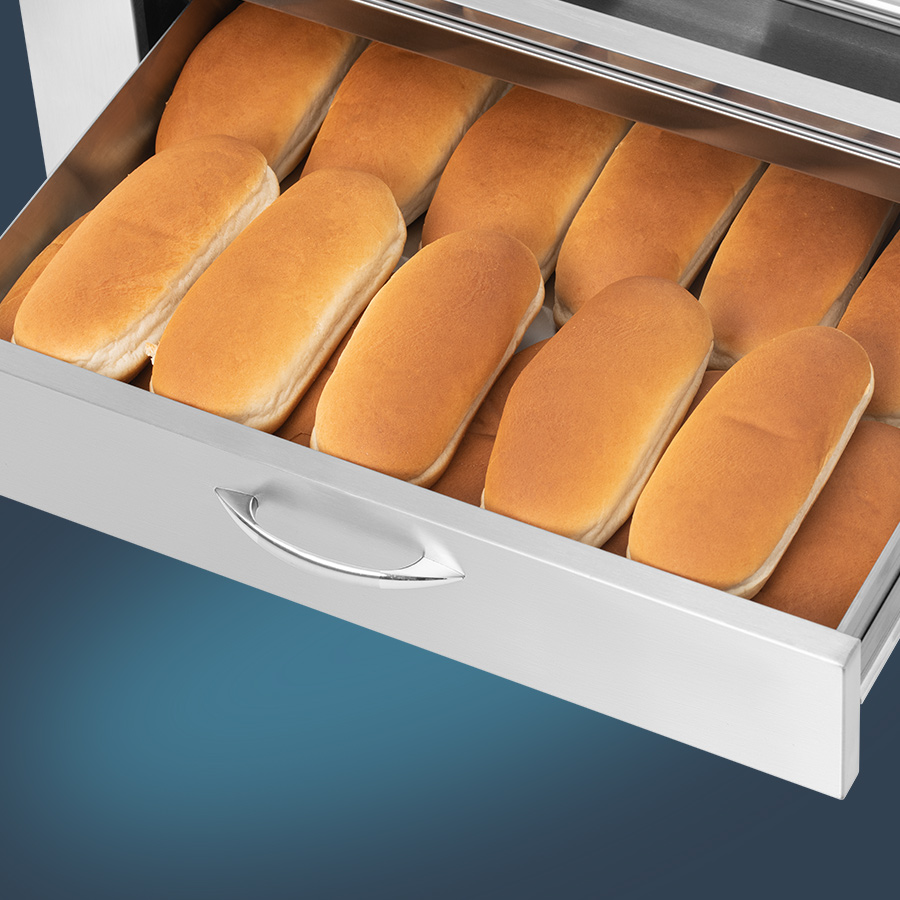 Practical drawer for heating buns (max. 110 °C)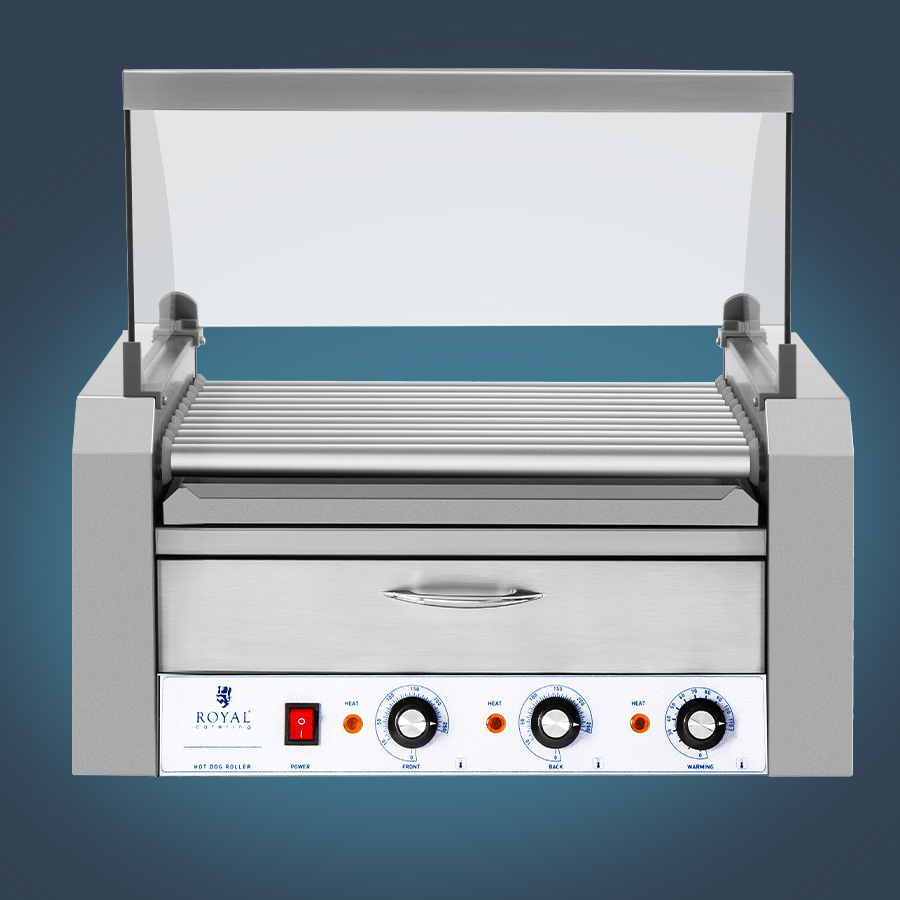 Smooth surfaces are easy to clean
4 rubber feet stabilise the device
Compact, easy to transport device
PRO TIP
I always set two different temperatures: I set the rear area to 100 °C to quickly heat up the hot dogs. I keep the front at 70 °C to keep the already-cooked hot dogs warm.
This device is ideal for hot dogs, but you can also use it for Polish sausages and any other, thicker sausages, such as bratwurst.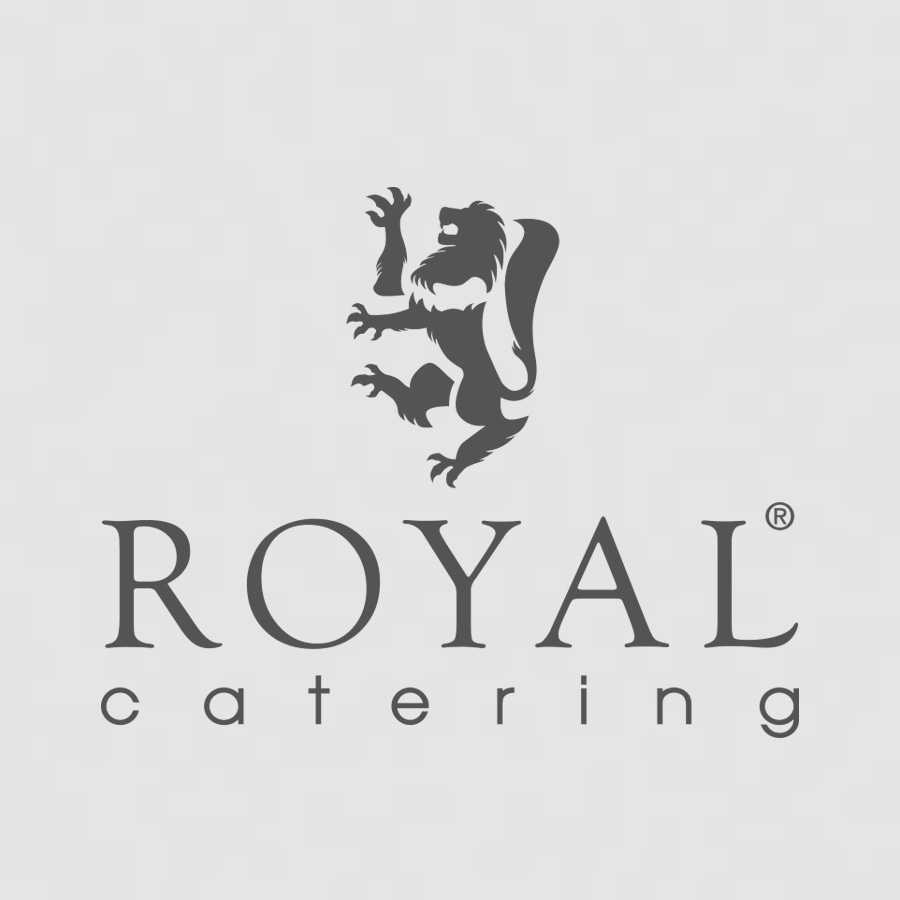 Food-safe, corrosion-resistant stainless steel
Even roasting thanks to rotating rollers
Can simultaneously heat and keep warm
---
Sort by...
---
Leave a review (5 stars is highest, 1 is lowest)
★
★
★
★
★
Click on the link sent to your e-mail address and confirm your opinion! It will be published after verification.
Reviews from Anonym (16 Apr 2022)
Reviews from Anonym (16 Apr 2022)
Ottimo acquisto
Prodotto di alta qualità funziona alla perfezione spedizione veloce
Reviews from Amazon Customer (13 Jun 2019)
Reviews from Amazon Customer (13 Jun 2019)
calidad
el producto llego en una esquina golpeado en incompleto, la cubierta de cristal llego casi 2 semanas mas tardes despues de reclamarla.
Reviews from Amazon Customer (6 Dec 2018)
Reviews from Amazon Customer (6 Dec 2018)
Top Ware....
Danke
Reviews from Amazon Customer (24 Mar 2018)
Reviews from Amazon Customer (24 Mar 2018)
Topgerät zu vernünftigem Preis
Der Hot Dog Roller kann ohne Bedenken auf kleinen bis mittleren Events eingesetzt werden.Positiv:+ Wertige Fertigung aus Edelstahl+ Bis zu 20 Würste, egal ob Hotdog oder Bratwurst, die allerdings gerade sein müssen+ Zwei getrennt regelbare Heizzonen der 11 Rollen, die wir zum Aufwärmen und Warmhalten der Würste genutzt haben, hat super funktioniert+ Wärmeschublade mit regelbarer Temperatur, es passen 12 bis 16 HotDog-Buns hinein, die nach einer Weile angenehm warm sind+ Die Reaktion unserer Gäste war einhellig Begeisterung, wir hatten ein "Do it yourself Hot Dog eating" organisiert, mit Produkten von Hotdogworld+ Der Preis ist absolut in Ordnung!+ Das Gerät ist leicht zu reinigen, für den kompletten Roller benötigt man ca. 20 Minuten, dann ist er wieder wie neu.Negativ:- Die Anleitung ist leider nicht ausführlich genug, es fehlen Hinweise zu Temperaturen (Würste und Brötchen)Insgesamt wirklich ein sehr gutes Gerät, das wir nur empfehlen können.
Still not sure?
Our experts are ready to help!
Mon - Fri 09:00am - 04:00pm