Conveyor Toaster - 2,200 W - 7 speeds - 3 heating levels
Manufacturer: Royal Catering | item number: EX10010268 | Model: RCKT-1940
Powerful—2,200 W toast between 180 and 720 slices of toast per hour
Variable—7 speeds ensure individual degree of toasting
Versatile—3 programmes for different baked goods, also ideal for burger buns
Flexible—adjustable thanks to front and rear output
Accessories—incl. height-adjustable feet and rack
Conveyor Toaster - 2,200 W - 7 speeds - 3 heating levels
The conveyor toaster RCKT-1940 from Royal Catering's takeaway equipment collection is ideally suited for preparing toast for brunch or self-service in restaurants, cafés, hotels and hostels, as well as for continuously preparing buns in burger restaurants. With seven speeds and three programmes, this conveyor toaster is highly versatile and up to even the toughest challenges.
Voltage / Frequency
230 V / 50 Hz
Material, housing
Stainless steel, aluminium
Programmes
Standby / Top heat / Top and bottom heat
Dimensions (LxWxH)
45 x 36,5 x 41 cm
Shipping dimensions (LxWxH)
52 x 44,5 x 39,5 cm
Download PDF
Download PDF
Conveyor toaster RCKT-1940
Rack for inserting the toast slices
Rear dispensing tray
Front dispensing tray
4 height-adjustable stainless steel feet
Instruction manual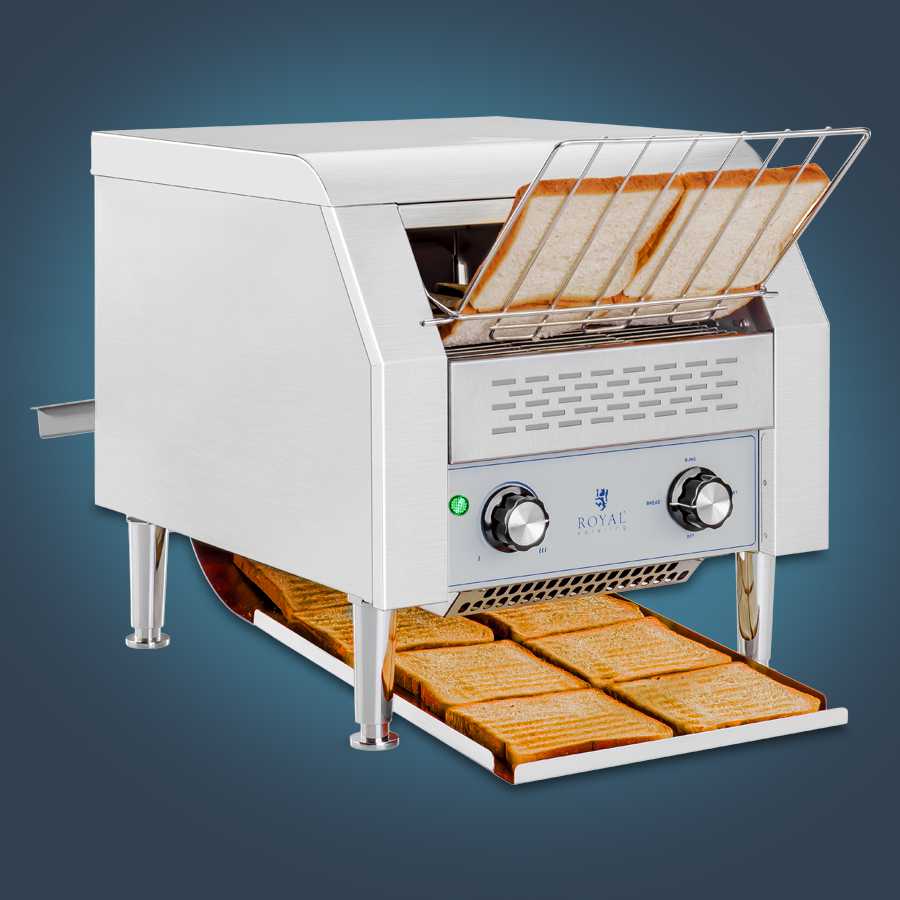 sehr hohe Leistung von 2.200 W bewältigt ein hohes Gästeaufkommen
720 Toasts pro Stunde
der professioneller Toaster ist ideal für Restaurants, Fast-Food-Bars, Hotels, Pensionen etc.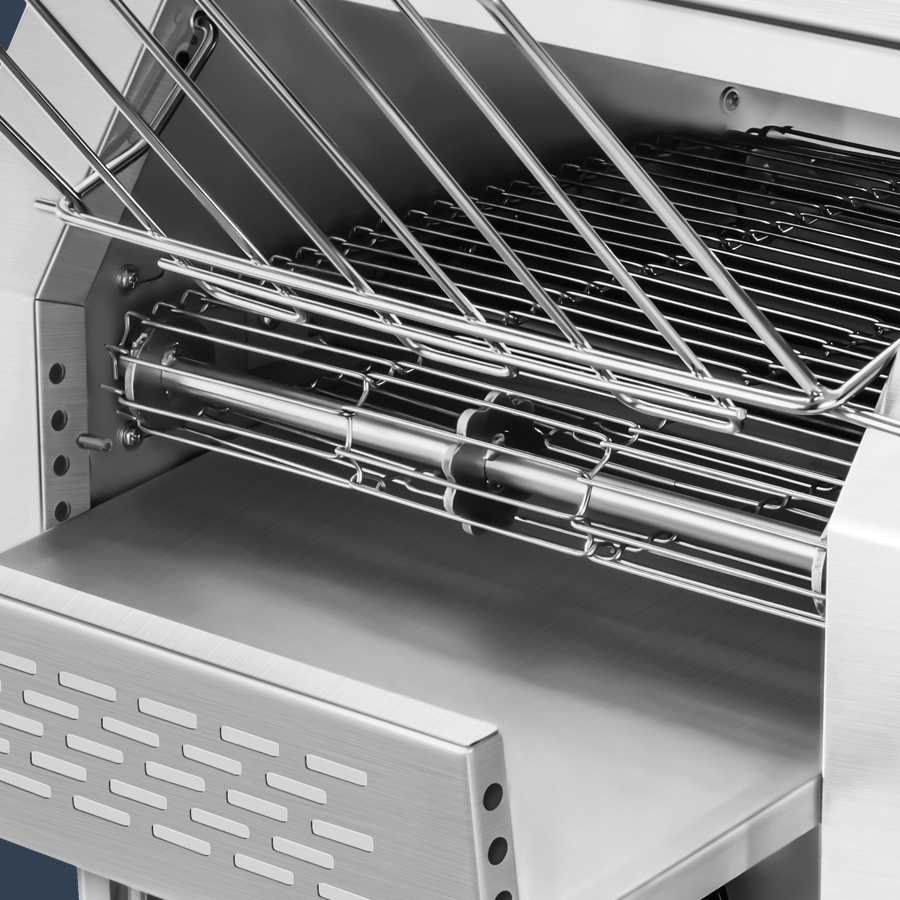 abnehmbare Auffangschublade erleichtert Reinigung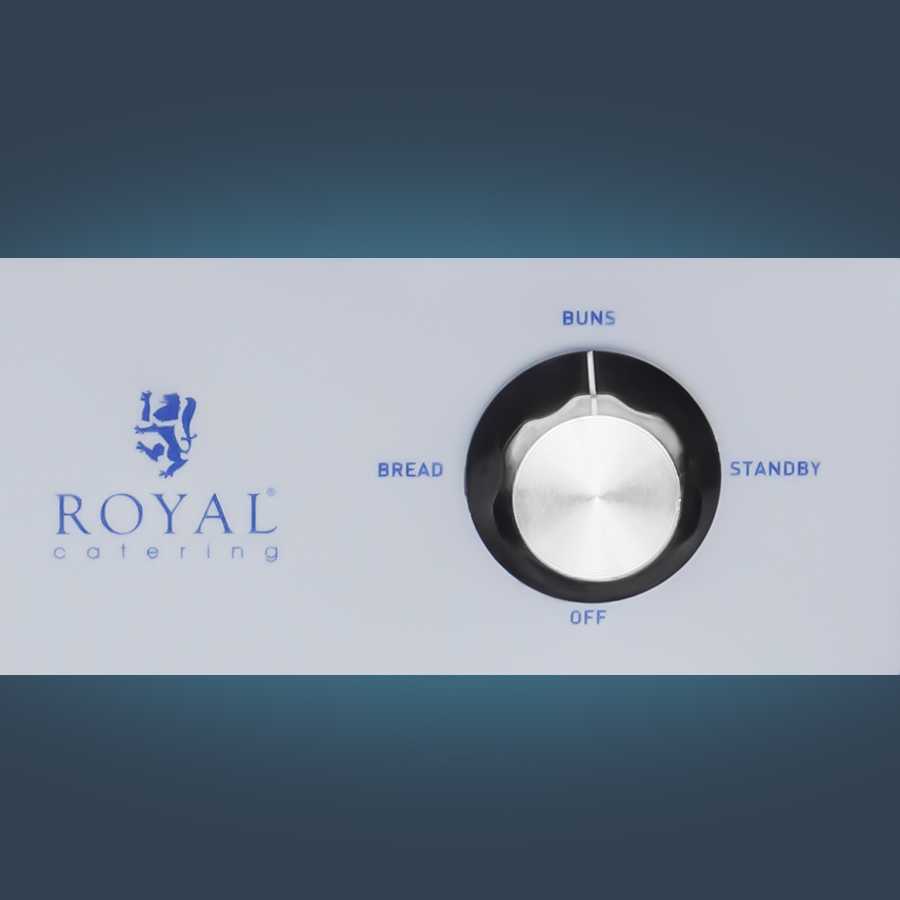 großer Drehknopf ermöglicht schnelle Auswahl zwischen den drei Toastfunktionen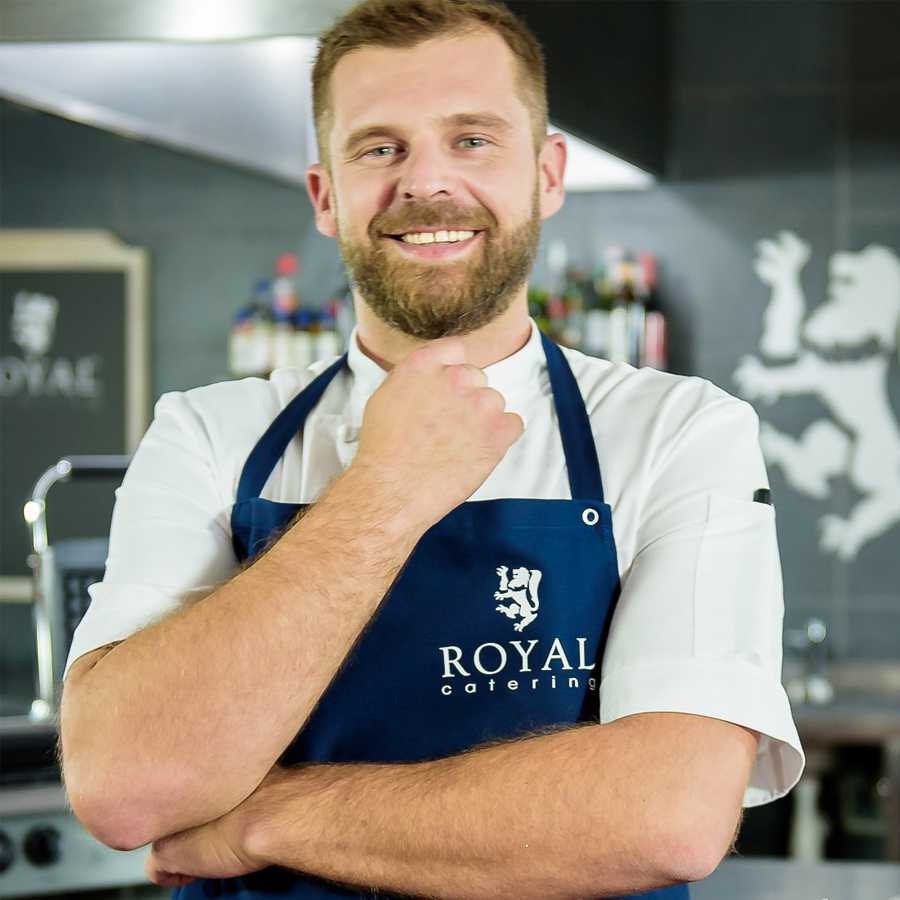 Michał Orłowski
Kulinarischer Experte, Chefkoch renommierter Restaurants in Sydney und Warschau. Ein Profi, genau wie unsere Kunden.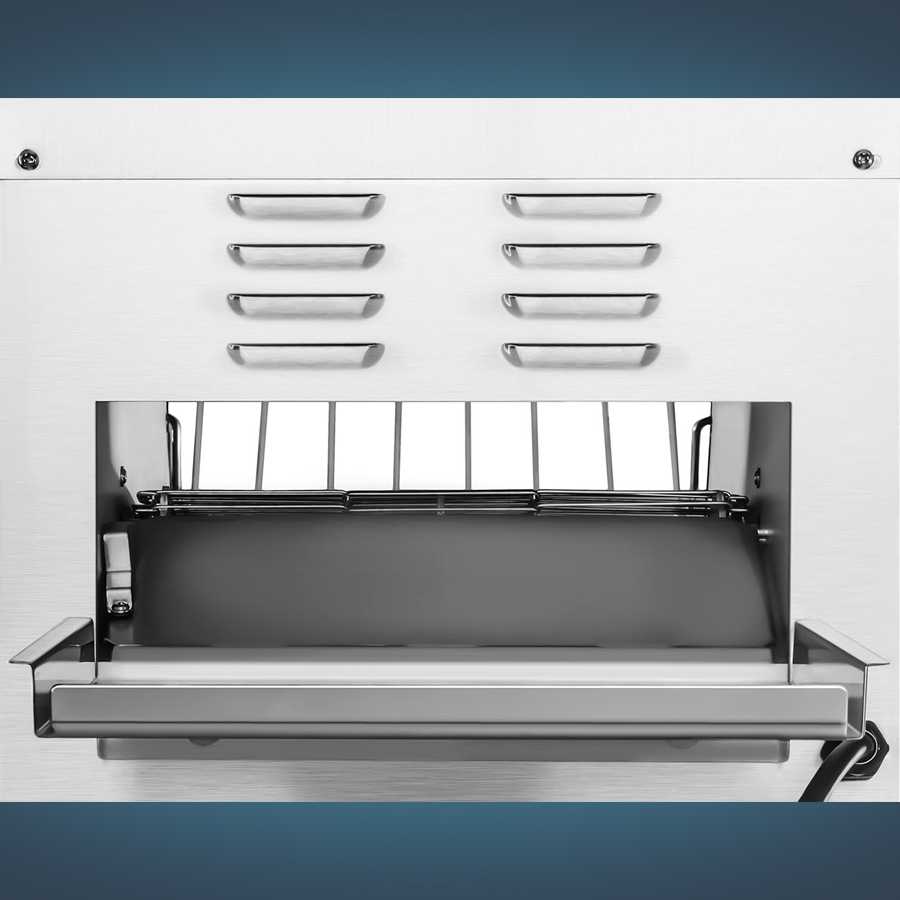 Lüftungsöffnungen und ein eingebauter Ventilator schützen vor Überhitzung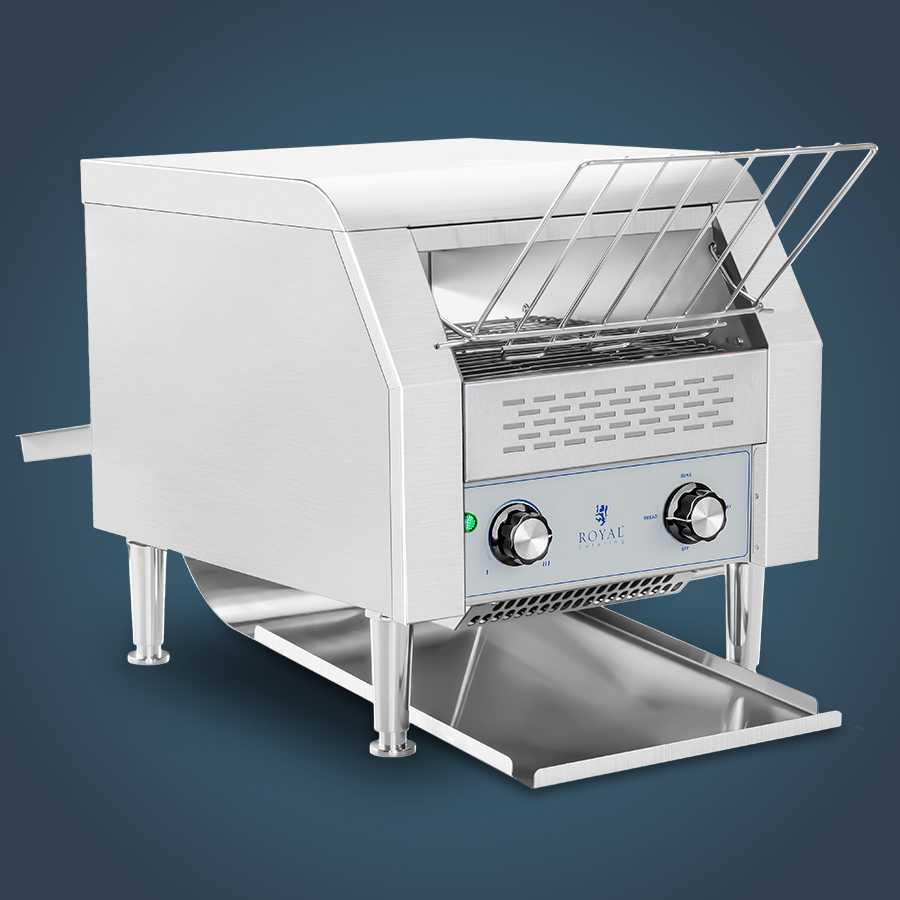 BUNS-Modus zum Toasten mit Oberhitze
STANDBY-Modus zum energiesparenden Toasten
BREAD-Modus zum beidseitigen Toasten mit Ober- und Unterhitze
PRO TIP
Durch häufiges Reinigen des Gerätes und regelmäßiges Entleeren der Schublade wird das Verkohlen von Krümeln, die einen unangenehmen Verbrennungsgeruch verursachen können, verhindert.
Die Brotscheiben sollten gleichmäßig in den Toaster gelegt werden, ohne dass sich die Scheiben überlappen. Dadurch wird vermieden, dass der Toast das Gerät blockiert.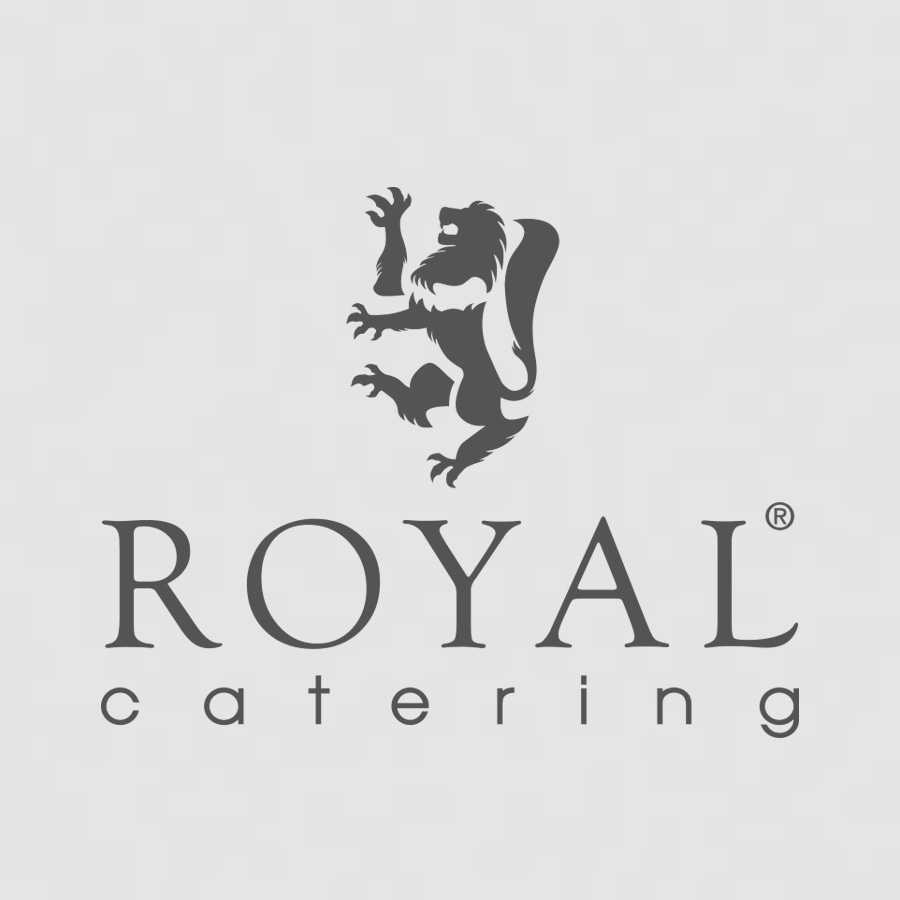 dank der durchdachten Konstruktion ist der Toastvorgang sehr effizient
7 Geschwindigkeitsstufen ermöglichen es den Bräunungsgrad selbst zu bestimmen
Verwendung von Edelstahl und Aluminium verlängert die Lebensdauer des Geräts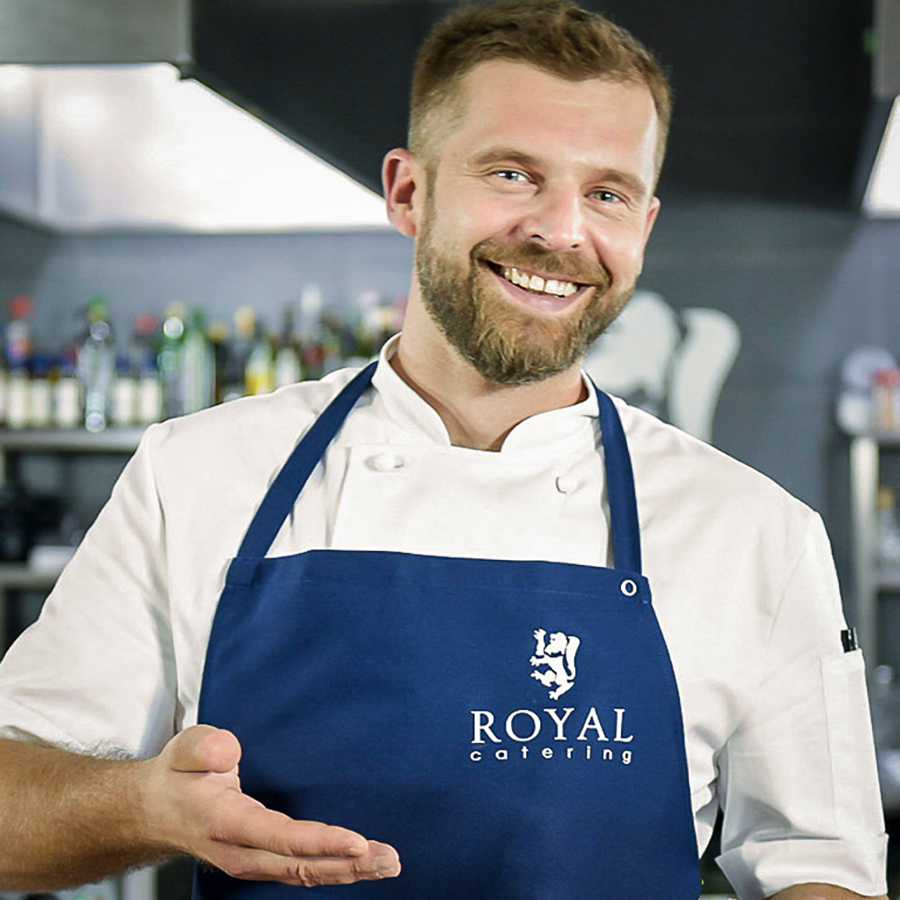 How many toast slices can I prepare with this device?
Depending on how light or dark you want the toasts to be, you can prepare between 180 (very crisp) and 720 toasts (very light) per hour.
What material is the housing made of?
To ensure a long service life and easy cleaning of the device, the housing is made of stainless steel and aluminium.
Is this device also suited for burger buns?
Absolutely. There is even a separate "Buns" programme with which you can toast burner buns on one side.
---
Sort by...
---
Leave a review (5 stars is highest, 1 is lowest)
★
★
★
★
★
Click on the link sent to your e-mail address and confirm your opinion! It will be published after verification.
Reviews from Anonym (18 Sep 2021)
Reviews from Anonym (18 Sep 2021)
Tarkista takuuehdot
Kahden vuoden käytön jälkeen vastukset vaurioituneet, rullalakkasi pyörimästä, etupaneeli pahasti tummunut. Takuuhuolto olisi ollut mahdollinen, mutta asiakkaan pitää itse maksaa ja vastata kuljetuksesta huoltoon Puolaan. Kolmen vuoden takuu toki tuotteilla on, mutta jatkossa suosin suomalaisia myyjiä joilla takuuhuolto toimii. Olen ostanut Expondolta kolme tuotetta, jotka jokainen vaatinut takuu huoltoja.
Reviews from John (5 Aug 2020)
Reviews from John (5 Aug 2020)
Good buy toaster (pun intended)
It's a well-made toaster with a conveyor belt. Works as expect. An advantage compared to some of the alternatives it the fairly high slot. Another is that it can run on a 10 Amp (@240 V) fuse if you don't have 13 or 16 Amp sockets available. Good bend on the return slide avoids slices getting stuck under the toaster. Takes two normal slices at a time or really large pieces of artisan loaves across. There are faster models around but this one is versatile and does not take up too much space.
Reviews from Anthony Grace (10 Feb 2020)
Reviews from Anthony Grace (10 Feb 2020)
toasters
Why dont you put the controls at the back of the toaster for use in hotels so the customers cannot interfere with the correct speed
expondo experts reply
12 Feb 2020
Dear Customer,
Thank you for your review and your input.
We will forward your feedback to the product developers.
Should you have questions please do not hesitate to contact us.
Best regards,
expondo Customer Care
Still not sure?
Our experts are ready to help!
Mon - Fri 09:00am - 04:00pm
4-in-1

Power: 1,800 W

Up to 160 °C

Timer up to 60 min

Further accessories
Ready to ship today,
Delivery time appr. 4-7 workdays
Tower Rotisserie - 4-in-1 - 1,800 W - 31 L
Instead of: 259.00€
139.00€
Motor output: 2,000 W

72 kg/h

3 grinder plates

Reverse function

Long-lastings
Ready to ship today,
Delivery time appr. 4-7 workdays
Meat Grinder - reverse - 72 kg/h
Instead of: 219.00€
149.00€