Double Waffle Maker - 2 x 1300 Watts - Round
Manufacturer: Royal Catering | item number: EX10010316 | Model: RCWM-2600-R
Product highlights
Dimensions: 43 x 50 x 56 cm
Power: 2 x 1300 watts
Timer up to 15 min
Stainless steel casing
Teflon and aluminium baking plate
The waffle maker RCWM-2600-R has two round waffle irons which are each powered by 1300 watts and heat up quickly. They have a diameter of 18,5 cm each and can be used to prepare two 17 cm waffles or eight divided waffles. The heat insulated, ergonomic handles ensure a safe and comfortable operation of the stainless steel device.
Show more
Show less
The baking plates are made from Teflon and are enclosed by heat-insulating aluminium. The non-stick coating produces the typical pattern of Belgian waffles and makes for an easy removal of the waffle from the machine. The overflow protection at the edge of the plates keeps your workspace clean and hygienic and makes the device easy to clean.
Show more
Show less
Both waffle makers have their own thermostat. The temperature can be adjusted between 0 and 300 °C. Both timers can be individually configured between 1 and 15 minutes. The integrated automation and the signal tone after the time has expired enable you to keep complete control.
Show more
Show less
High-powered - short heating period with 2 x 1300 W
High-quality stainless steel casing and baking plate made from Teflon
2 large or 8 single waffles per serving
Protection with heat insulated handles and integrated thermostat
Easy to clean and non-stick coating, as well as overflow protection
Double Waffle Maker - 2 x 1300 Watts - Round
Bring the smell of freshly baked waffles into your café or restaurant and treat your guests to delicious, golden brown Belgian waffles - with the double waffle maker RCWM-2600-R from Royal Catering. A sweet dessert with chocolate or berries or a salty snack with herbs and bacon, anything is possible with this waffle maker.
Check out also our bestselling bubble waffle maker!
Temperature range
0 - 300 °C
Material, casing
Stainless steel
Material, plates
Aluminium / Teflon
Dimensions (LxWxH)
43 x 50 x 56 cm
Shipping dimensions (LxWxH)
56 x 43,5 x 32 cm
Download PDF
Download PDF
Waffle maker
2 handles
Instruction manual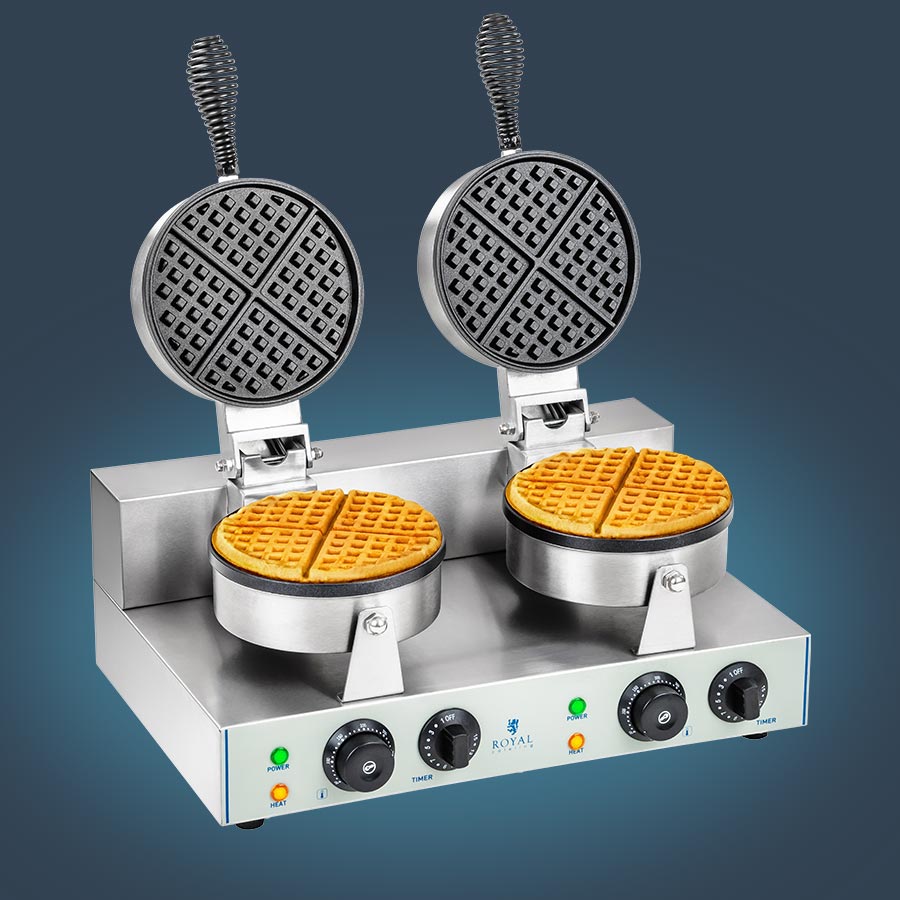 2 x 1,300 W quickly heat the baking surfaces
Bake 2 round or 8 triangular waffles at the same time
Ideal for food trucks, cafés, restaurants, etc.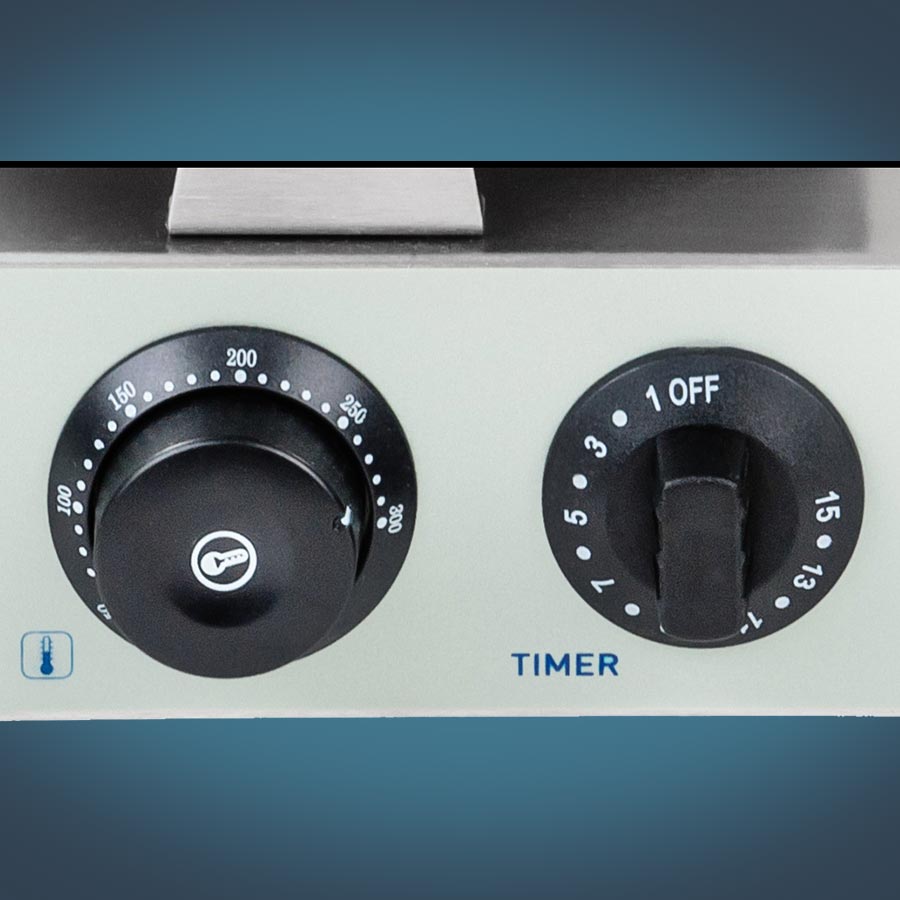 Quickly and intuitively set parameters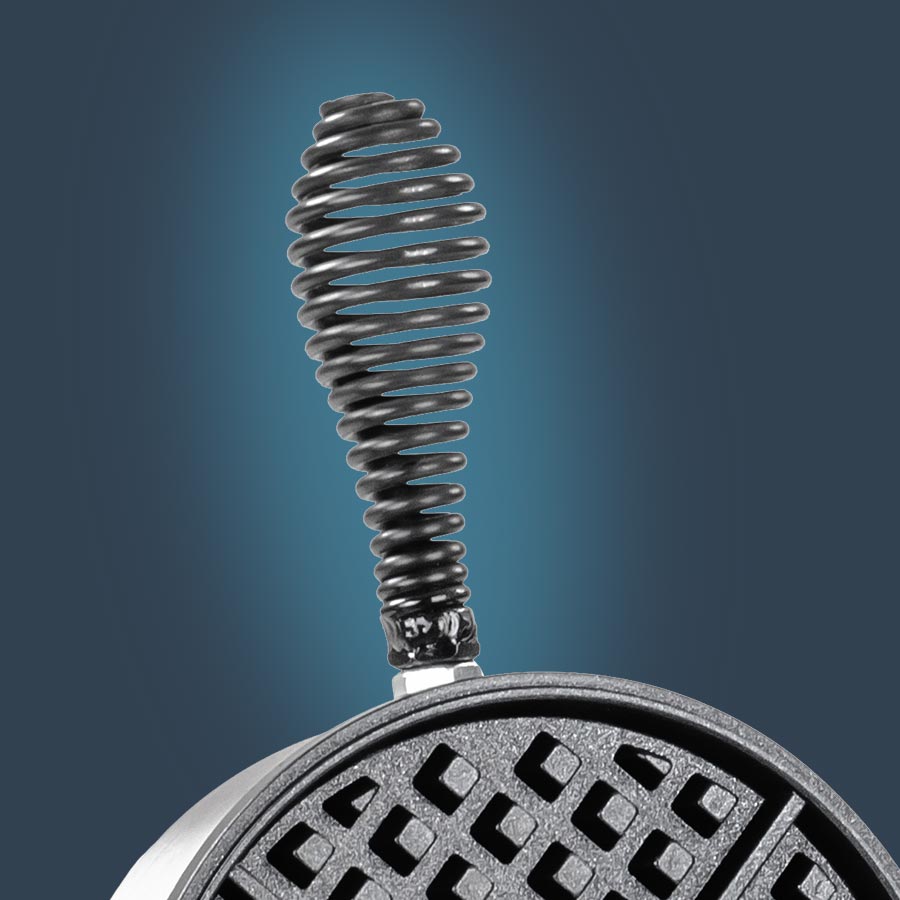 Heat-resistant handle protects user from burns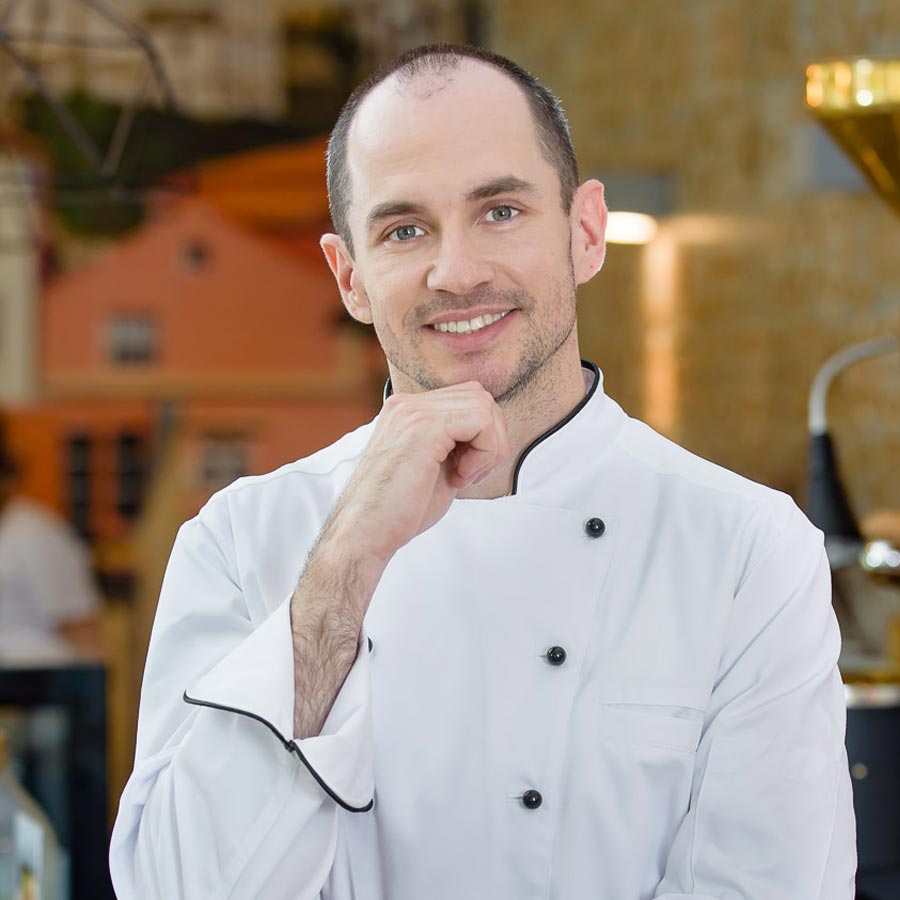 Getestet von Artur Siwiec, Chefkonditor renommierter Hotels und Restaurants in Berlin und Warschau. Ein Profi mit 20 Jahren Berufserfahrung.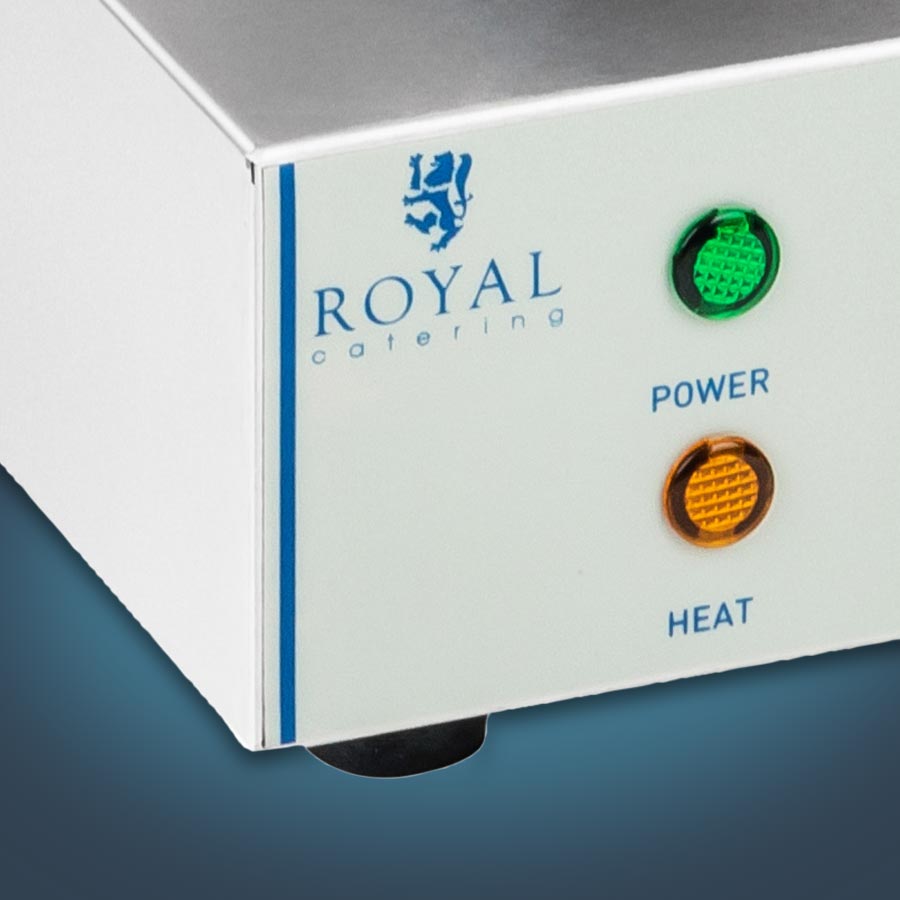 4 non-slip feet stabilise the device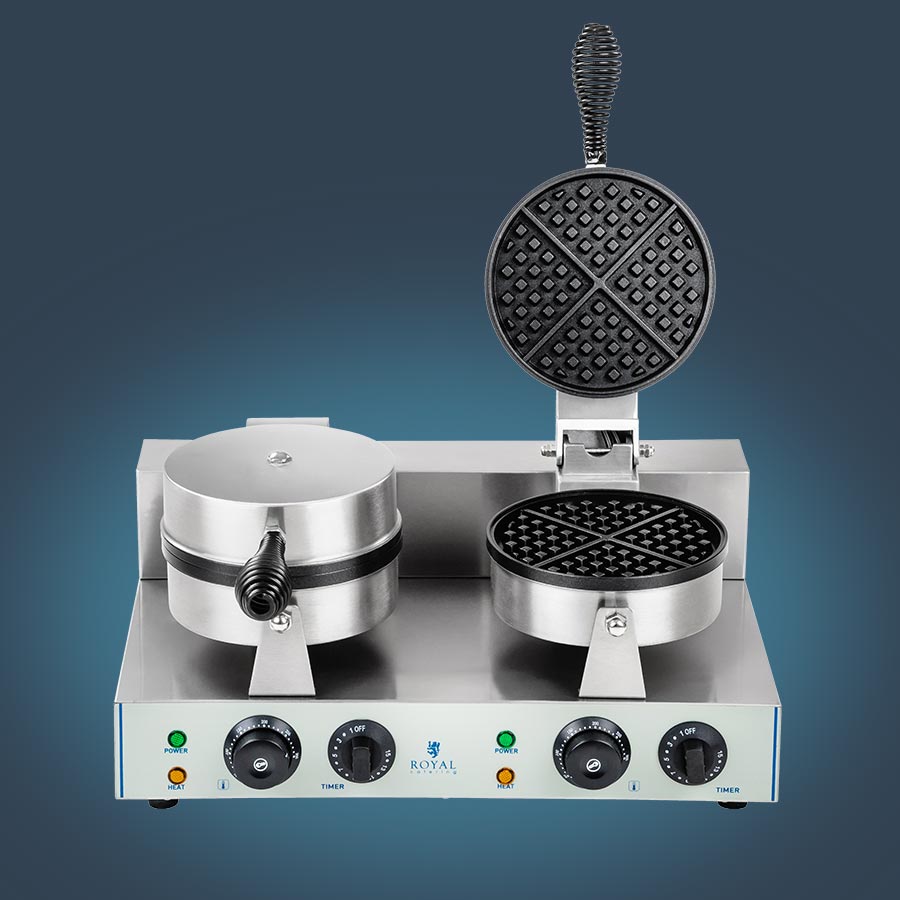 Smooth, easy-to-clean stainless steel housing
Rim prevents batter from running out of the mould
Signal sounds when the time is up
PRO TIP
I recommend beating the egg whites for the batter with a pinch of salt before mixing them into the batter at the end.
Use real butter for the batter, as it makes the waffles taste much better than using oil or margarine.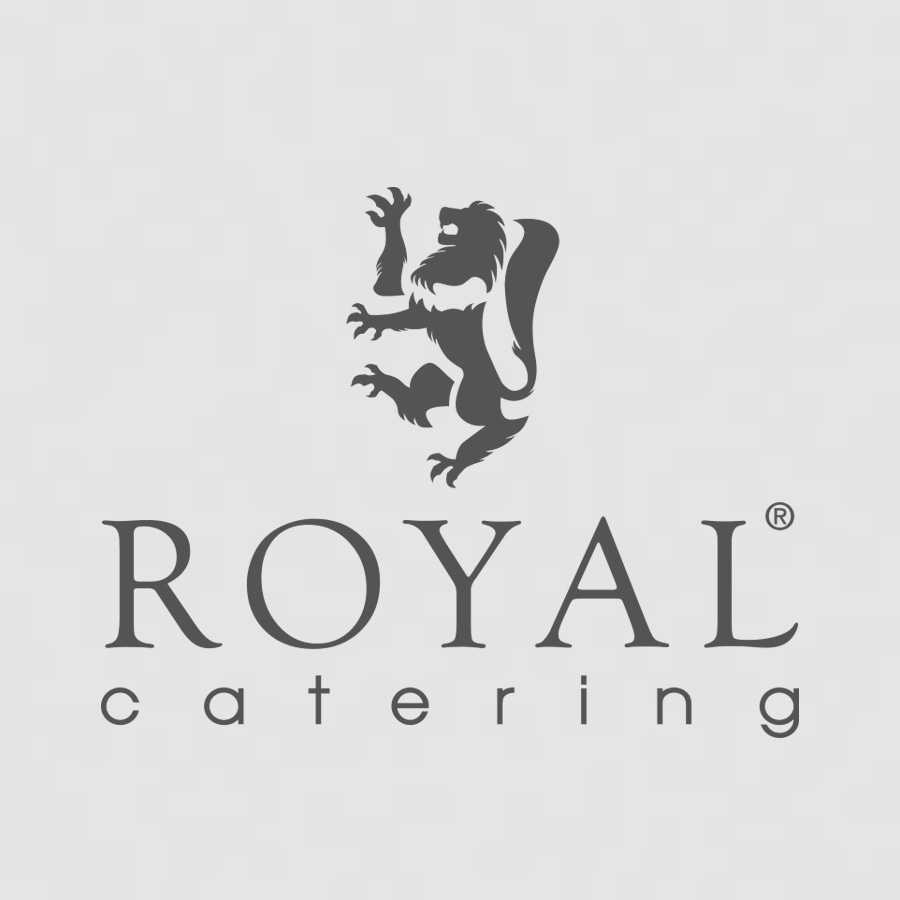 2 thermostats maintain the desired temperature in a range from 50 - 300 °C
Set the optimal baking time with the timer (0 - 15 min)
High-quality Teflon coating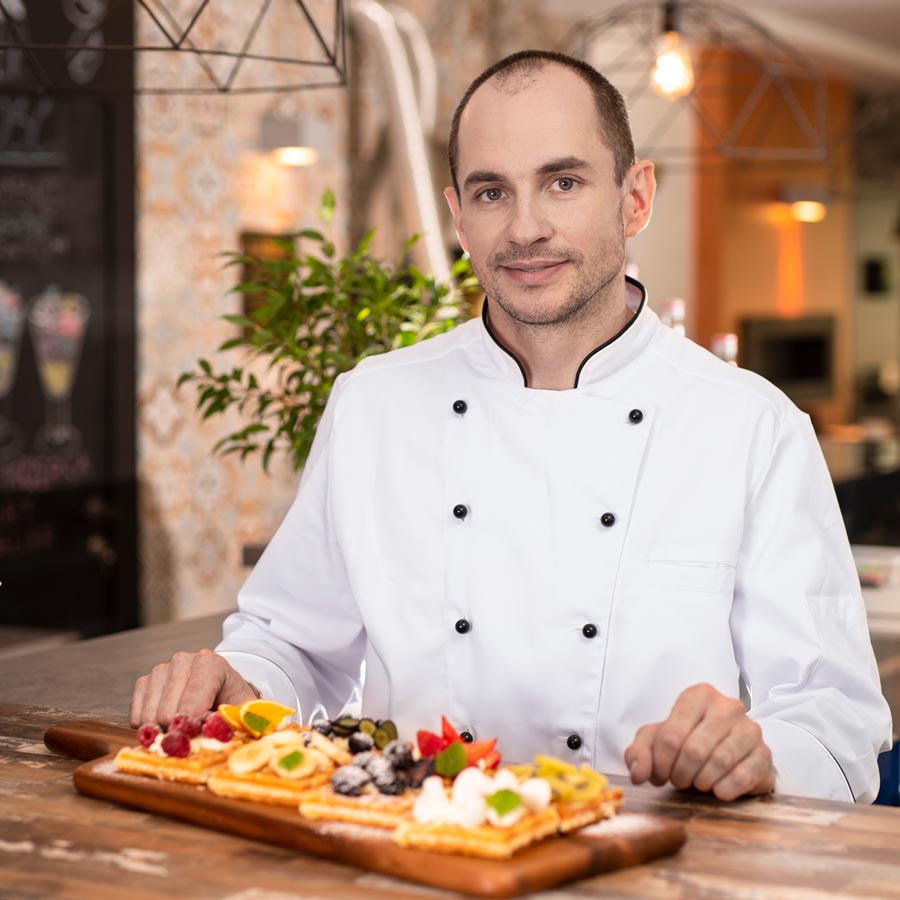 How large is one waffle?
"The waffle has a diameter of 17 cm."
Is there something I must do before using the waffle maker for the first time?
"Before using the waffle maker RCWM-2600-R from Royal Catering for the first time, heat the device for 10 minutes at 250 °C."
---
Sort by...
---
Leave a review (5 stars is highest, 1 is lowest)
★
★
★
★
★
Click on the link sent to your e-mail address and confirm your opinion! It will be published after verification.
Reviews from R.P. (2 Dec 2021)
Reviews from R.P. (2 Dec 2021)
Mässig zufrieden mit Service und Produkt
Wir haben das Produkt gekauft und zu Beginn war es auch einwandfrei. Aber bereits nach wenigen Tagen hat sich, trotz grösster Sorgfalt, die Anti-Haft-Beschichtung zu lösen begonnen. Daraufhin habe ich eine Anfrage bei Expondo gestartet für einen Austausch. Leider wurde mir kein Austauschgerät angeboten, sondern nur eine Reperatur welche unbestimmte Zeit in Anspruch nehmen würde. Wir benötigen das Waffeleisen aber Täglich und können nicht einfach "unbestimmte Zeit" darauf verzichten.
Es ist bekannt, dass das Gerät bei einem Garantiefall sowieso ausgetauscht und nicht repariert wird. Deshalb wäre es kein Mehraufwand für Expondo.
expondo experts reply
10 Mar 2022
Danke für Ihre Meinung. Wir arbeiten stetig daran, unsere Produkte und unseren Service zu verbessern.
Reviews from Amazon Customer (7 Dec 2016)
Reviews from Amazon Customer (7 Dec 2016)
Super Gerät!
Das Waffeleisen hab ich für den Verwin bestellt, um damit auf dem Weihnachtsmarkt endlich vernünftig Waffeln backen zu können...und es klappt prima. Es geht viel schneller und der Dauerbetrieb stellt kein Problem dar. Allerdings verschlingt es nach ersten Erkenntnissen wohl etwas mehr Teig!
Still not sure?
Our experts are ready to help!
Mon - Fri 09:00am - 04:00pm