Warming Tray - 3 x 2 L - 400 W
Ready to ship today,
Delivery time appr. 4-6 workdays
Your benefits at a glance
Warming Tray - 3 x 2 L - 400 W
Highlights
High-powered warming tray with 400 W
Three separately removable 2-litres containers with an acrylic glass covering
Large, separately usable warming tray
Large temperature range from 45-85 °C for a variety of dishes
Secure "Cool-Touch"-handles at the tray and the lid
Warming Tray - 3 x 2 L - 400 W
The warming tray RCHP-400/3 by Royal Catering is the perfect helper for keeping dishes warm and serving them at the right temperature. It is perfectly suited for professional catering in hotels or at events, as well as for private usage, because of it high-quality workmanship and elegant design.
Serve dishes at the perfect temperature with the warming tray RCHP-400/3 from our catering supplies
The warming tray is powered by 400 watts and evenly distributes warmth across the whole tray, thereby keeping three containers warm at the same time. The containers are made from stainless steel and can each hold up to 2 litres of food. This allows you to keep up to 6 litres of food at a constant temperature for a prolonged time.
The tanks can be removed, filled with food and put back onto the warming tray, without needing to move the device as a whole. Elegant and practical: Each tank can be covered with a transparent lid so that the guests are able to view the food without needing to remove the cover each time. The three tanks are kept together by a stainless steel frame. The containers do not shift when used or during transportation.
The warming tray measures 52.5 x 35.5 cm and offers enough space to store plates and keep them warm before serving food. The warming tray can therefore also be used without the tanks and the stainless steel frame. The dishes can also be prepared directly on the stainless steel hot plate and be kept warm.
The temperature of the warming tray can be adjusted between 45 and 85 °C with the seamless rotary knob. This wide temperature range allows you to keep a variety of different dishes and tableware warm. As soon as the desired temperature has been reached, the practical Auto-Off-function of the integrated thermostat provides a constant heat supply. An additional control lamp reliably indicates when the device is being heated.
The secure construction of the device is completed with two side handles made from plastic that allow you to easily carry the warming tray. The handles do not heat up (cool-touch), so that the warming tray can be safely touched and carried. The lids are made from Perspex and have small heat-resistant handles.
The low weight of only 4.8 kg makes transportation easy. The acrylic glass lids only weigh half as much as real glass while being much more durable. Four rubber knobs ensure a sturdy footing so that the device does not shift during usage and there are no scratches to the surface where it is placed.
The lid and the three tanks are durable and very easy to clean since they are dishwasher-safe. The high-quality stainless steel tanks are perfectly suited to be in direct contact with food, since the material prevents chemical reactions.
Voltage / Frequency
230 V / 50 Hz
Material, warming tray
Stainless steel
Material, container
Stainless steel
Material, lid
Acrylic glass (PMMA)
Measurements, container
30 x 15,5 x 6 cm
Total capacity, containers
6 l
Measurements, warming tray
52,5 x 35,5 cm
Measurements (LxWxH)
38,5 x 64 x 18,5 cm
Transportation measurements (LxWxH)
70 x 15 x 42 cm
Transportation weight
5,5 kg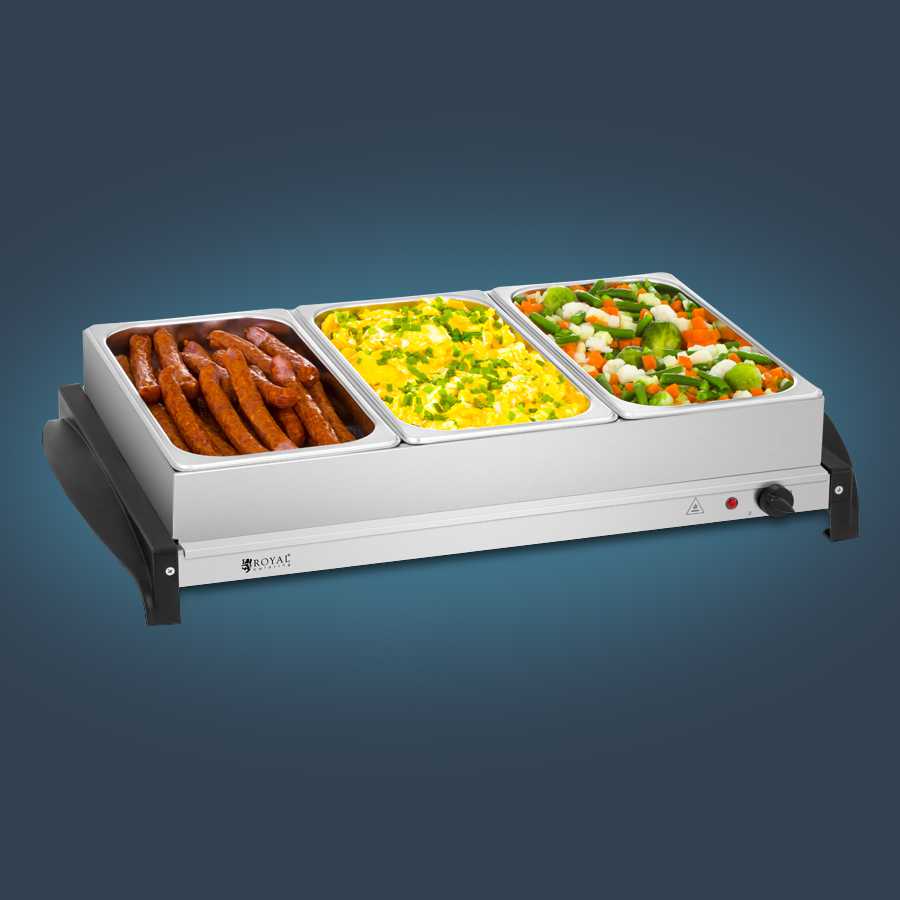 Large total volume of 6 L
Includes 3 containers for different foods
Hot plate can also be used separately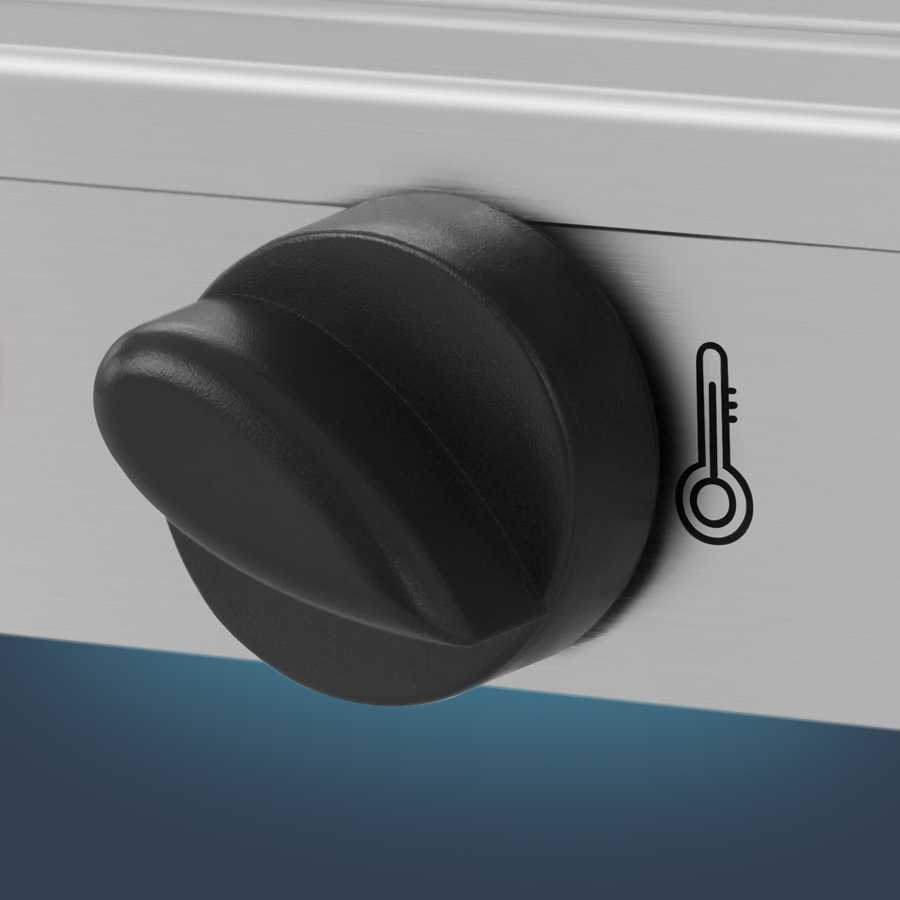 Simple knob for adjusting temperature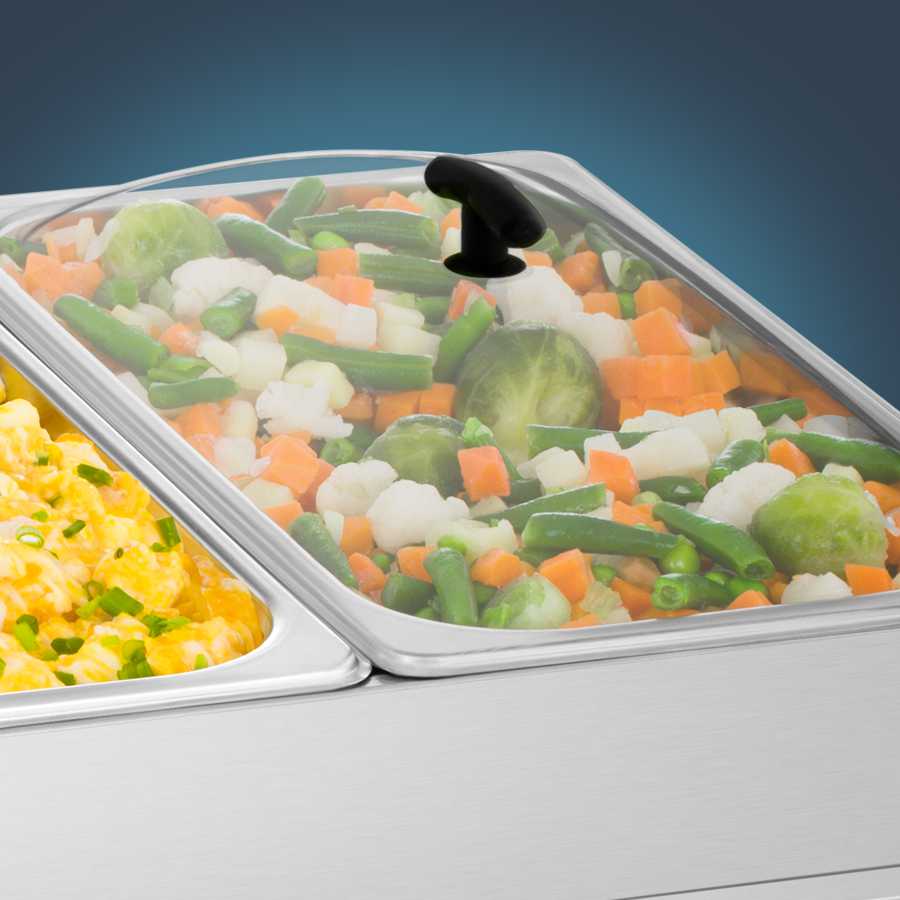 Matching lids keep the food warm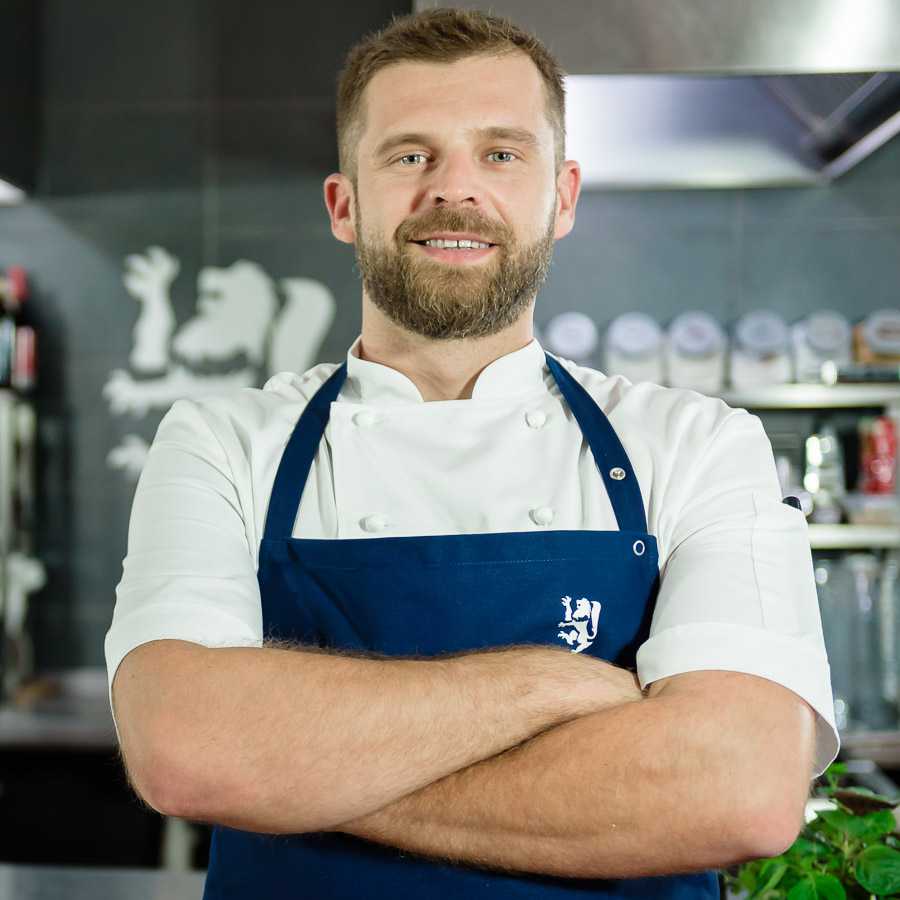 Tested by Michał Orłowski, head chef of prestigious restaurants in Sydney and Warsaw. An experienced and professional restaurateur, just like our customers.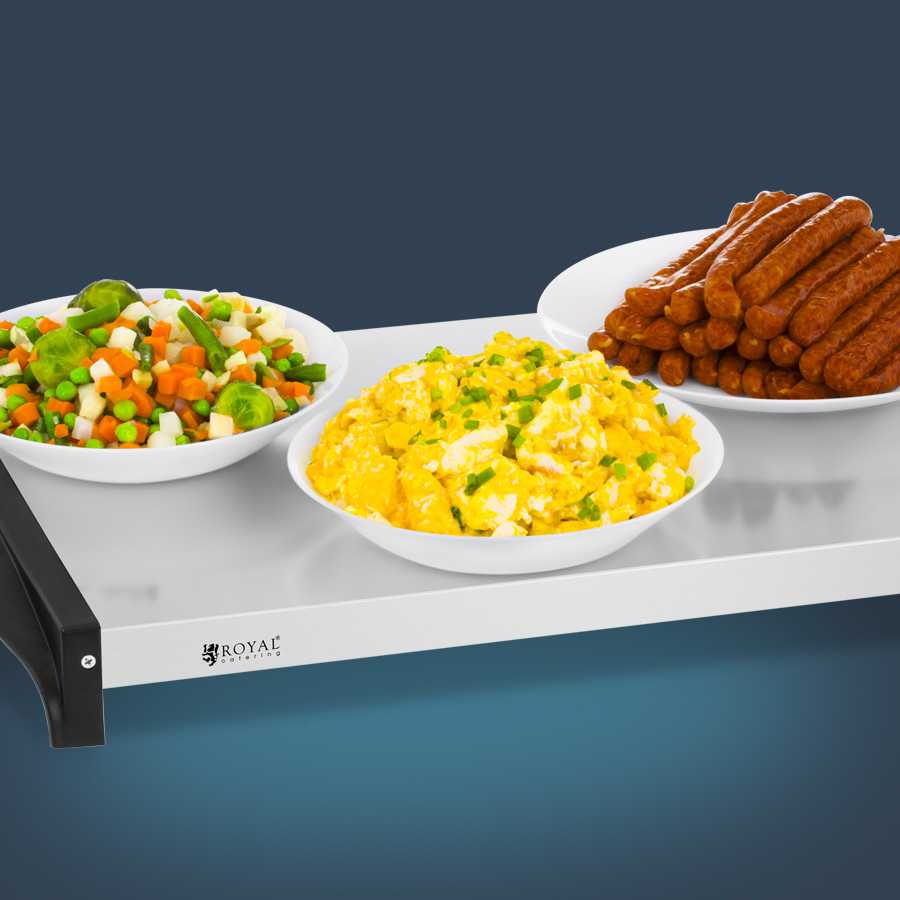 Plate can also be used for keeping ready-to-serve plates warm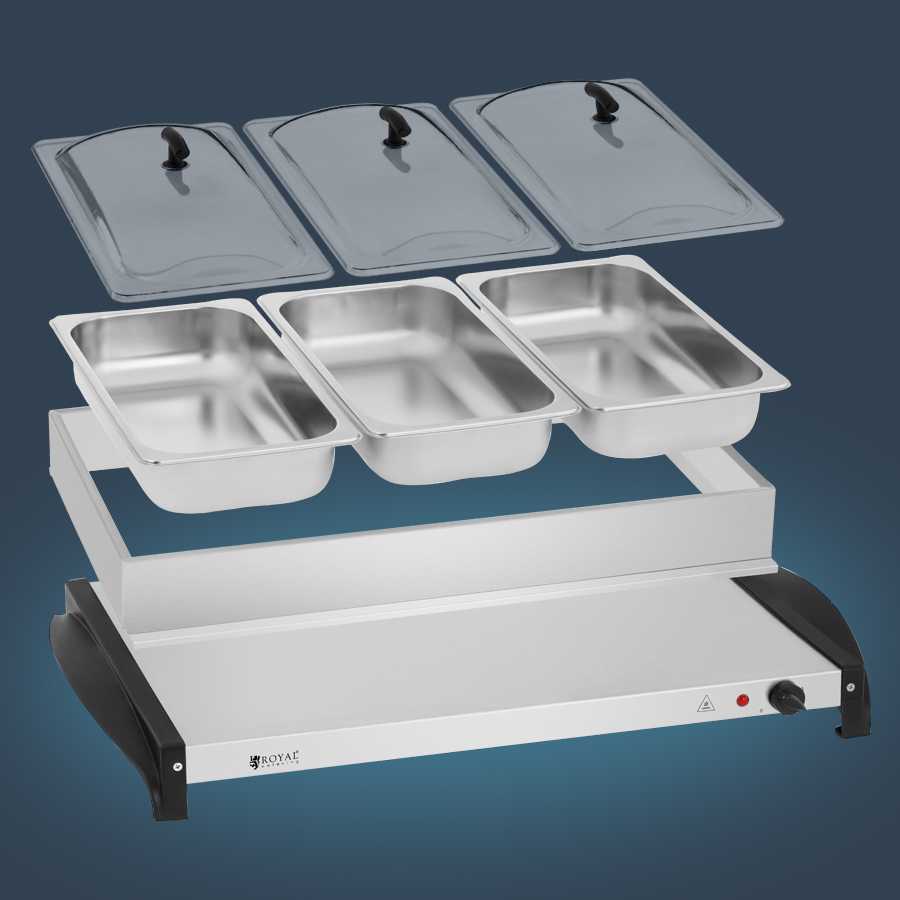 Modular elements are easy to remove for cleaning
Attractive food presentation thanks to transparent lids
Sturdy frame keeps the containers from shifting
PRO TIP
Keeping food warm helps to preserve the flavour.
I recommend warming trays because dishes should always be served at the right temperature.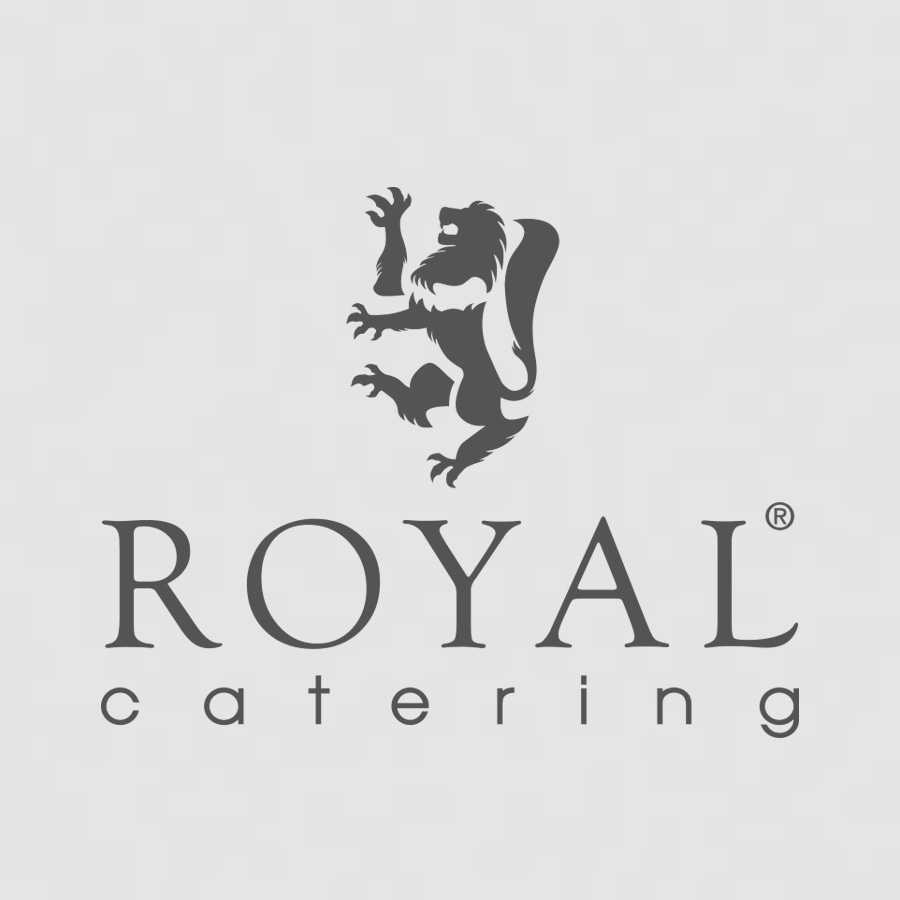 Thermostat maintains the desired temperature between 45 and 85 °C
Made of food-safe stainless steel
Practical, heat-resistant carrying handles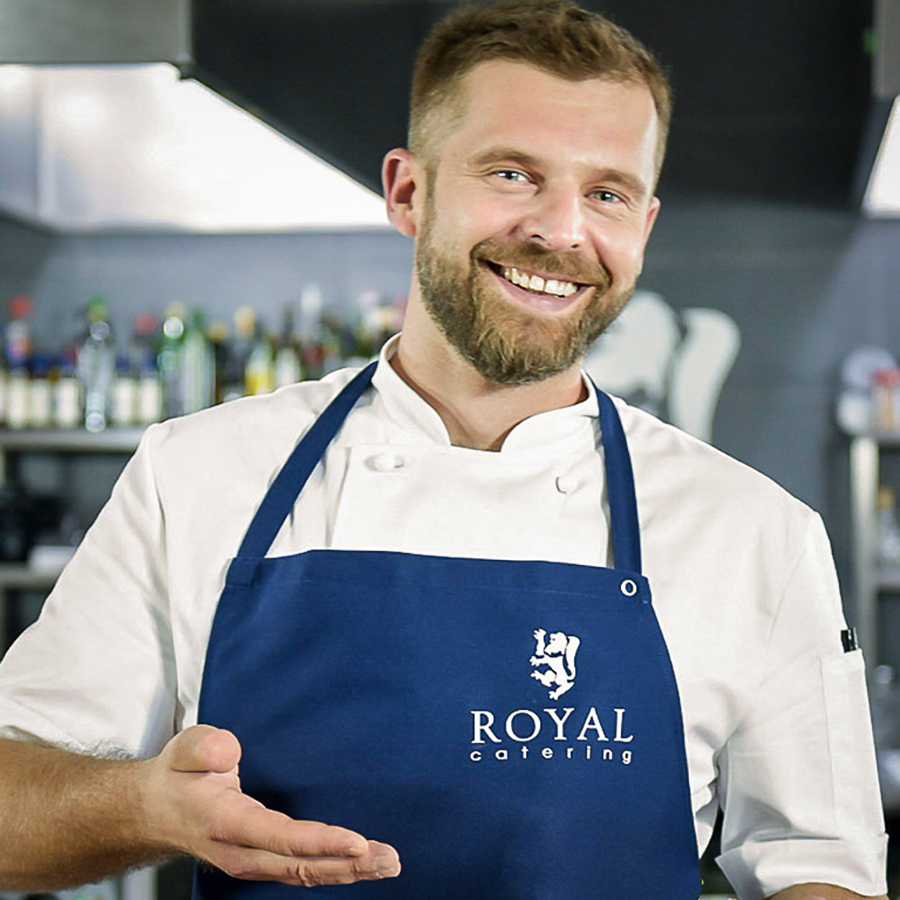 Jeden Tag arbeite ich mit Profiprodukten. Für dieses Video habe ich das Gerät auf Herz und Nieren getestet. Sie können sich ganz genau ansehen, wie dieser Artikel funktioniert und dann entscheiden, welches Modell für Ihr Unternehmen das Beste ist. Ich hoffe, mein Clip und die Tipps helfen dabei, Ihr Geschäft noch erfolgreicher zu machen.
Chefkoch renommierter Restaurants in Sydney und Warschau. Ein professioneller und erfahrener Gastronom.
Do I have to use the supplied containers to keep the dishes warm or can I use different containers with the warming tray?
The containers and the frame for the containers can be removed and the warming tray can be used separately for keeping dishes warm. This means that you can also use different containers with the warming tray.
Are the containers and lids dishwasher-safe?
Yes, the containers and lids are dishwasher-safe and can be easily cleaned.
Warming tray
3 tanks
3 acrylic glass lids
Frame
Instruction manual