Soup Warmer - 2 x 2,75 litres - 300 W
Manufacturer: Royal Catering | item number: EX10010576 | Model: RCBM-2/4R
Free shipment to Ireland

?

Ready to ship today,
Delivery time appr. 4-7 workdays
Product highlights
Volume pot: 2 x 2,75 l
Temperature: 30 - 110 °C
2 separate thermostats
Power: 2 x 150W
Includes 2 covers
Soup dispenser for the use in restaurants, snacks bars or buffet kitchens
Made of a high quality stainless steel
2 pots with a capacity of 2,75 L
Includes 2 covers, with a practical opening for a handle
2 separately adjustable and heated tank with a working capacity of 0,6 L
Temperature range: 30 - 110 °C
Status lights for the tanks
Anti-slip rubber feet
Soup Warmer - 2 x 2,75 litres - 300 W
The RCBM-2/4R soup dispenser from Royal Catering provide you with the perfect helper to aid you in keeping your food warm. This item was specifically designed for the professional use within restaurants - for example to facilitate different cooking times.  The soup dispenser is equally suitable for the use in snack bars, bistros or buffet kitchens. The RCBM-2/4R gently allows for sauces or soups of all kinds to remain at constant temperature.
The soup station has two round inserts, (including lids) each with an inner diameter of 170 mm. This allows the soup station RCBM-2/4R, to keep 5,5 L of either sauces or soups warm and of course, any other food types which you need to keep warm.
The contents of the pot are carefully heated in the water bath within the two round tanks. For this purpose the heated and adjustable tank can be filled with water. The maximum water filling quantity is 0,6 L. A temperature between 30 - 110 °C can be set at each of the three knobs. Due to the high temperature range, this soup station is also suitable for fondues or for the melting of chocolate.
The RCBM-2/4R soup dispenser from Royal Catering is made entirely from high-quality stainless steel and is therefore of a neutral design, easy to clean and resistant to corrosion. Four rubber feet provide the device with safe and non-slip stand upon most work surfaces. The simple design can be easily integrated into any kitchen facility.
The lights next to the knobs give the user of the soup dispenser information about the status (on / off) of the respective tank. The soup dispenser works with a power of 2 x 150 W and a voltage of 230 V. Operation is very easy: simply plug the 1,4 m cable with the EU plug into the socket and keep warming your freshly prepared food - nothing more is standing in the way.
Material
Stainless steel, Plastic
Temperature range
30 - 110 °C
Working capacity of the tank
0,6 L
Working capacity of the pot
2,75 L
Length of power cable
1,4 m (with EU-plug)
Dimensions (LxWxH)
23,5 x 41,5 x 32 cm
Shipping dimensions (LxWxH)
46 x 31 x 37 cm
Download PDF
Download PDF
RCBM-2/4R Soup Dispenser
2 x covers
1 x instruction manual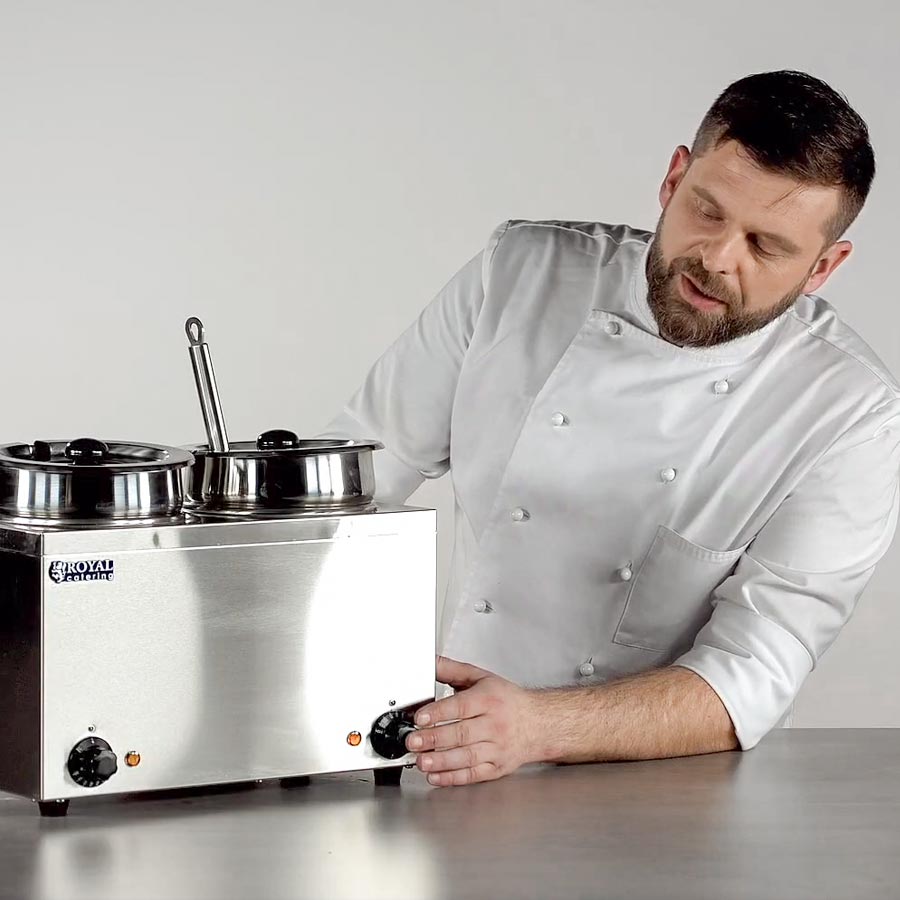 300 W output heats the water quickly
Efficient thanks to 2 x 2.75 L capacity
Perfect for self-service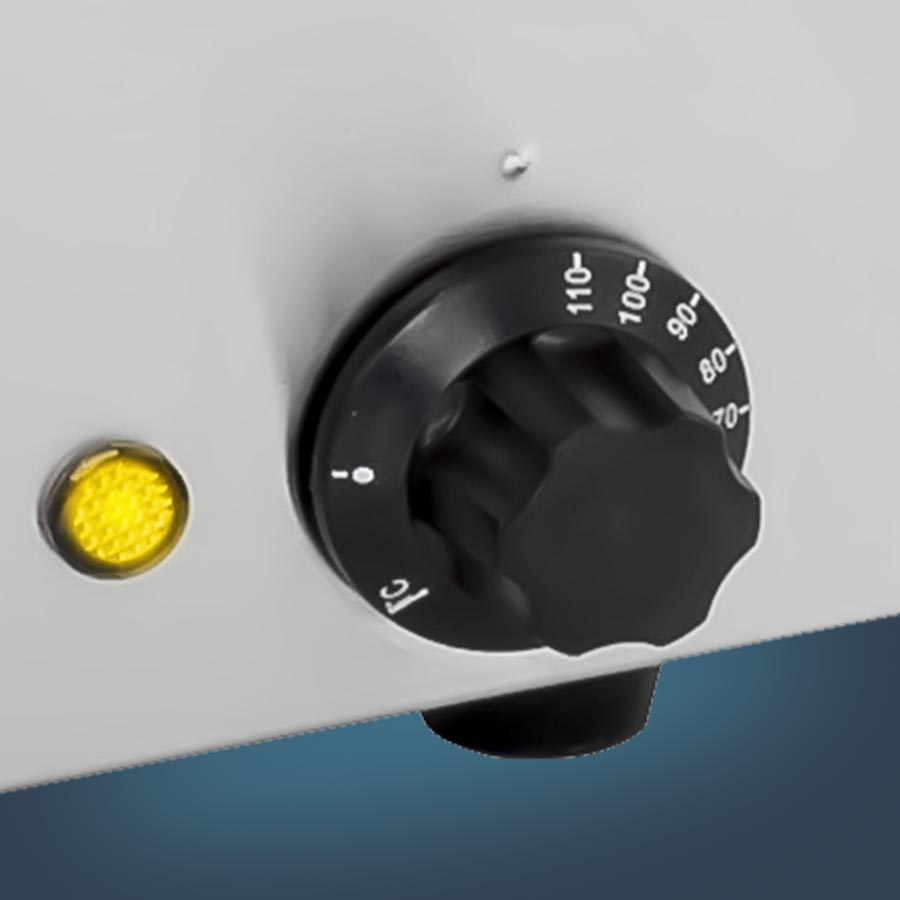 2 independent thermostats maintain temperatures of 30 - 110 °C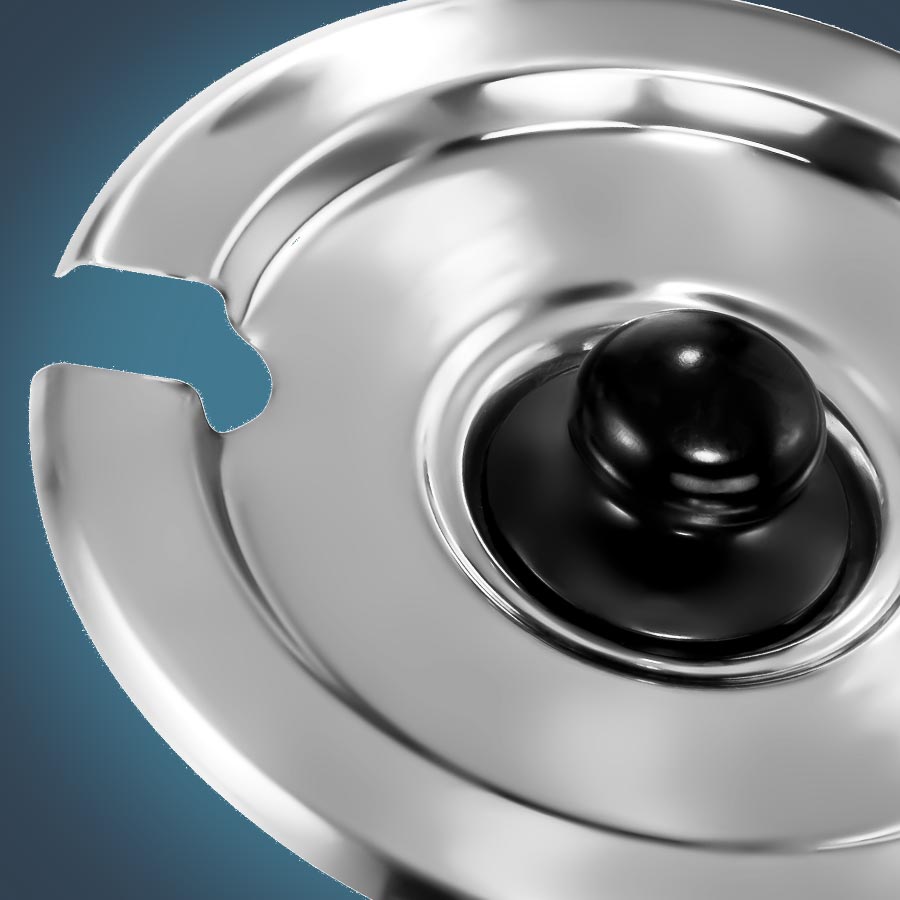 Lid with practical cutout for ladle handle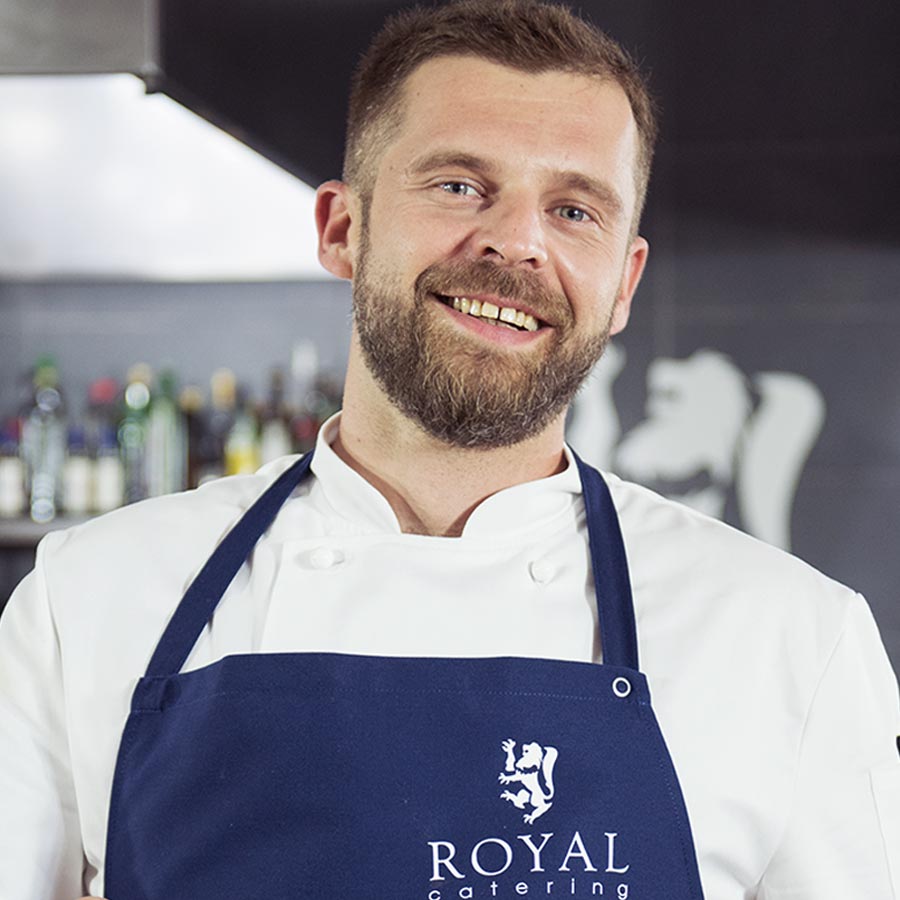 Tested by Michał Orłowski, head chef of prestigious restaurants in Sydney and Warsaw. An experienced and professional restaurateur, just like our customers.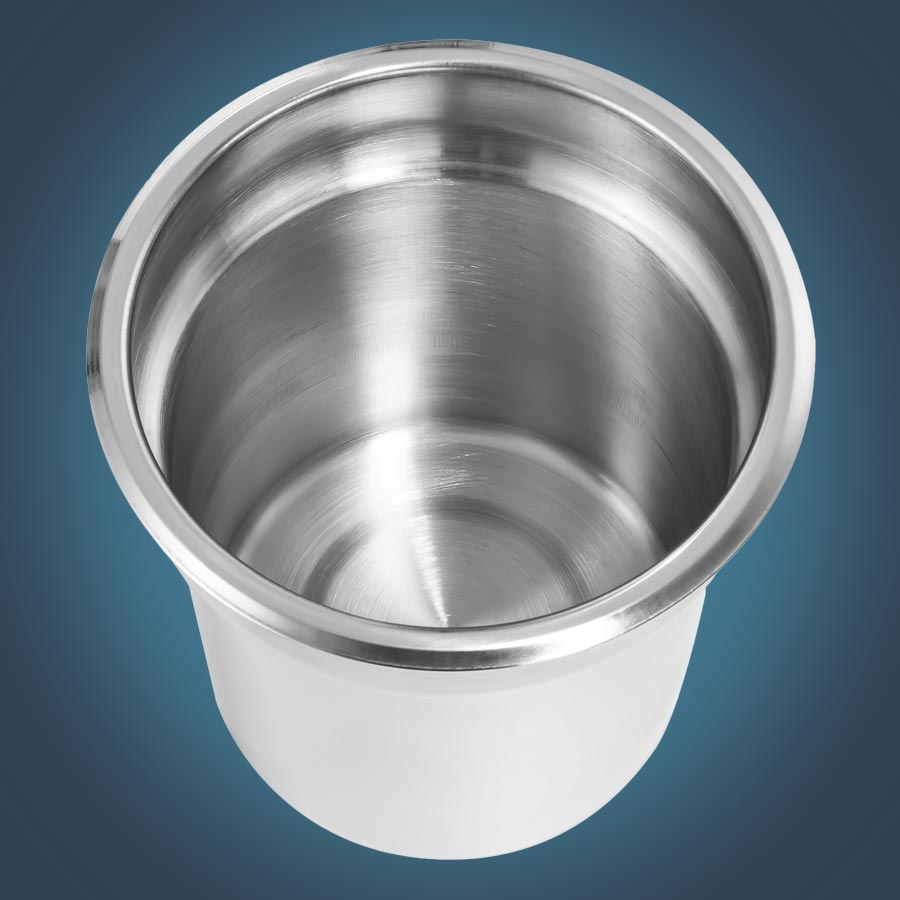 Incl. 2 removable containers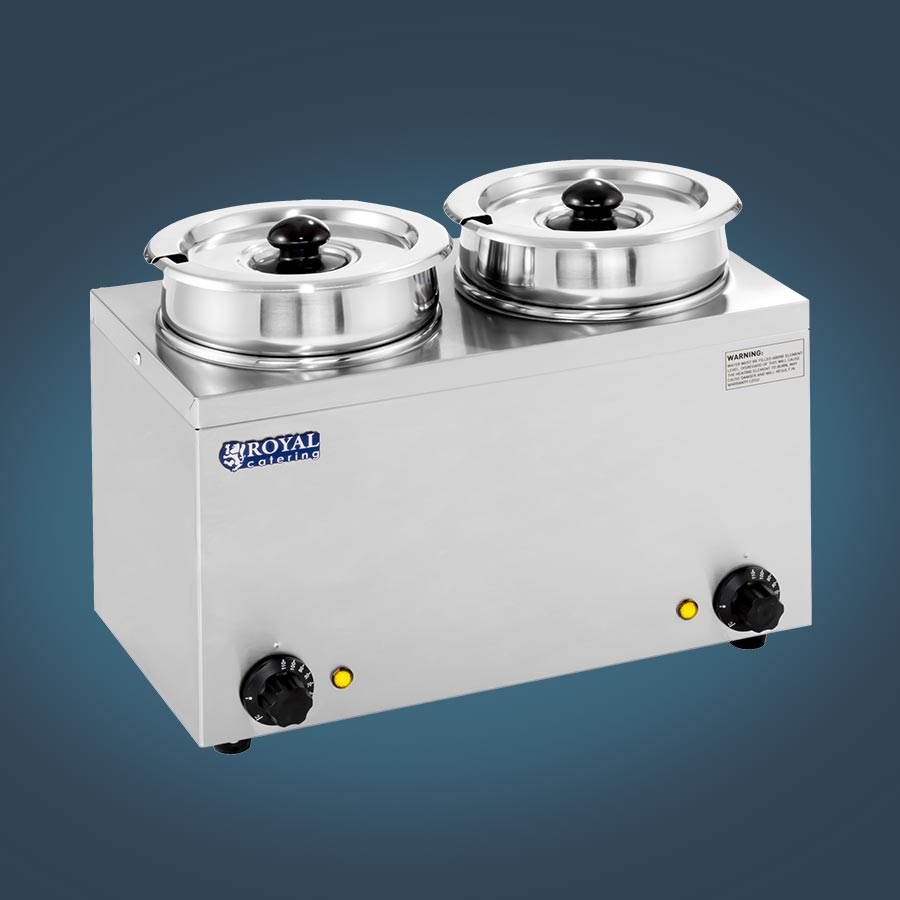 Ideal for cooking and heating up soups, goulash, ragout, etc.
Heat-resistant handles protect from burns
4 non-slip feet guarantee stability
PRO TIP
I keep my hot soups in a soup chafing dish with water bath so that they can be served quickly and won't burn.
The soup station always needs to look fantastic. For an attractive shine, I regularly polish the surface with a solution of water and vinegar or special stainless steel cleaners.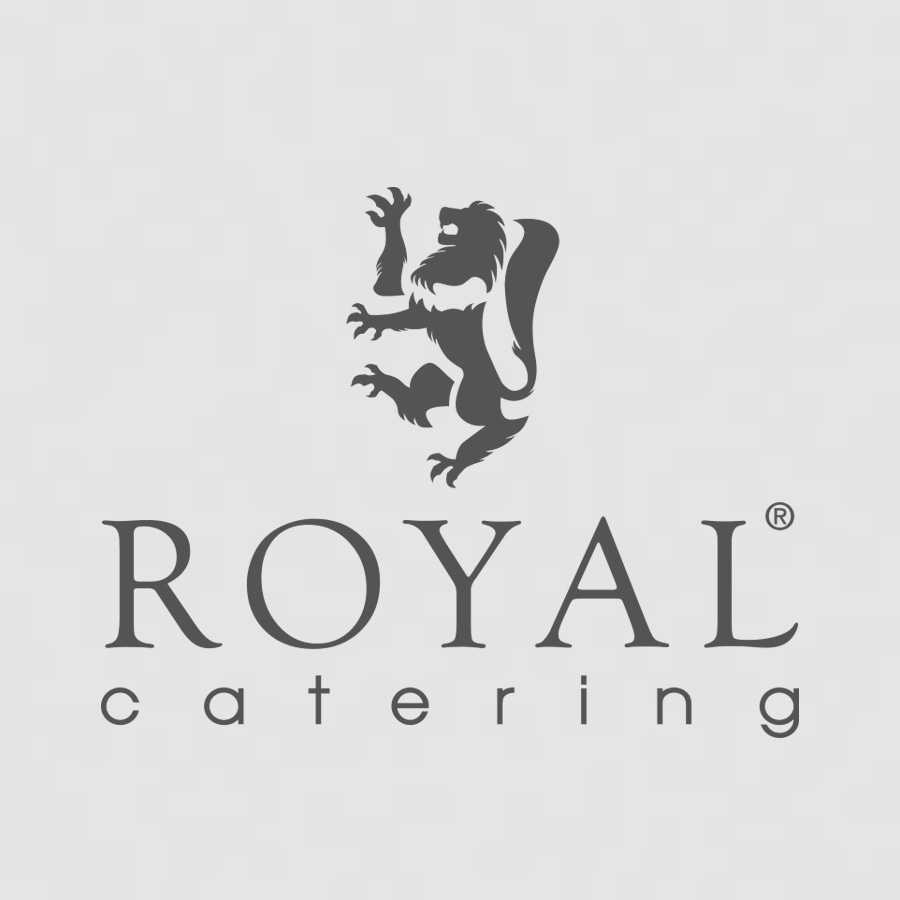 One or two containers can be used, as needed
Water bath prevents food from burning
Stainless steel is long-lasting and food-safe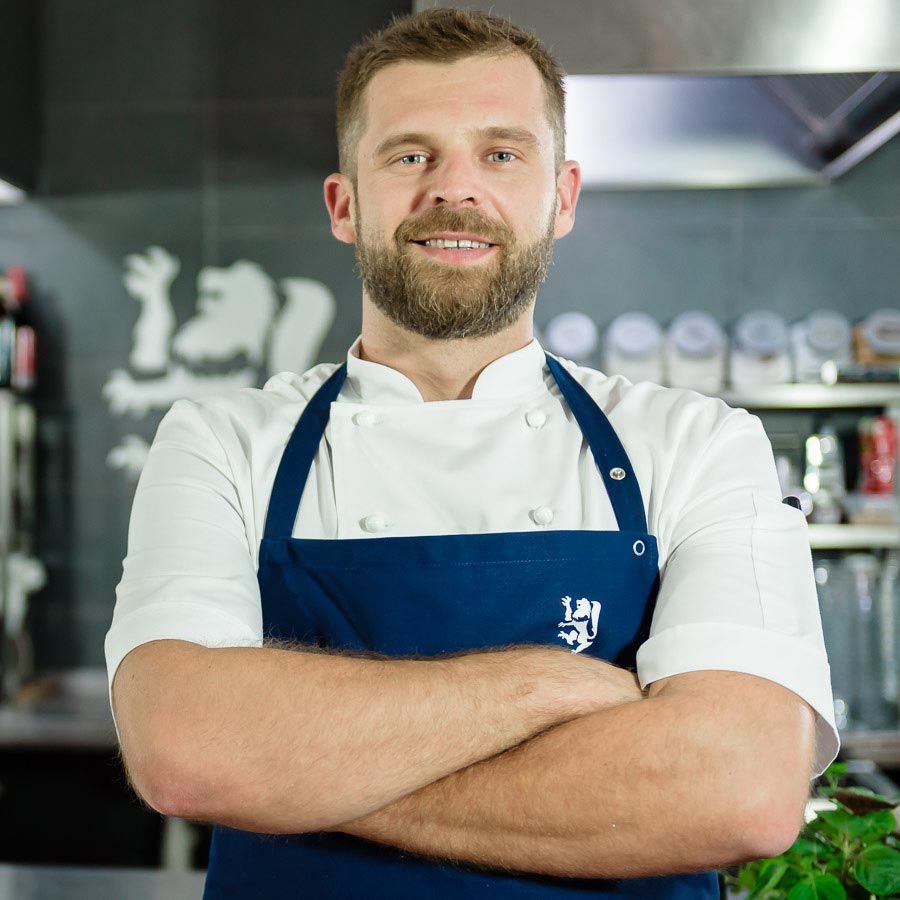 I work with professional products every day. For this video, I made sure to test the device thoroughly. You can take a close look at how this product works and then decide which model is best for your business. I hope my video and tips will help to make your business even more successful.
Head chef of prestigious restaurants in Sydney and Warsaw. An experienced and professional restaurateur
---
Sort by...
---
Leave a review (5 stars is highest, 1 is lowest)
★
★
★
★
★
Click on the link sent to your e-mail address and confirm your opinion! It will be published after verification.
Reviews from Anonym (2 Nov 2021)
Reviews from Anonym (2 Nov 2021)
très bon produit
Still not sure?
Our experts are ready to help!
Mon - Fri 09:00am - 04:00pm
This product
Volume pot: 2 x 2,75 l

Temperature: 30 - 110 °C

2 separate thermostats

Power: 2 x 150W

Includes 2 covers
Ready to ship today,
Delivery time appr. 4-7 workdays
Soup Warmer - 2 x 2,75 litres - 300 W
Ready to ship today,
Delivery time appr. 4-7 workdays
Volume pot: 2 x 2,75 l

Temperature: 30 - 110 °C

2 separate thermostats

Power: 2 x 150W

Includes 2 covers
Temperature: 30 - 110 °C

4 chambers

Power: 600W

Status lights

Separately adjustable
Ready to ship today,
Delivery time appr. 4-7 workdays
Soup Dispenser - 4 pots - 2,75 litres - 600 W
Ready to ship today,
Delivery time appr. 4-7 workdays
Temperature: 30 - 110 °C

4 chambers

Power: 600W

Status lights

Separately adjustable
Filling capacity: 2,75 L

Temperature range: 30 - 110 °C

Power: 150 W

Includes 1 cover
Ready to ship today,
Delivery time appr. 4-7 workdays
Soup Warmer - 1 x 2,75 litres - 150 W
Ready to ship today,
Delivery time appr. 4-7 workdays
Filling capacity: 2,75 L

Temperature range: 30 - 110 °C

Power: 150 W

Includes 1 cover