Contact Grill - 1 x 1800 Watt
Manufacturer: Royal Catering | item number: EX10010330 | Model: RCCG-1800G
Product highlights
Power: 1 x 1800 Watt
Voltage: 230V
Working temperature: 50 - 300 °C
Coating: Enamel
Drip tray
For meat, flatbread, panini or vegetables
freshly grilled or toasted dishes
operating temperature adjustable in the range of 0 °C to 300 °C
outer case from stainless steel
variable temperature control with control lamps
non-slip rubber stands for secure hold
Contact Grill - 1 x 1800 Watt
The electric Contact Grill RCCG-1800G by Royal Catering was designed for professional use. Whether you prefer meat or pita bread, with this sturdy grill, barbecue season is all year round. The Contact Grill RCCG-1800G impresses with high-quality workmanship and is highly mobile thanks to its compact build, meaning it can be used almost anywhere. The casing is made of stainless steel and easy to clean. Thanks to the two grooved contact grill plates, the food prepared on this device will have a rustic grill pattern. The heat insulted plastic grip guarantees safe and riskless handling. Thanks to the large grill plates, a lot of food can be simultaneously heated on this grill. The device reaches its operating temperature of ca. 205 °C quickly in about 6 minutes and can reach a maximum temperature of ca. 300 °C. The rubber feet attached to the bottom of the grill give it secure footing on any surface. The grill's large frying surface is made of grooved and enamelled cast iron. This ensures a consistent heating of the food and good grilling results. The grill plate is durable and can easily be cleaned with a wipe or a brush. Thanks to its 1800 Watt heating unit, the grill reaches its operating temperature in a short time and is thus suited to prepare food quickly. Additionally, the grill is outfitted with a stainless steel grease tray. Excess frying fat and oil reach the tray via a drain device and do not get in the way of the continued work with the grill. This also prevents a complicated cleaning process because the tray can simply be pulled out of the device and cleaned separately.
Material of Grill Panel
Grooved, enamelled cast iron
Dimensions of Upper Grill Plate
21,5 x 21,5 cm
Dimensions of Lower Grill Plate
23,0 x 22,0 cm
Heat-up Time
reaches ca. 205 °C in 6 minutes
Measurements (LxWxH)
40 x 31 x 21 cm
Shipping Measurements (LxWxH)
42 x 41 x 27 cm
Download PDF
Download PDF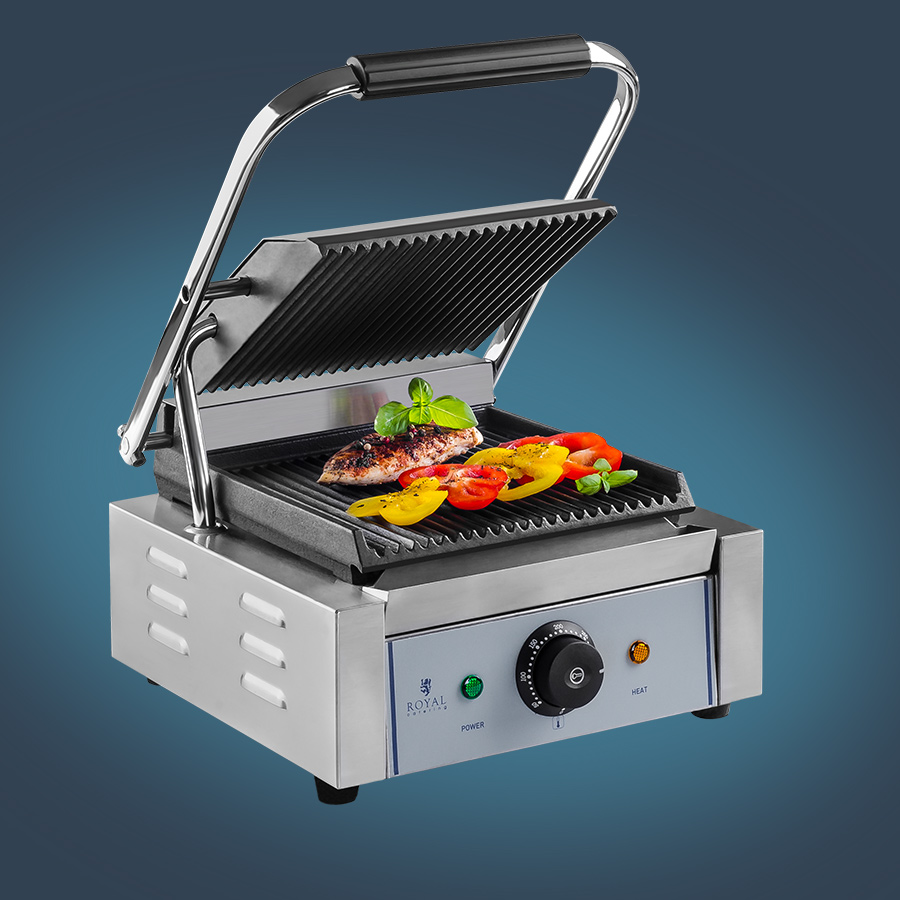 High output of 1,800 W
Select the optimum temperature in a range from 50-300 °C
Ideal for meat, fish, vegetables and pastries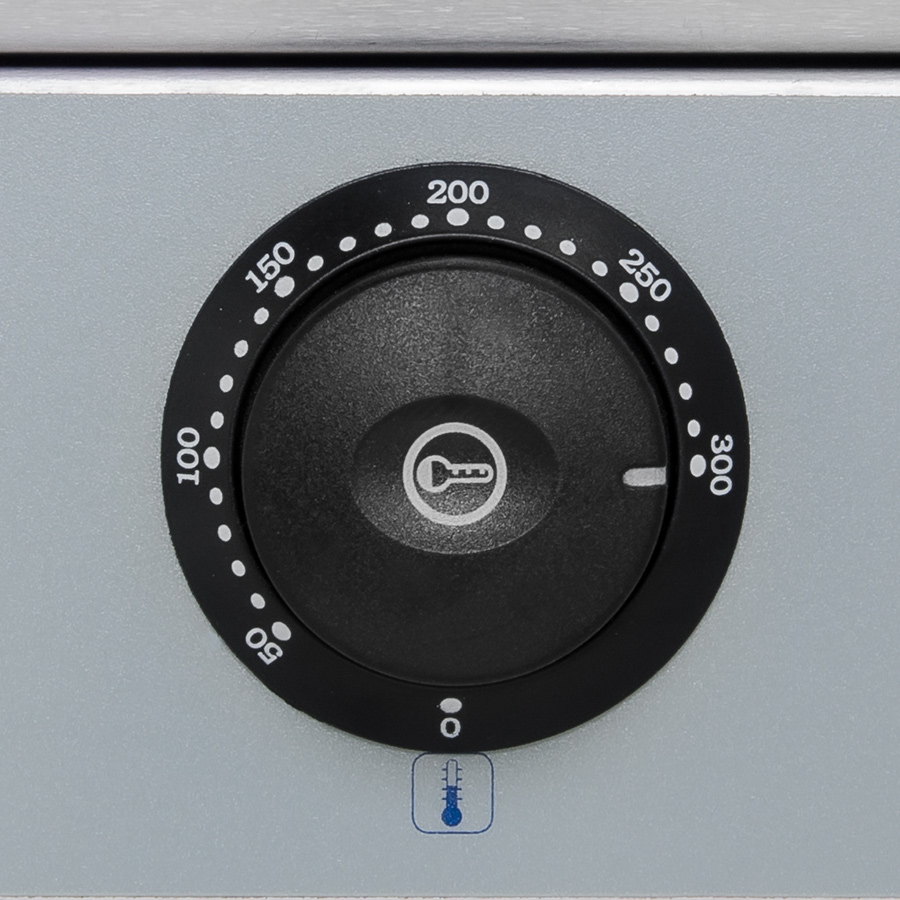 Intuitive one-hand operation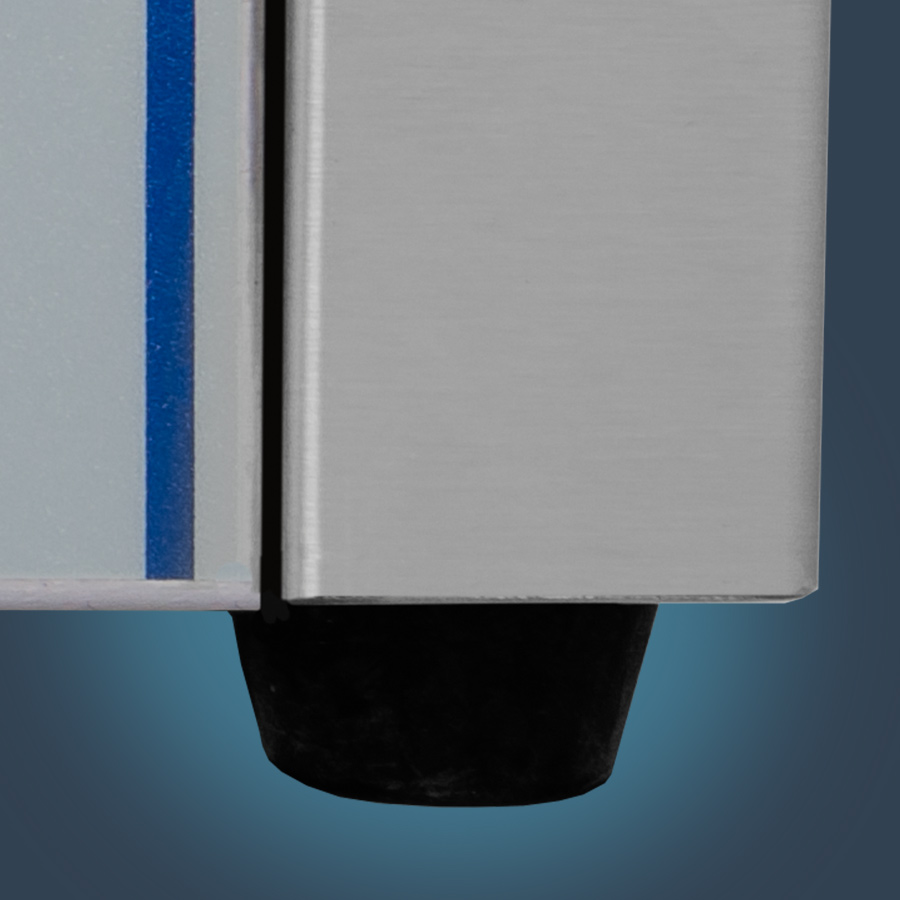 4 rubber feet for stability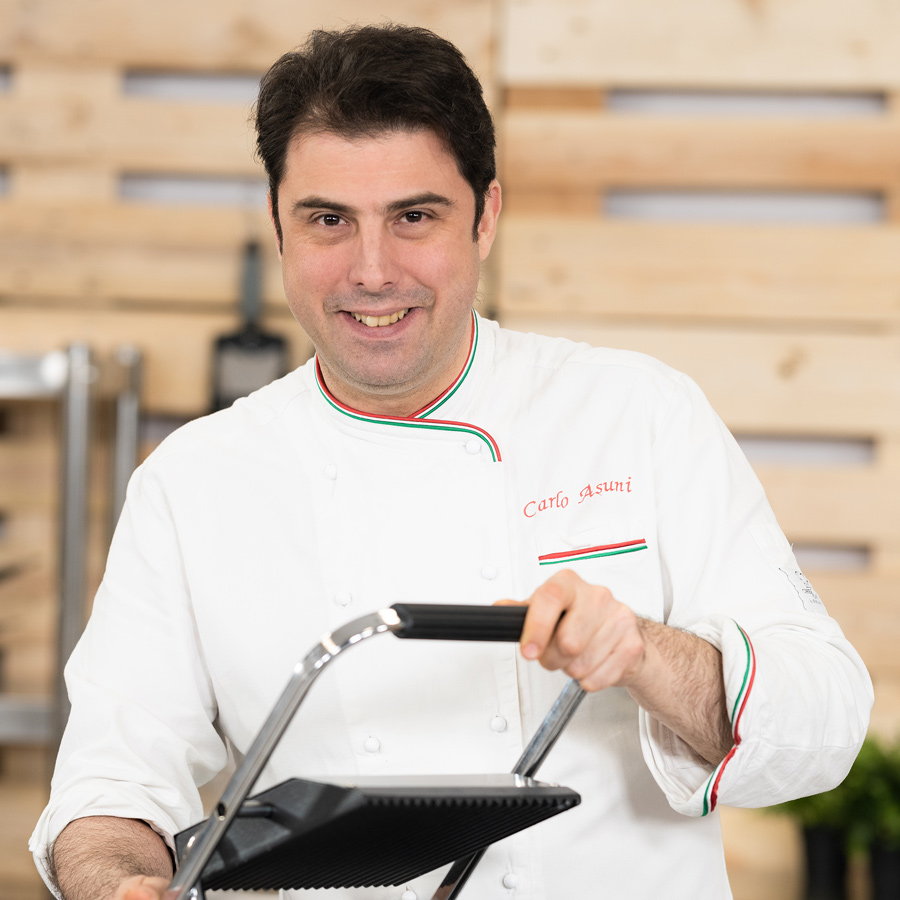 Tested by Carlo Asuni, head chef of renowned restaurants in Sardinia and London. Ambassador for local products "Made in Italy".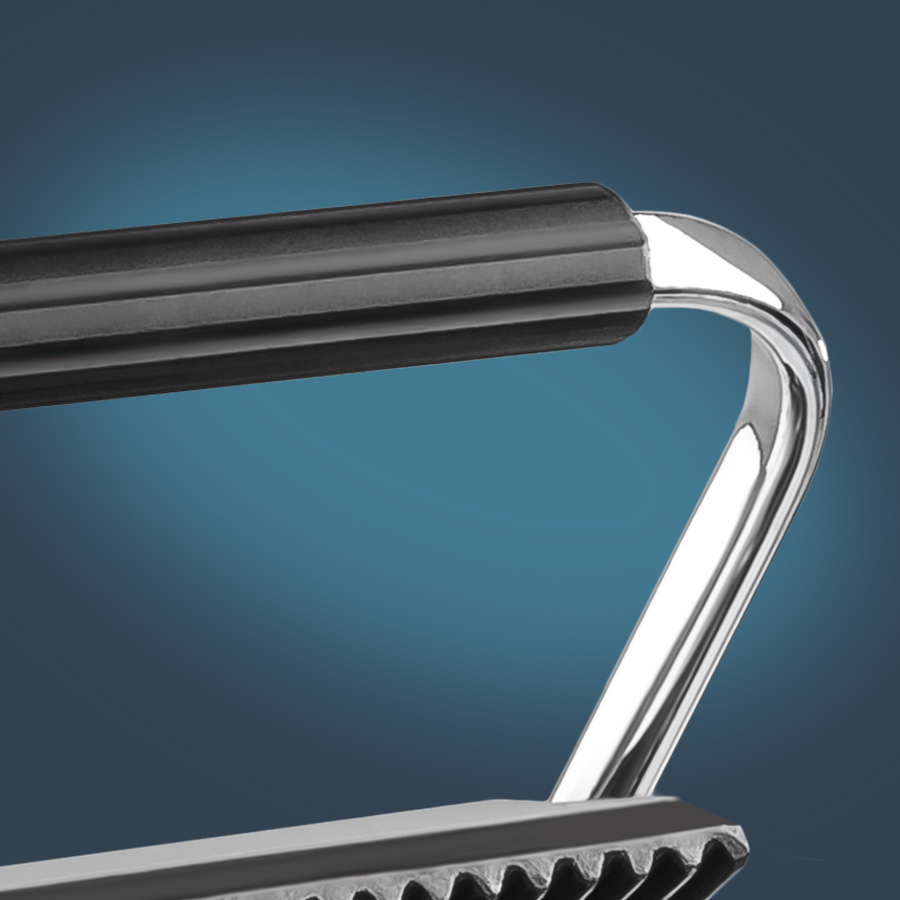 Heat-insulated handles for safety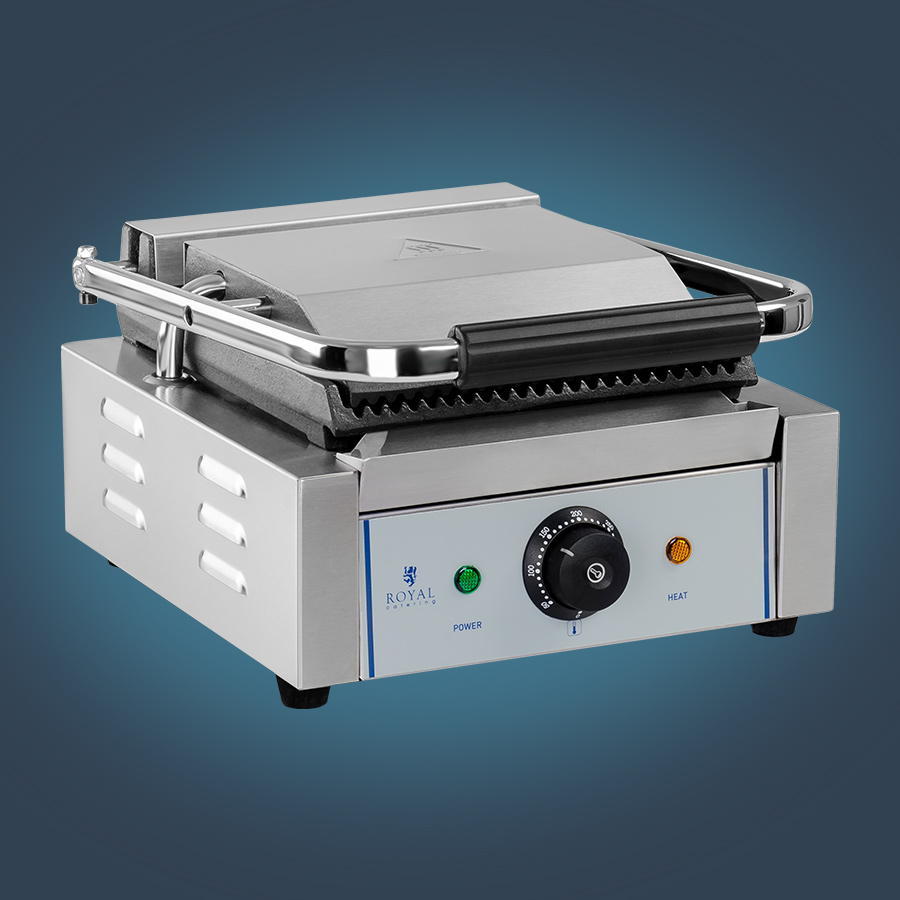 22 x 23 cm griddle surface for efficiency
Removable grease drawer for easy cleaning
Overheat protection system for safe use
PRO TIP
The griddle is ready for further use in a few minutes thanks to the ease of cleaning.
The grill heats up very quickly, saving time and money.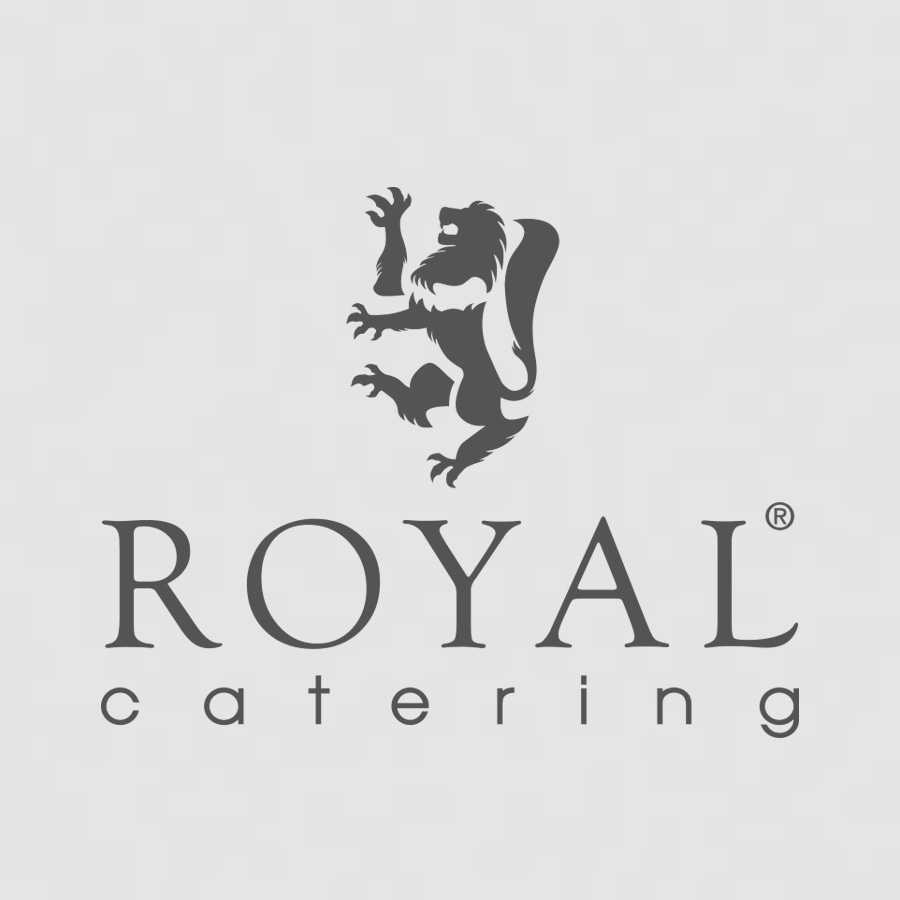 Ribbed surface, perfect for steaks and burgers
Even browning thanks to heat from above and below
High-quality enamelled cast iron to which no food will stick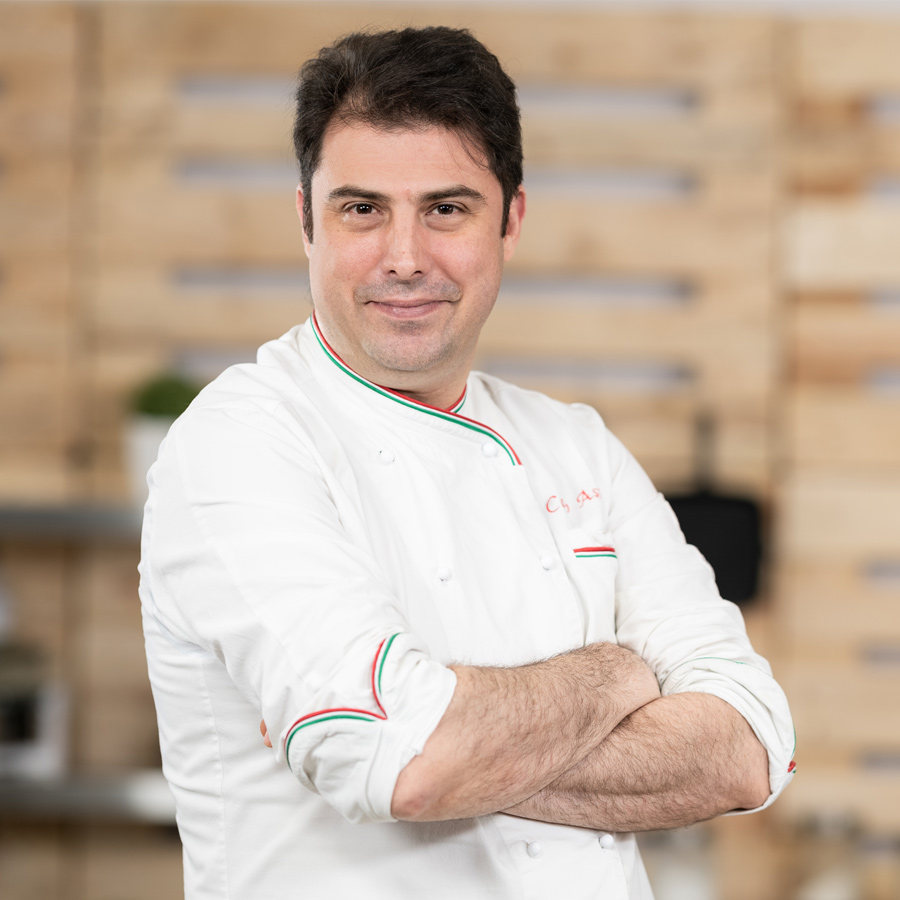 ---
Sort by...
---
Leave a review (5 stars is highest, 1 is lowest)
★
★
★
★
★
Click on the link sent to your e-mail address and confirm your opinion! It will be published after verification.
Reviews from Jan Ta (2 Apr 2022)
Reviews from Jan Ta (2 Apr 2022)
Ingen garanti
Nederste plate sprakk ved første oppvarming. Det er min skyld sier de. Altsåstår jeg der med et ødelagt apparat. Heller ingen tilbud om service. Vurdr nøye om du vil kjøpe noe som helst her.
expondo experts reply
2 May 2022
Takk for at du delte.
Tilbakemeldingen din bidro ikke bare til å løse problemet ditt, men også til å forme og forbedre tjenestene våre, ettersom vi nå har utviklet protokoller som vil forhindre at dette skjer igjen.
Takk for hjelpen!
Reviews from Anonym (10 Aug 2020)
Reviews from Anonym (10 Aug 2020)
Je suis très satisfait de cette machine à panini très professionnel, je conseille à tous.
Génial
Reviews from Amazon Customer (14 Apr 2019)
Reviews from Amazon Customer (14 Apr 2019)
Tutto perfetto
Completamento soddisfatto. Un po caro ma un prodotto di alta qualità,lo consiglio a chiunque
Reviews from Amazon Customer (12 Jun 2018)
Reviews from Amazon Customer (12 Jun 2018)
Testimonianza per eventuali acquirenti
Completamente soddisfatto dell'acquisto, non ci sono punti deboli. Robusta come un carro armato e feeling professionale sulle parti in movimento (rotella termostato e leveraggio superiore). I materiali sono di prima qualità. Pervenuta nei tempi indicati e ottimamente imballata. Ovviamente la qualità si paga, ma il rapporto qualità/prezzo è veramente elevato.DG
Still not sure?
Our experts are ready to help!
Mon - Fri 09:00am - 04:00pm
This product
Power: 1 x 1800 Watt

Voltage: 230V

Working temperature: 50 - 300 °C

Coating: Enamel

Drip tray
Ready to ship today,
Delivery time appr. 4-7 workdays
Contact Grill - 1 x 1800 Watt
Instead of: 219.00€
199.00€
Ready to ship today,
Delivery time appr. 4-7 workdays
Power: 1 x 1800 Watt

Voltage: 230V

Working temperature: 50 - 300 °C

Coating: Enamel

Drip tray
Power: 2200 watts

Surface: ribbed

Operating temperature: 0 - 300 °C

Drip tray

Stainless steel / Enamel painted cast iron
Ready to ship today,
Delivery time appr. 4-7 workdays
Contact Grill - Ribbed Griddles - 2200 W
Ready to ship today,
Delivery time appr. 4-7 workdays
Power: 2200 watts

Surface: ribbed

Operating temperature: 0 - 300 °C

Drip tray

Stainless steel / Enamel painted cast iron
Power: 2 x 1,800 watts / Surface: Ribbed

Plate (top): 21.4 x 21.4 cm, plate (bottom): 47.5 x 23.0 cm

Operating temperature: 50-300°C

Drip tray

Stainless steel / Enamel painted cast iron
Ready to ship today,
Delivery time appr. 4-7 workdays
Double Contact Grill - Ribbed - 2 x 1,800 W
Ready to ship today,
Delivery time appr. 4-7 workdays
Power: 2 x 1,800 watts / Surface: Ribbed

Plate (top): 21.4 x 21.4 cm, plate (bottom): 47.5 x 23.0 cm

Operating temperature: 50-300°C

Drip tray

Stainless steel / Enamel painted cast iron