Chocolate Melter - 2 GN 1/4 Container
Manufacturer: Royal Catering | item number: EX10010249 | Model: RCCM-250-2GN
Large capacity of up to 10 kg of chocolate - two removable GN 1/4 containers with lids
Temperature range up to 100 °C - ideal for all types of chocolate
LED display - easy-to-read parameters
Stainless steel resists corrosion and is low-maintenance
Automatic thermostat makes it easy to select the right temperature
Chocolate Melter - 2 GN 1/4 Container
The chocolate melter RCCM-250-2GN opens up a wide range of options for preparing delicious chocolate creations. Melting and tempering the chocolate ensures that it will have a nice gloss after cooling and maintains the perfect consistency for consumption. Whether you are using it pure in the form of pralines or using it in muffins, brownies or as glaze for cakes or soft-serve ice cream - there are no limits to your imagination. Royal Catering, your online retailer for food service equipment, offers the optimal melting machine for delightful and convenient food preparation. Make the right choice and make chocolate creations like the pros!
Voltage / Frequency
230 V / 50 Hz
Temperature range
Max. 100 °C
Containers
2 GN 1/4 (Depth: 150 mm)
Container dimensions (LxWxH)
26,5 x 16,5 x 15 cm
Dimensions (LxWxH)
34,5 x 28,2 x 29,4 cm
Shipping dimensions (LxWxH)
38,5 x 34 x 34 cm
Download PDF
Chocolate melter RCCM-250-2GN
2 GN 1/4 containers with lids (150 mm deep)
Instruction manual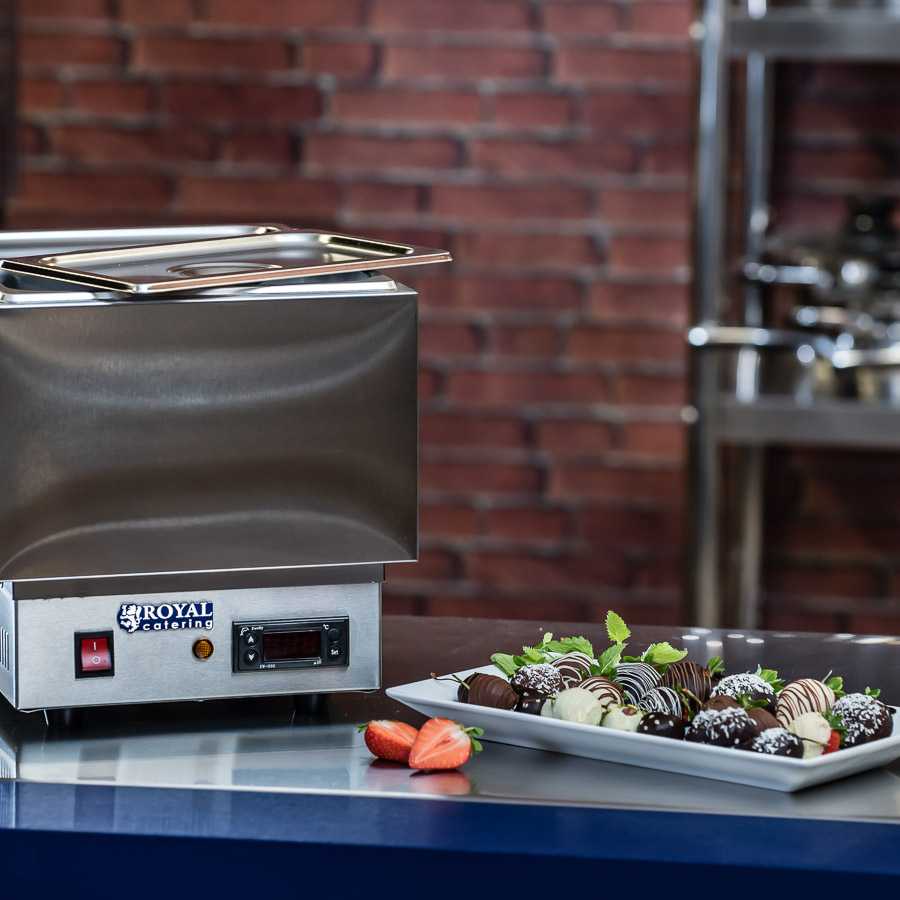 Heating element with 250 W melts chocolate quickly
Large capacity of 2 x 4 L, ideal for catering
Also suited for cheese, sauces, toppings, etc.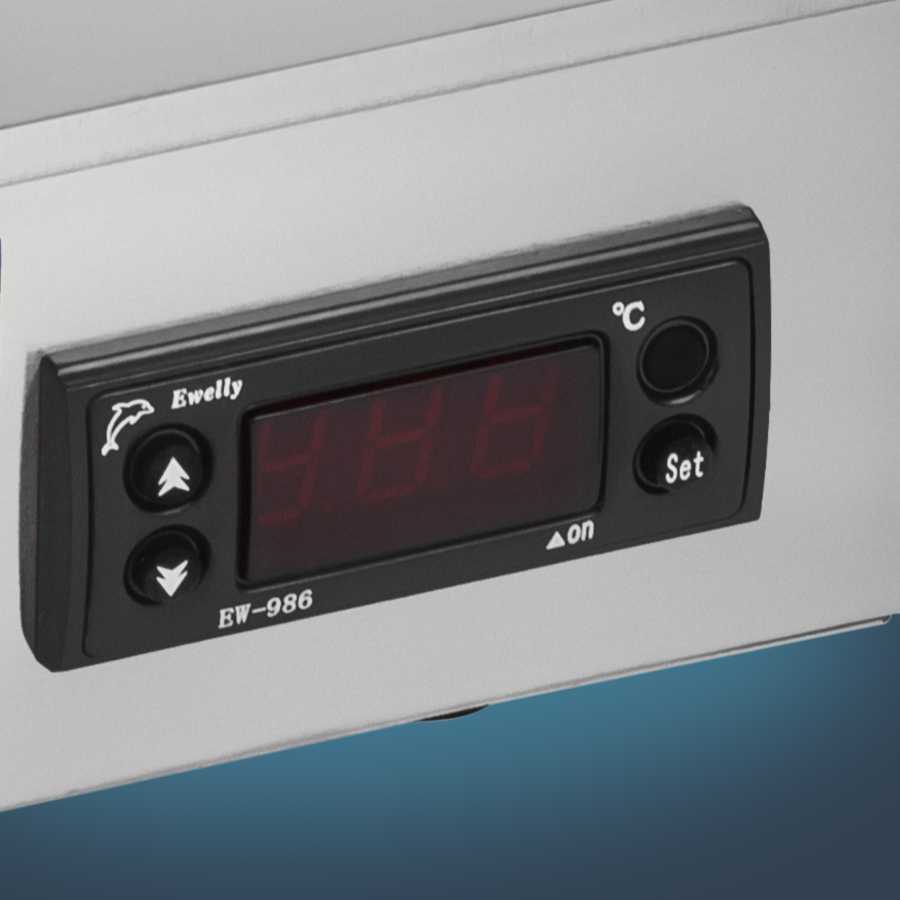 Convenient temperature controls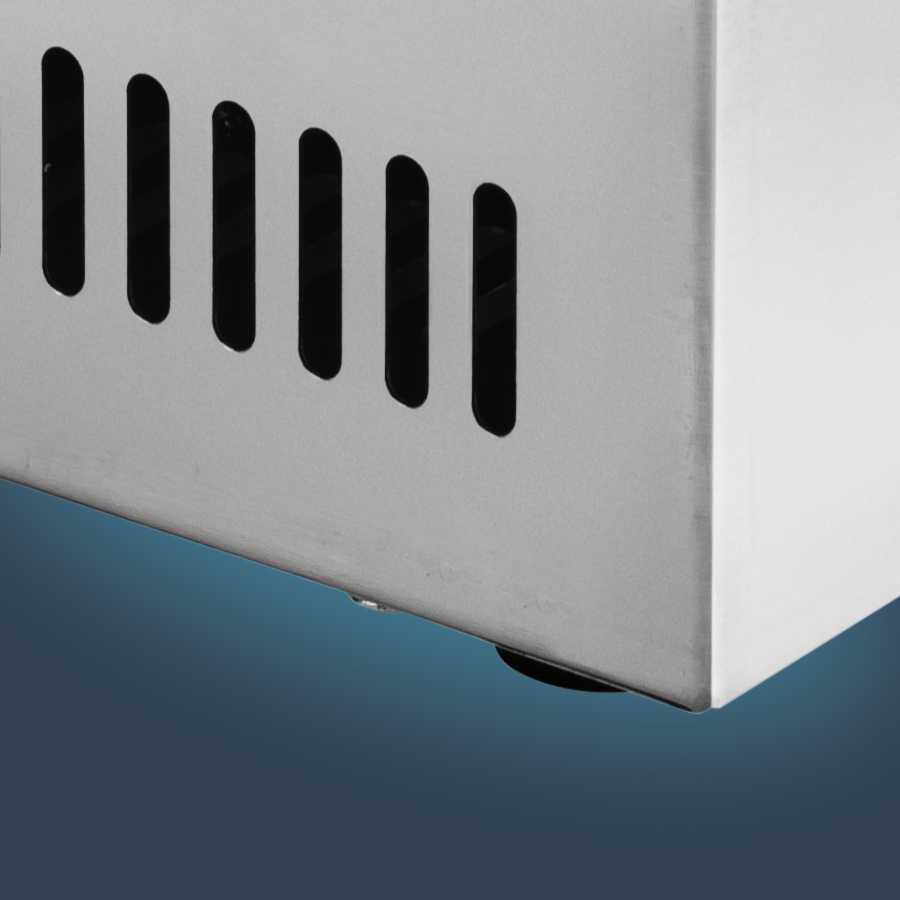 4 rubber feet stabilise the device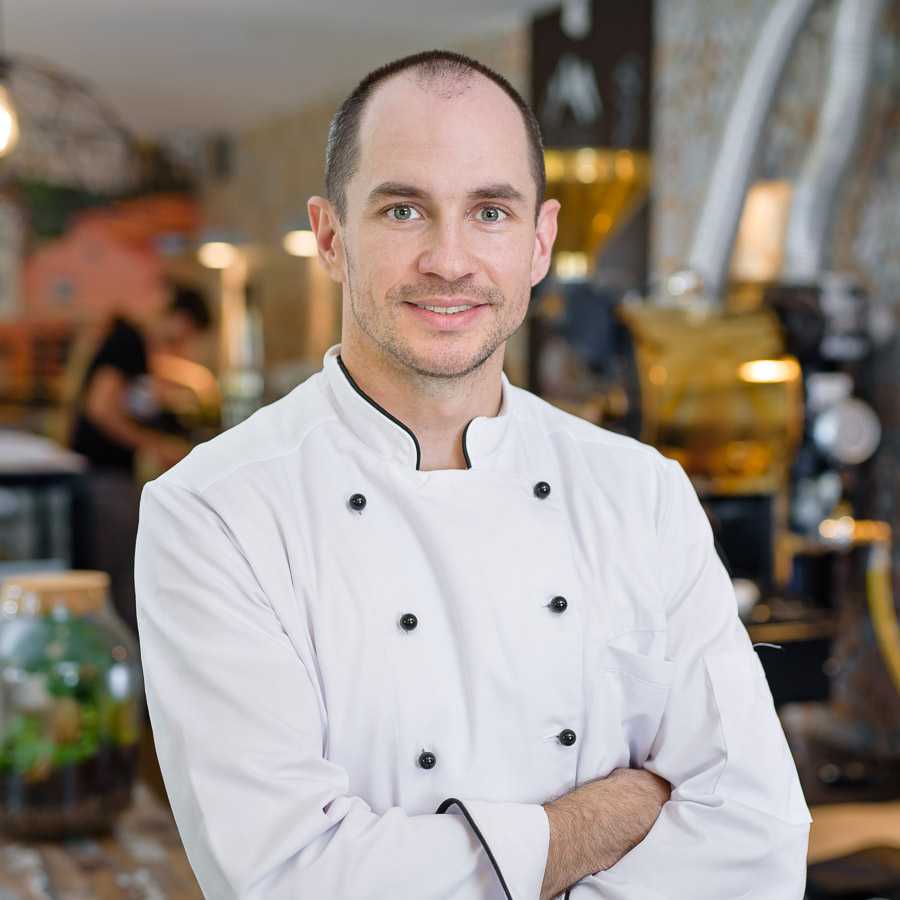 Tested by Artur Siwiec, head pastry chef of prestigious hotels and restaurants in Berlin and Warsaw. A professional with 20 years of career experience.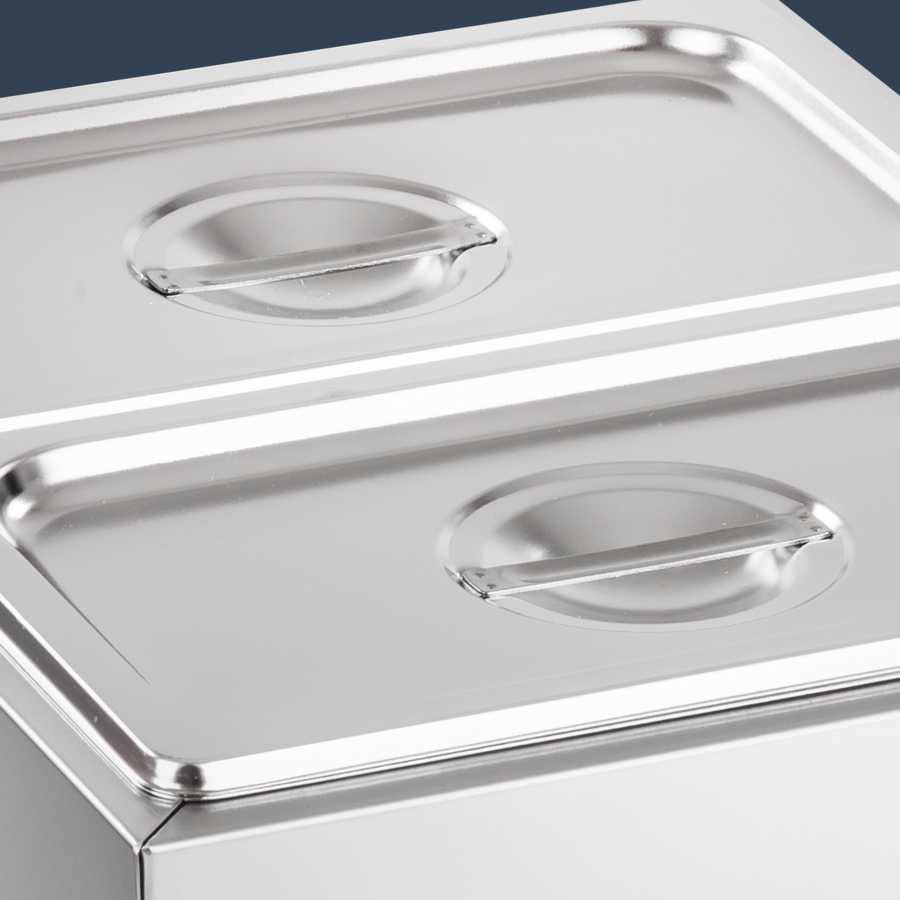 Includes 2 GN 1/4 containers with lids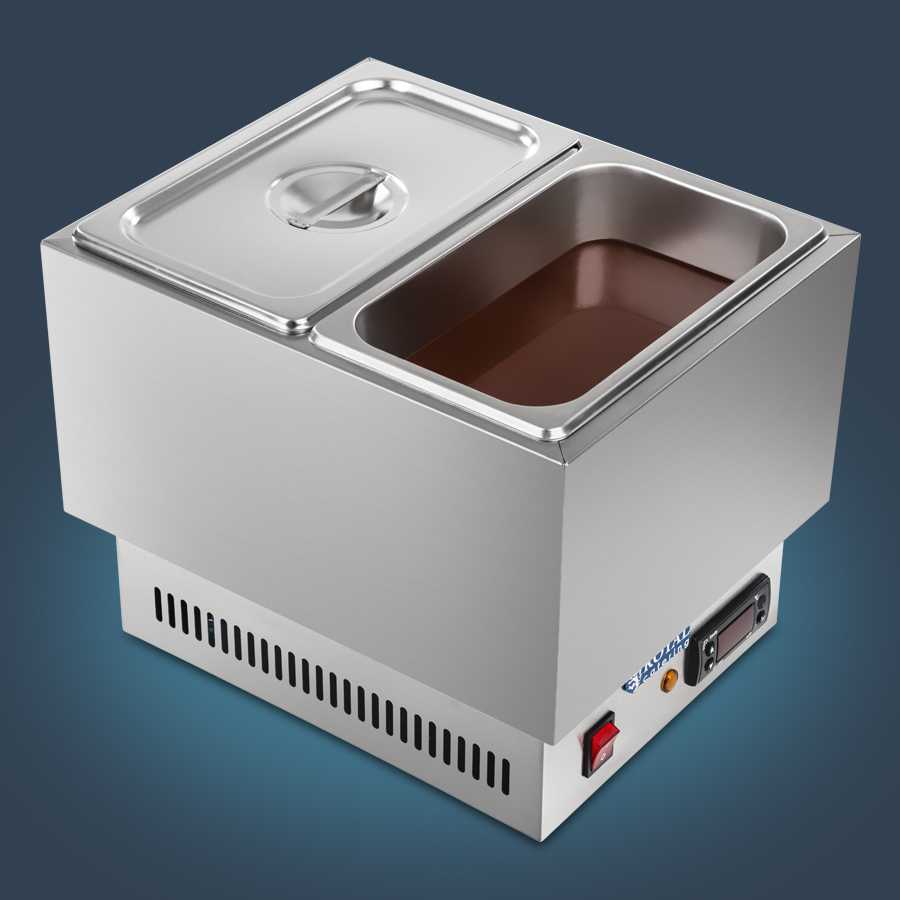 Aluminium heating element efficiently conducts heat
Dishwasher-safe removable parts
Compact and easy-to-transport device
PRO TIP
Make sure to set the correct temperature: 32 °C (89 °F) for dark chocolate, 30 °C (86 °F) for milk and white chocolate.
Make sure that there is no water in the container before pouring in the chocolate. It needs to be dry in order to preserve the qualities of the chocolate.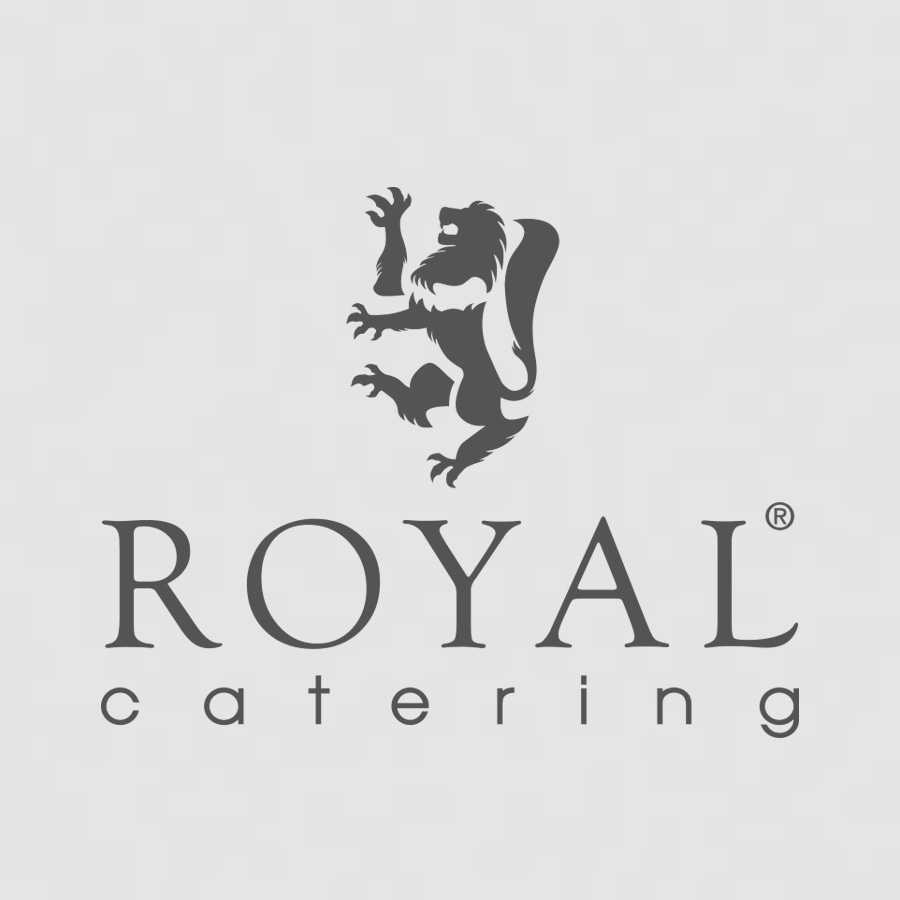 Precise temperature range between 1 - 100 °C
Dry heat prevents the chocolate from burning
Durable, food-safe stainless steel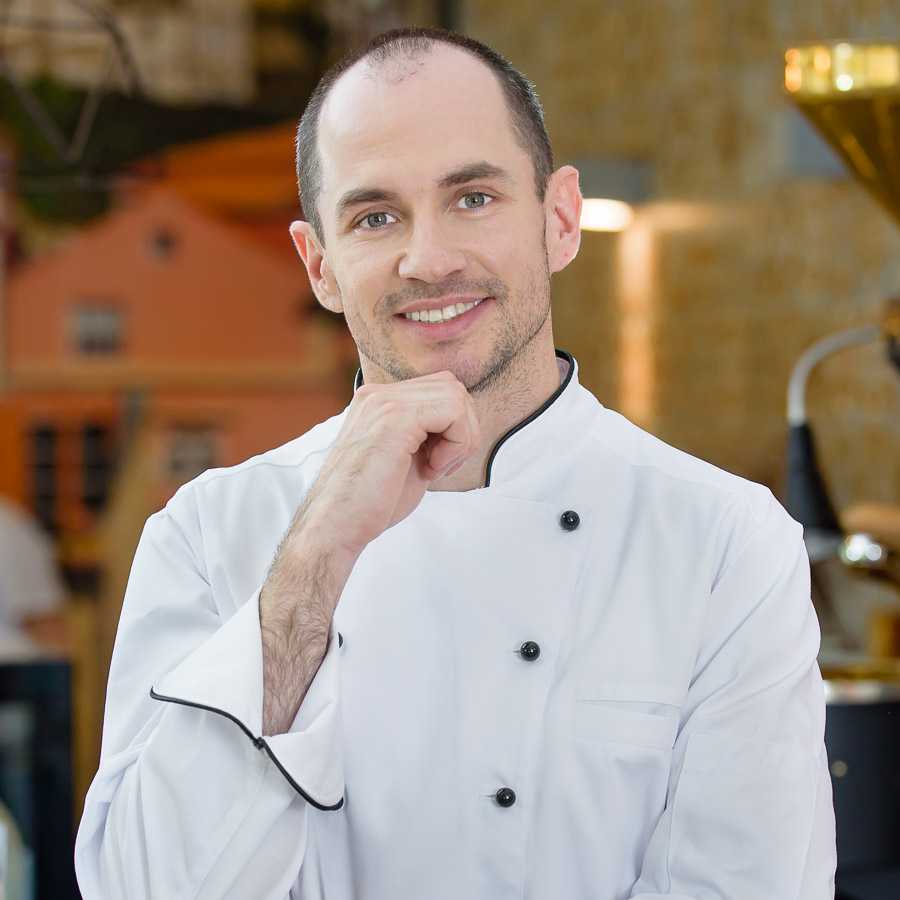 Reviews from Michal Orlowski Expondo Expert (2 Aug 2018)
Chocolate at the ideal temperature
This device is very useful when you work with chocolate every day. It is common knowledge that maintaining the temperature exactly is the most important thing when working with chocolate. With devices from other brands, I have occasionally had problems with the heating element failing. This heater has many necessary functions that make it easier to operate, such as an electronic programming device that you can use to set the desired temperature. Another big advantage of this device is the dry heating, which offers a lot of comfort during operation, since it does not create limescale and there is no danger of water getting into the chocolate. So if you are looking for a professional chocolate warmer, I recommend this machine, which has become indispensable for my work.
Head chef of prestigious restaurants in Sydney and Warsaw. An experienced and professional restaurateur
Can I use this device to melt couverture, or do I have to first melt it over steam and then place it in the container for tempering?
You can melt chocolates like couverture right in the device. To cool it, simply let the GN container cool. The couverture will retain a lovely gloss.
Does the device use dry heat?
The heat is transferred to the contents via the air without using moisture, which makes it possible to maintain rich and complex aromas. This device is not intended for heating via water bath.
---
Sort by...
---
Evaluations will be activated after verification.
Reviews from Cristiano (30 Jun 2020)
Reviews from Cristiano (30 Jun 2020)
Good but not perfect
The machine is reliable and well built. Do not expect accurate temperature though. The probe is only in contact with one of the 2 containers which means you'll never have the same temperature in both. Moreover, the temperature reading is non very accurate and when you work with chocolate, this can be a big deal. I registered even 4 or 5 degrees difference between the machine indicator and my infrared probe. Hence, if you want to keep your chocolate in temper, you always have to check and it's not easy to manage with big quantities.
Reviews from Marion (4 Jun 2020)
Reviews from Marion (4 Jun 2020)
Great Product
Good product easy to use
Reviews from Amazon Customer (14 Jun 2019)
Reviews from Amazon Customer (14 Jun 2019)
parfait
boulanger patissier de metier je recommande.j'ai juste change le bac et me retrouve avec une tempereuse pour pas cher.merci
Reviews from Amazon Customer (7 Jun 2019)
Reviews from Amazon Customer (7 Jun 2019)
Bagnomaria
Il prezzo non è basso, ma comunque svolge il suo lavoro. Alcune parti si sono già arrugginite dopo pochi mesi di lavoro
Reviews from Amazon Customer (15 Jul 2018)
Reviews from Amazon Customer (15 Jul 2018)
ottimo prodotto
la usiamo nella nostra Festa del cioccolato, se volete verde video dell'utilizzo andate su Facebook e cercate la pagina @chocoarteventi e vedrete parecchi video del nostro evento dove utilizziamo questo scioglitore per sciogliere il cioccolato e poi lo facciamo temprare ai bambini, la temperatura serve per rendere lavorabile il cioccolato altrimenti resta opaco, non secca ecc... la temperatura di lavoro è di 30 gradi !
Reviews from Amazon Customer (8 Apr 2018)
Reviews from Amazon Customer (8 Apr 2018)
Fondi cioccolato
Compatta e facile da usare. Svolge egregiamente il suo lavoro abbreviando i tempi del temperaggio del cioccolato. La comprerei un'altra volta!!! Non pesa tanto per cui si sposta con facilità. Vasche e coperchi lavabili in lavastoviglie. Temperatura regolabile. Basso consumo. Le vasche sono due e non si possono usare a temperature differenti l'una dall'altra ma per contro, si fonde contemporaneamente due tipi di cioccolato e per me questo è stato fantastico. La consiglio.
Reviews from Amazon Customer (13 Apr 2016)
Reviews from Amazon Customer (13 Apr 2016)
Eccellente
Ottimo prodotto, corriere celere,Non ho avuto nessun problema, l'ho usato molto per le festività con risultati eccellenti Temperaggio cioccolato eccellente. Lo consiglio
Still not sure?
Our experts are ready to help!
Mon - Fri 09:30am - 04:30pm
This product
Power: 250 W

Temperature: Max. 100 °C

Capacity: 2 x 4 L

2 GN 1/4 containers

LED display
This product is currently not available.
Chocolate Melter - 2 GN 1/4 Container
This product is currently not available.
Power: 250 W

Temperature: Max. 100 °C

Capacity: 2 x 4 L

2 GN 1/4 containers

LED display