Stainless Steel Meat Mincer - Return Flow - 140 kg/h - ECO
Manufacturer: Royal Catering | item number: EX10010741 | Model: RCFW 140-850ECO
Simple use thanks to a return flow
High performance rate: 140 kg/h
Mobile
Practical plastic meat stuffer
Stable rubber feet
Stainless Steel Meat Mincer - Return Flow - 140 kg/h - ECO
The RCFW 140-850ECO meat mincer from Royal Catering's butchers equipment is a practical, easy to use tool for food processing. The meat mincer can be used commercially such as in butcher shops or restaurants as well as privately at home.
Casing material
Stainless steel
Grinding tool material
Stainless steel
Meat tray dimensions
20 x 32 cm
Perforated disc diameter
6 mm, 8 mm
Material supply diameter
59 mm
Greasing
Any approved oil for the food industry
Dimensions (LxWxH):
24,5 x 39 x 47 cm
Shipping dimensions (LxWxH)
43,5 x 28,5 x 39 cm
Download PDF
Meat mincer
Meat tray
Plastic meat stuffer
2 perforated discs (6/8 mm)
2 knives
Spare sausage stuffer
Worm shaft
Nut
User manual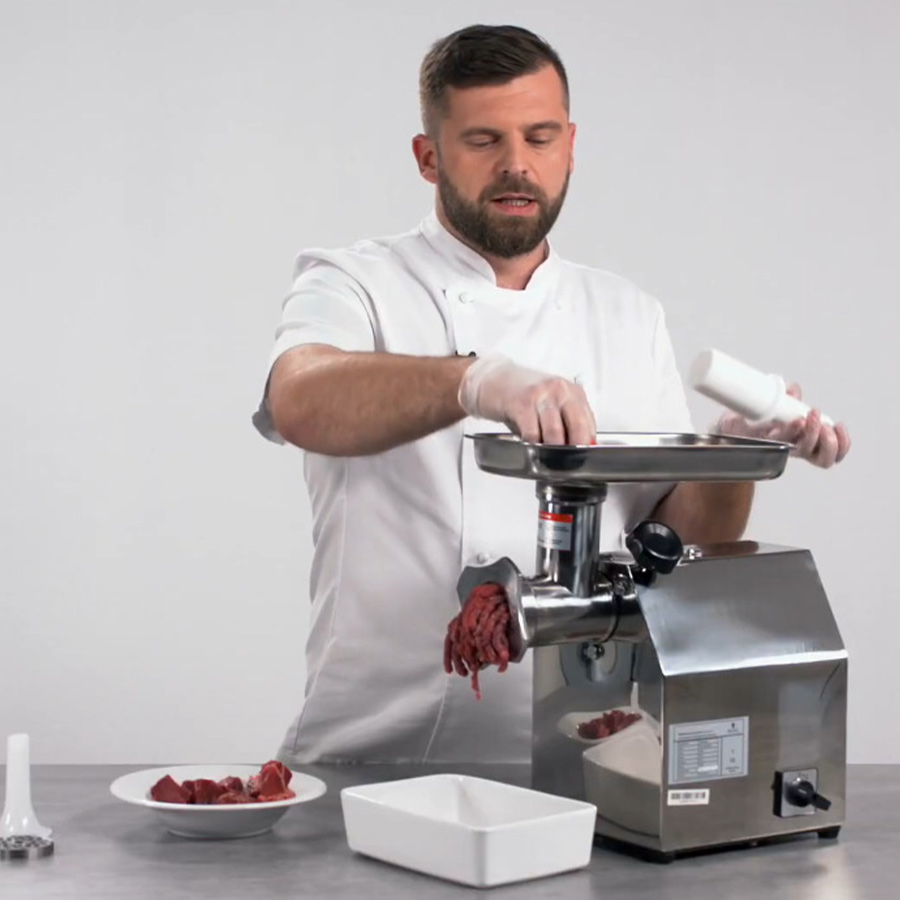 Efficient operation thanks to 850 W
Very high output of 140 kg/h
Ideally suite for catering businesses, small butcher's shops and home use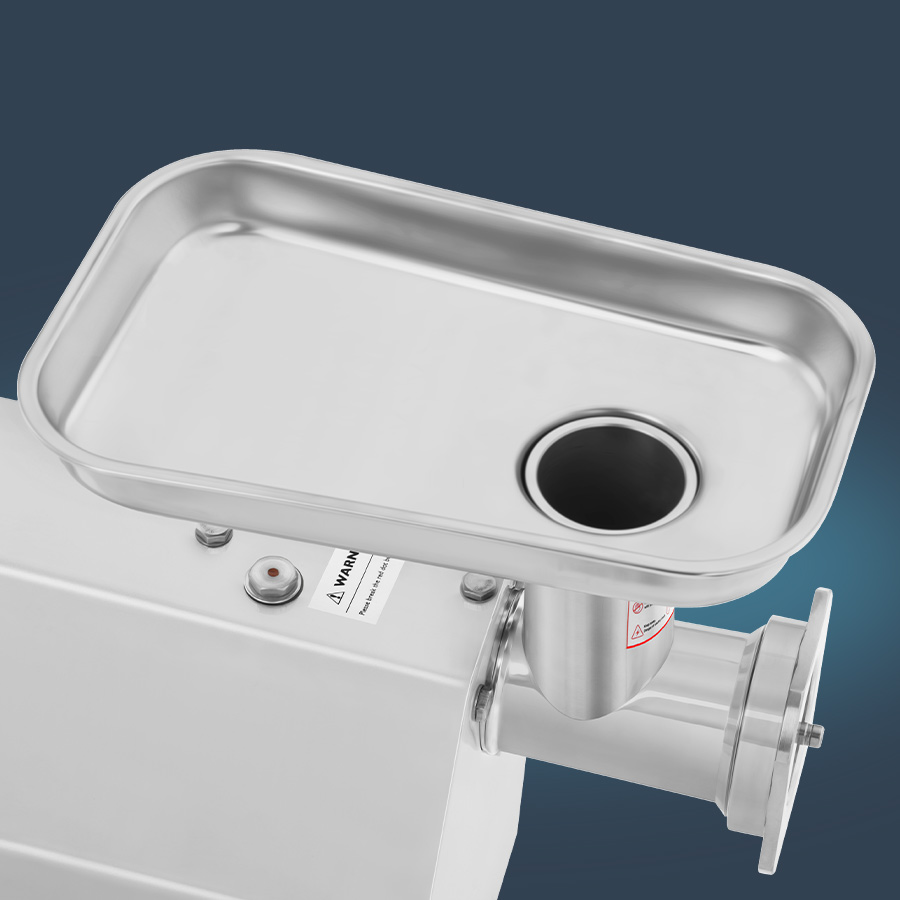 Easy food intake thanks to deep bowl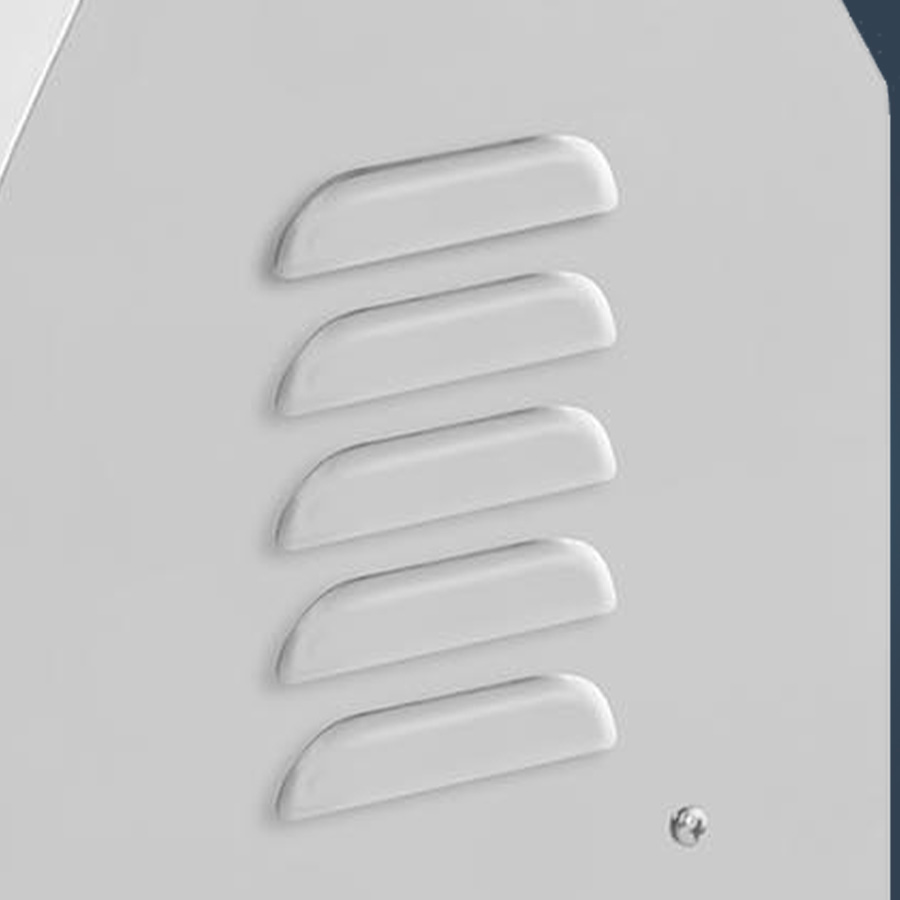 Ventilation prevents overheating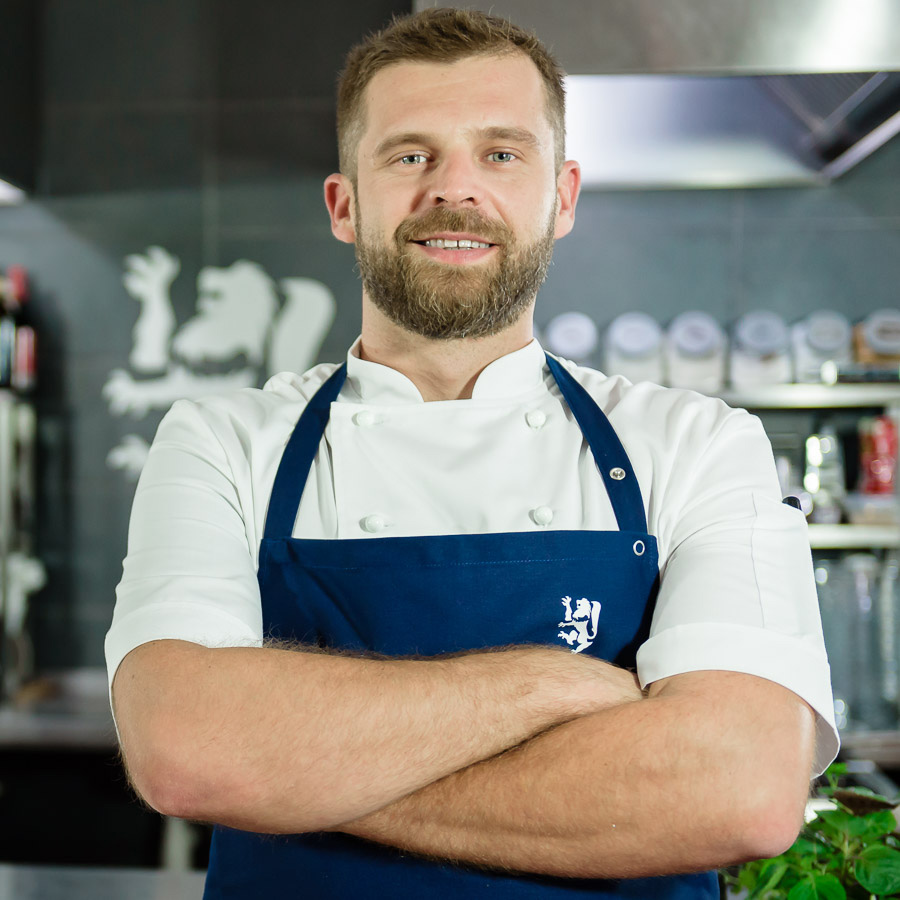 Tested by Michał Orłowski, head chef of prestigious restaurants in Sydney and Warsaw. An experienced and professional restaurateur, just like our customers.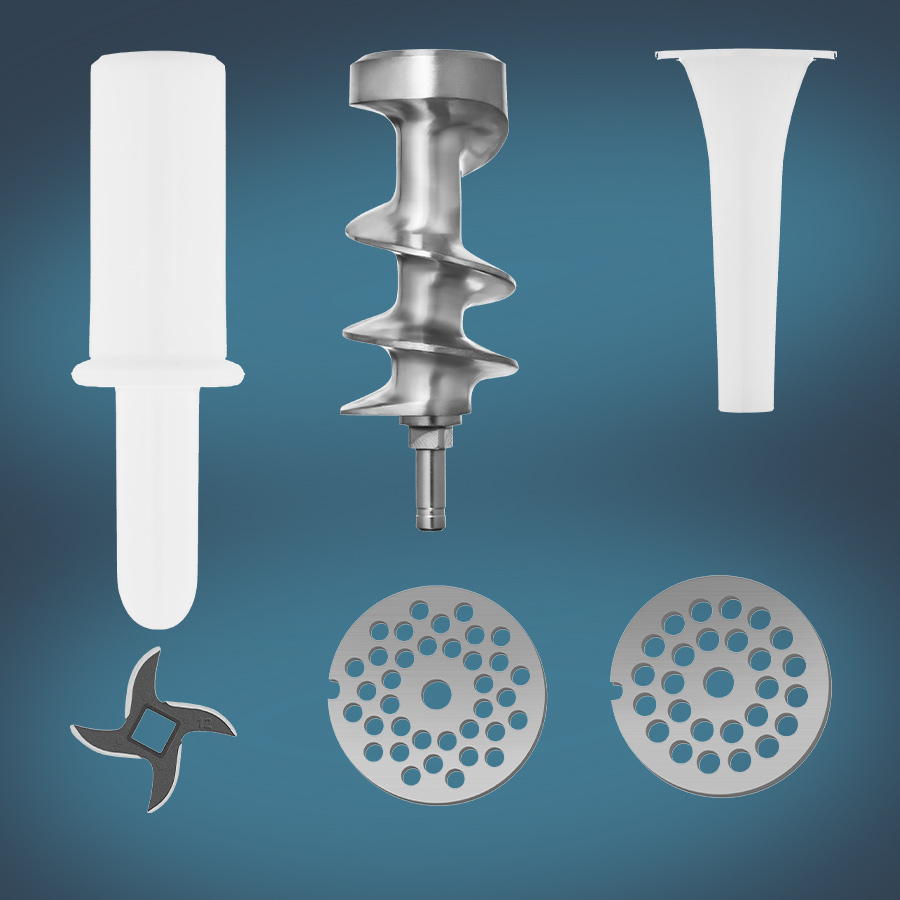 Contains 6, 8 mm sieves, hopper, 2 blades and pusher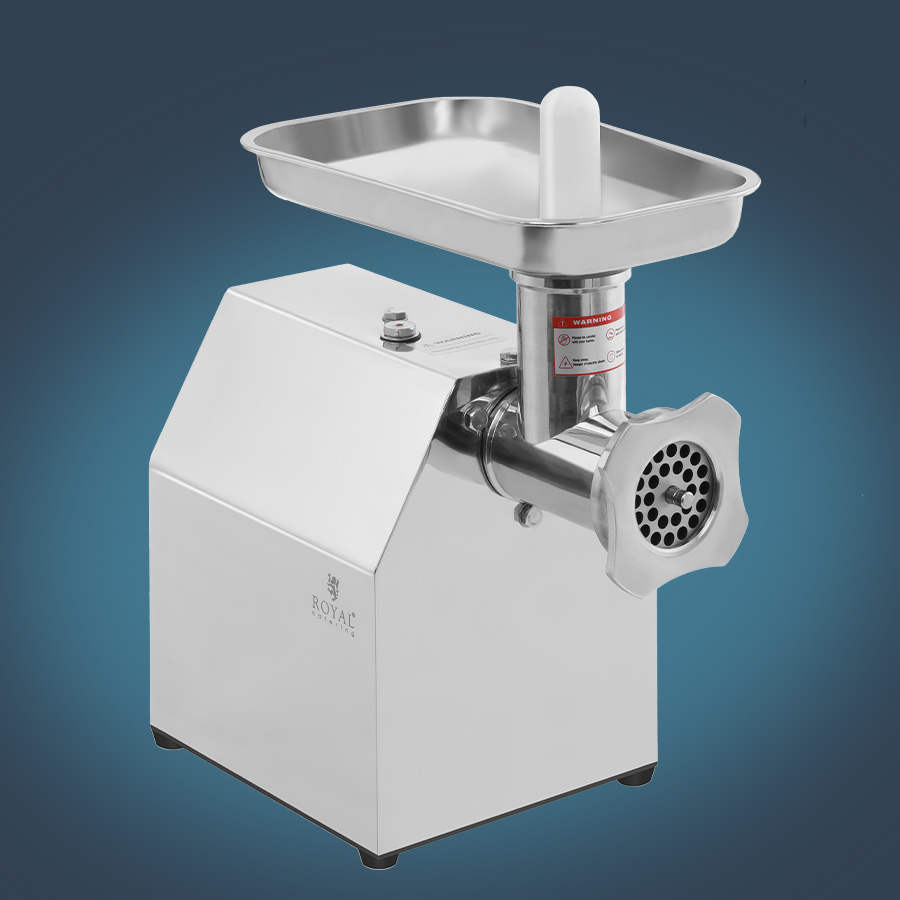 Reverse gear prevents the head from clogging
Easy to dismantle for cleaning
4 rubber feet guarantee stability
PRO TIP
Do not wash the moving parts in the dishwasher. The hot steam may damage the surfaces and lead to corrosion.
Even though this device is high-powered and efficient, it is still a good idea to cut the meat into smaller pieces to avoid overloading the machine. This will prevent clogging and speed up your work.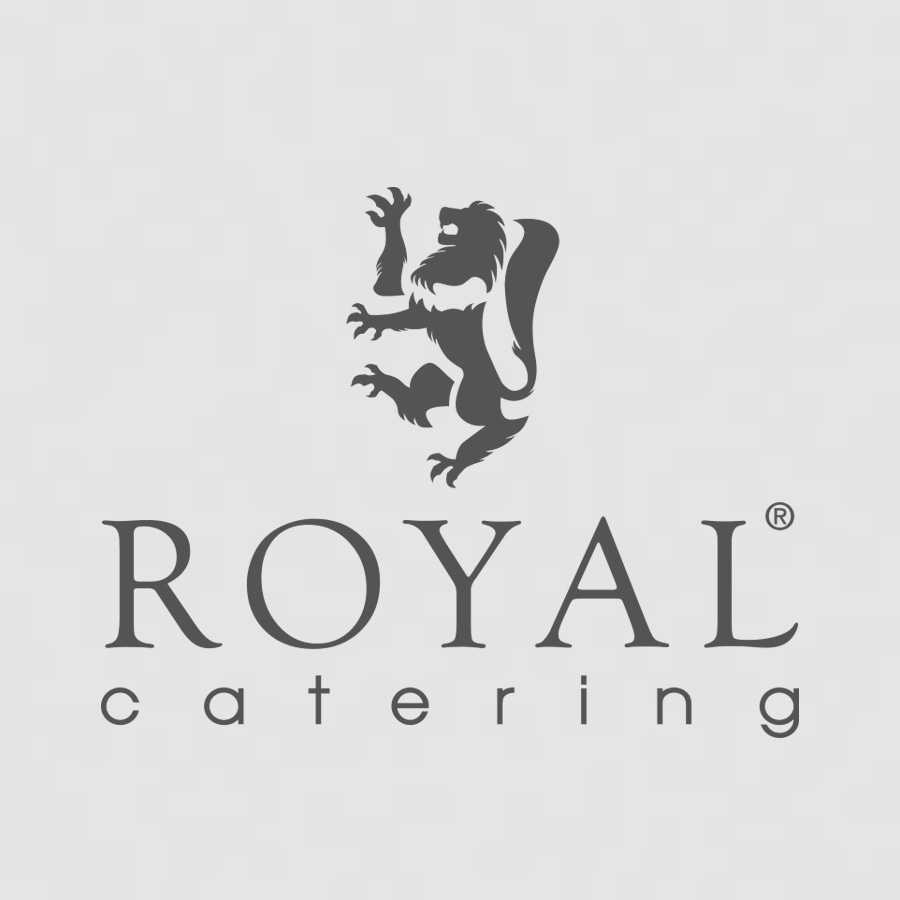 Ideal for mincing meat, vegetables and mushrooms
Additional stuffing attachment for sausage production
Made of durable, food-safe stainless steel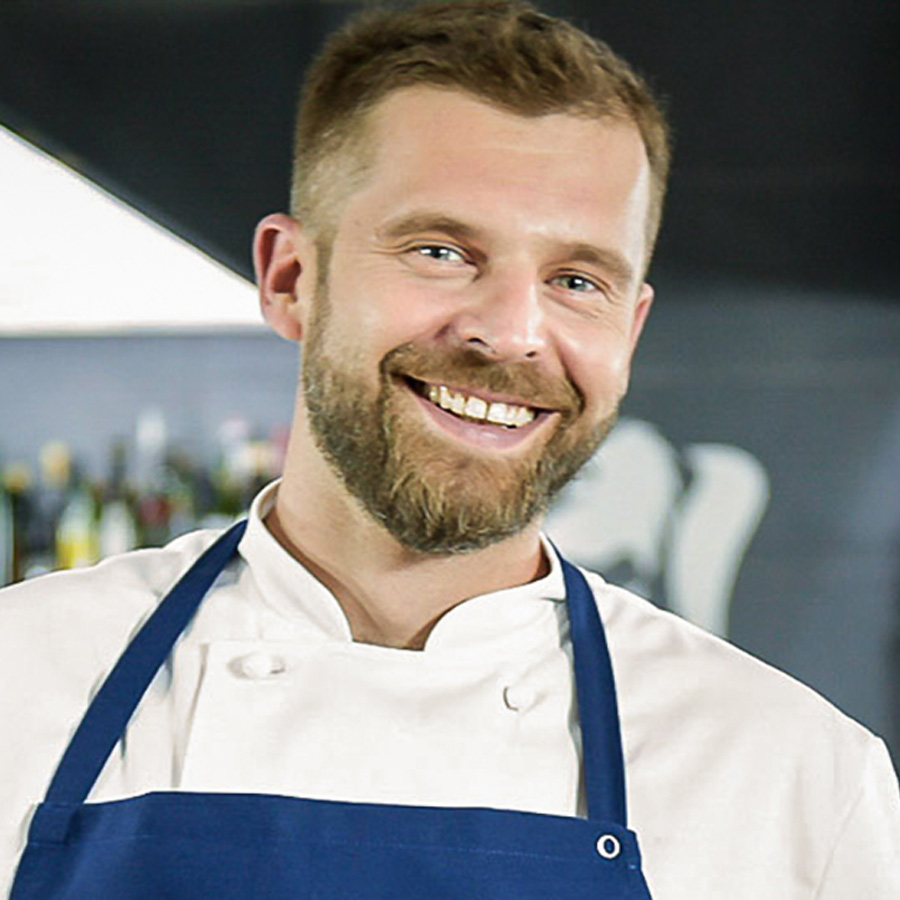 ---
Sort by...
---
Leave a review (5 stars is highest, 1 is lowest)
★
★
★
★
★
Click on the link sent to your e-mail address and confirm your opinion! It will be published after verification.
Reviews from Jan (3 Jul 2022)
Reviews from Jan (3 Jul 2022)
Mlýnek na maso
Tento mlýnek na maso je katastrofa. Neskutečně hlučný. Nesedí mlecí zařízení. Hlavice nejde dorazit do mlýnku. Mlýnek se extrémně přehřívá již po několika minutách mletí.
expondo experts reply
12 Aug 2022
Děkujeme Vám za recenzi.
Vaše zpětná vazba přispěla nejen k vyřešení Vašeho problému, ale také k zlepšování našich služeb, protože jsme nyní přijali opatření, které zabrání tomu, aby se problém opakoval.
Ještě jednou děkujeme – věděli jsme, že společně to zvládneme.
Reviews from Martin (26 May 2020)
Reviews from Martin (26 May 2020)
140kg/h meat grinder
A professional machine at domestic kitchen prices. Superb, solid stainless steel construction with a motor which is very powerful yet quiet.
Reviews from David (1 May 2020)
Reviews from David (1 May 2020)
Gut mit unnötigen schwächen
Das gute Bild wird nur durch Kleinigkeiten getrübt.
Lochscheiben und Messer sind nicht aus Edelstahl oder INOX Stahl im Gegensatz zum Rest der Maschine.
Die Verarbeitung der Schneidesätze ist ebenfalls nicht optimal, ich musste einen Schneidesatz (Lochscheibe plus Messer) gleich zum Schleifen und Schärfen geben, da diese nicht Plan waren.
Aufnahme des Messers an der Schnecke musst ebenfalls minimal nachgearbeitet werden.

Sonst ist die Maschine gut verpackt und schnell geliefert worden und macht einen Soliden Eindruck, ich denke Sie wird mir lange Freude bereiten, die Ergebnisse sind wunderbar.


Gut zu wissen:
Lochscheiben & Messer Gr. 10/12
Still not sure?
Our experts are ready to help!
Mon - Fri 09:00am - 04:00pm