Slush Maker Machine - 3 x 12 L - LED
Manufacturer: Royal Catering | item number: EX10011022 | Model: RCSL 3/12
The slush maker has a powerful 980 watts engine. It is particularly energy-efficient and cost-effective. Due to its heavy-duty construction, the slush maker has a duty cycle of 8 to 12 hours. The mixer inside the machine ensures lump-free ice and prevents clogging of the tap. The casing has ventilation slots that protect the engine from overheating. In order to keep its content in a liquid state, as well as to save energy and increase the compressor durability, this machine is equipped with a night mode function.
Show more
Show less
You can not only serve slush ice cream with the slush maker machine, but also all sorts of cold drinks, such as slushies, fruit drinks, cocktails, or even sorbets. With a total capacity of 36 litres, this device is ideal for storing cold drinks. For cool and tasty delights at any event!
Show more
Show less
The slush maker machine has three containers. Each has its own power unit, so you can prepare different types of drinks, with different consistencies. For example, you can mix two different types of syrup and create your own slush! There are no limits to your creativity!
Show more
Show less
The container is made of food-safe and BPA-free polycarbonate, which is harmless to your health as well as resistant to extreme temperatures. It has a high impact resistance and is particularly strong and durable. The LED illumination and the transparent design makes for a very attractive design of the slush maker machine.
Show more
Show less
Don't let your customers wait too long! The slush machine can be operated simply and quickly with just a few buttons. Each of the three containers has its own control elements. The machine has a cooling function. You can also sell cold lemonade. You can adjust the consistency of the soft ice in four stages.
Show more
Show less
The tap ensures that the slush ice cream can be tapped without spilling contents. The drinks are protected from dirt by a light, durable lid. A drip tray captures excess liquids and ensures a clean workplace. The casing has rubber feet, which protect the work surface from scratches and keep the machine firmly in place.
Show more
Show less
Authorized EU Service - the machine has a long 3 years guarantee. In the case of any unexpected failure, we offer authorized services in the whole EU.
Large capacity of 36 litres
Authorized EU Service with 3 years guarantee
BPA free polycarbonate safe for health tank
Energy saving and cost-effective
8-12 hours operation due to the heavy-duty construction
Slush Maker Machine - 3 x 12 Litres - LED
The slush maker machine RCSL 3/12 from Royal Catering has been specially designed for your professional catering needs and complements your equipment at picnics and festivals, as well as in cafeterias and bars or even at swimming pools. The modern design of this kitchen appliance optimally shows off drinks. It is easy to use, and the durable and resistant materials mean that it is the perfect device to use in a busy household.
Voltage / Frequency
230 V / 50 Hz
Temperature range
-2 ÷ - 3°C
Material, container
BPA-free polycarbonate
Cooling agent
R404a / 530 g
Dimensions (LxWxH)
50 x 62 x 81 cm
Shipping dimensions (LxWxH)
55,5 x 66,5 x 98 cm
Download PDF
Download PDF
Slush maker machine RCSL 3/12
Mounting equipment
Instruction manual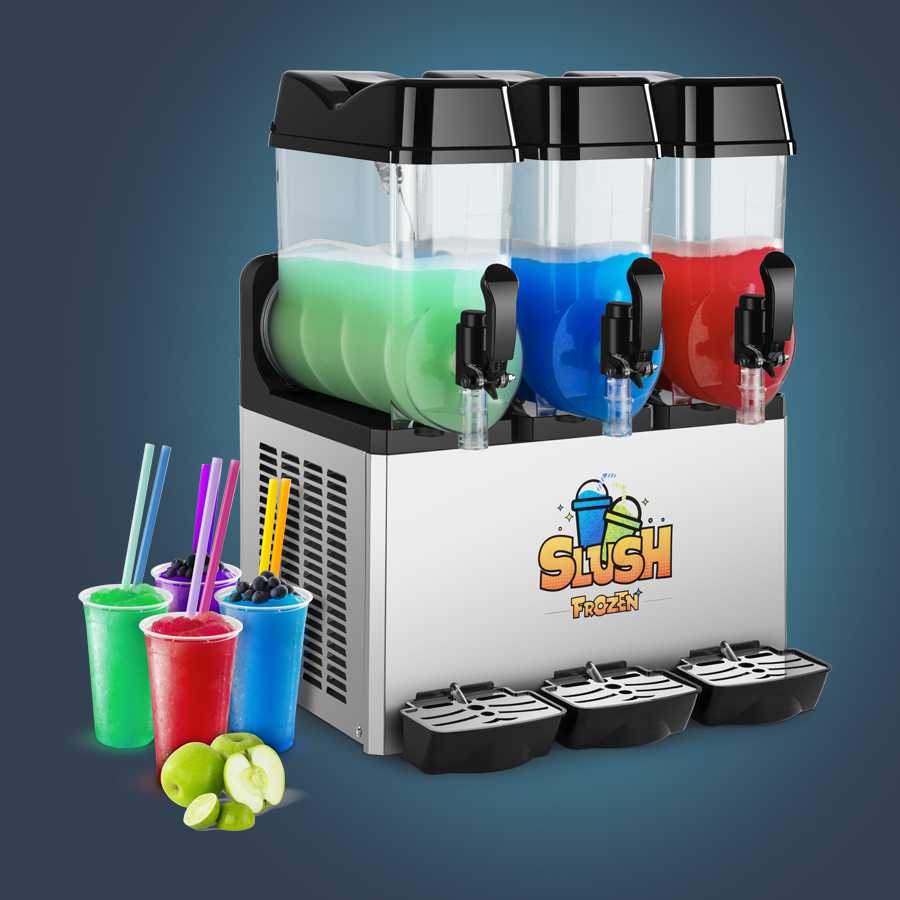 Very large capacity of 36 L
Freeze, cool and serve drinks
Ideal for slushies, juices, shakes and cocktails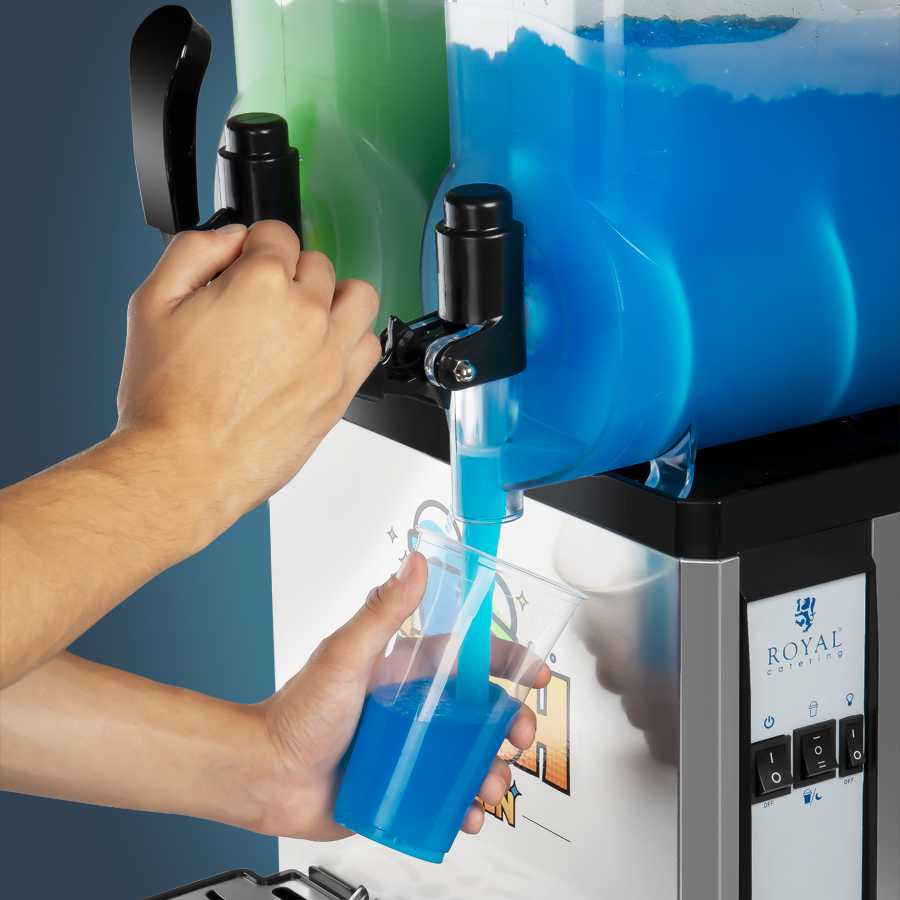 Ergonomic taps for easy serving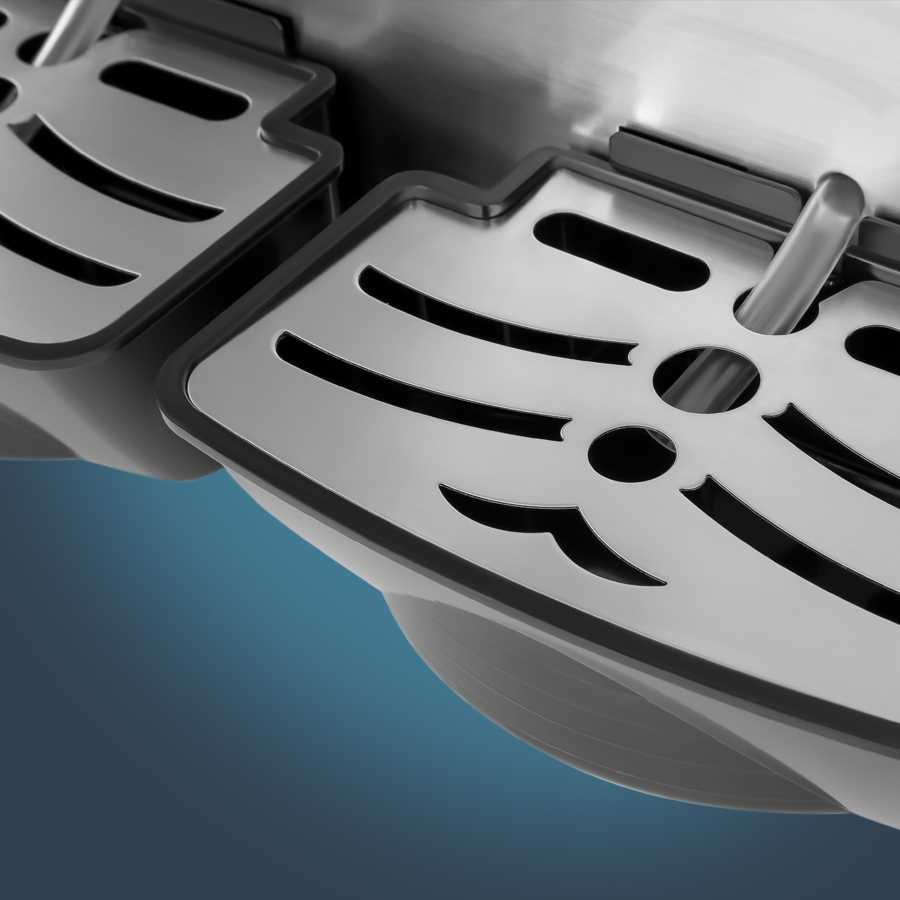 Drip tray for easy cleaning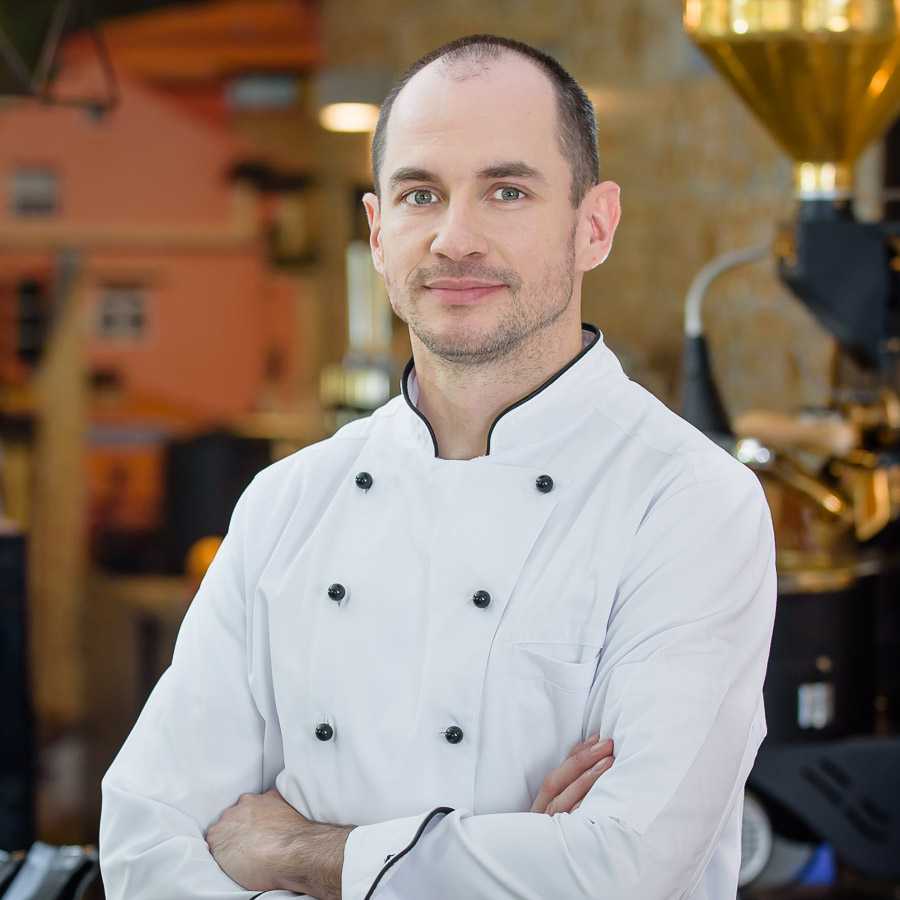 Tested by Artur Siwiec, head pastry chef of prestigious hotels and restaurants in Berlin and Warsaw. A professional with 20 years of career experience.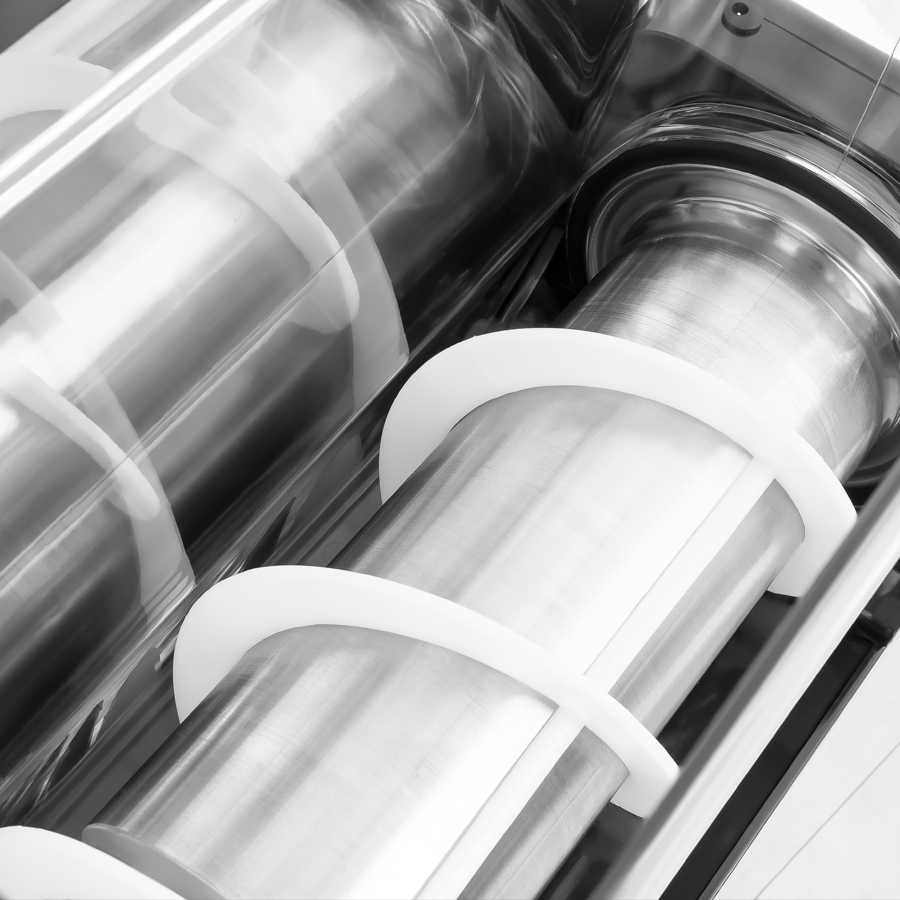 Mixer maintains slush consistency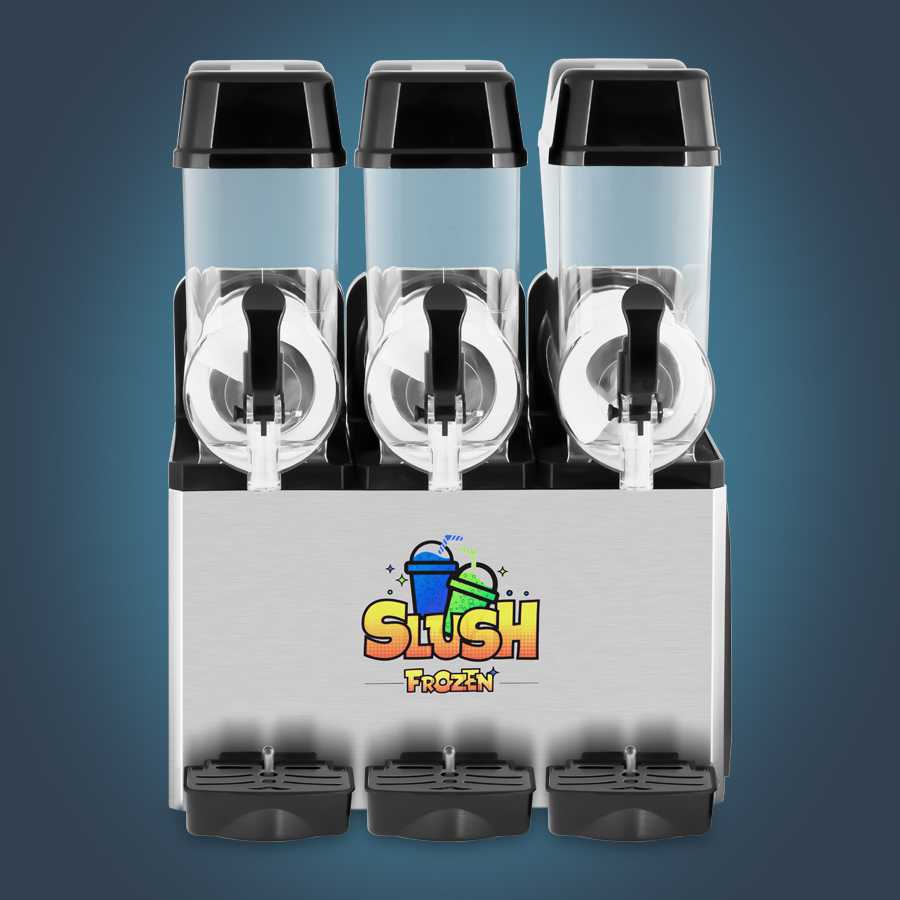 Efficient work cycle of 8-12 hours
3 tanks for different flavours of drinks
Made of durable polycarbonate
PRO TIP
Fruit slushed ice is a good basis for drinks -- just add some rum or vodka.
Many recipes call for adding sugar and water to the slushed ice, which is actually unnecessary. Just use fruit juice and perhaps ginger, for example.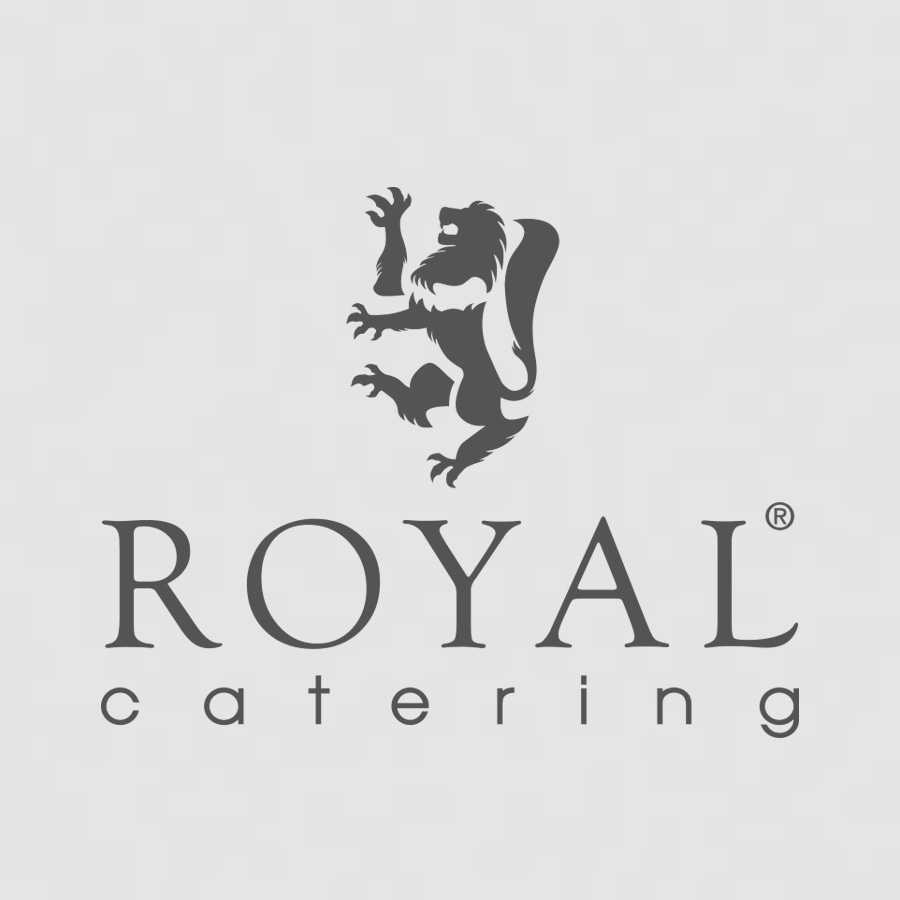 Fresh slushies every time at -2 to -3 °C
Attractive display thanks to transparent containers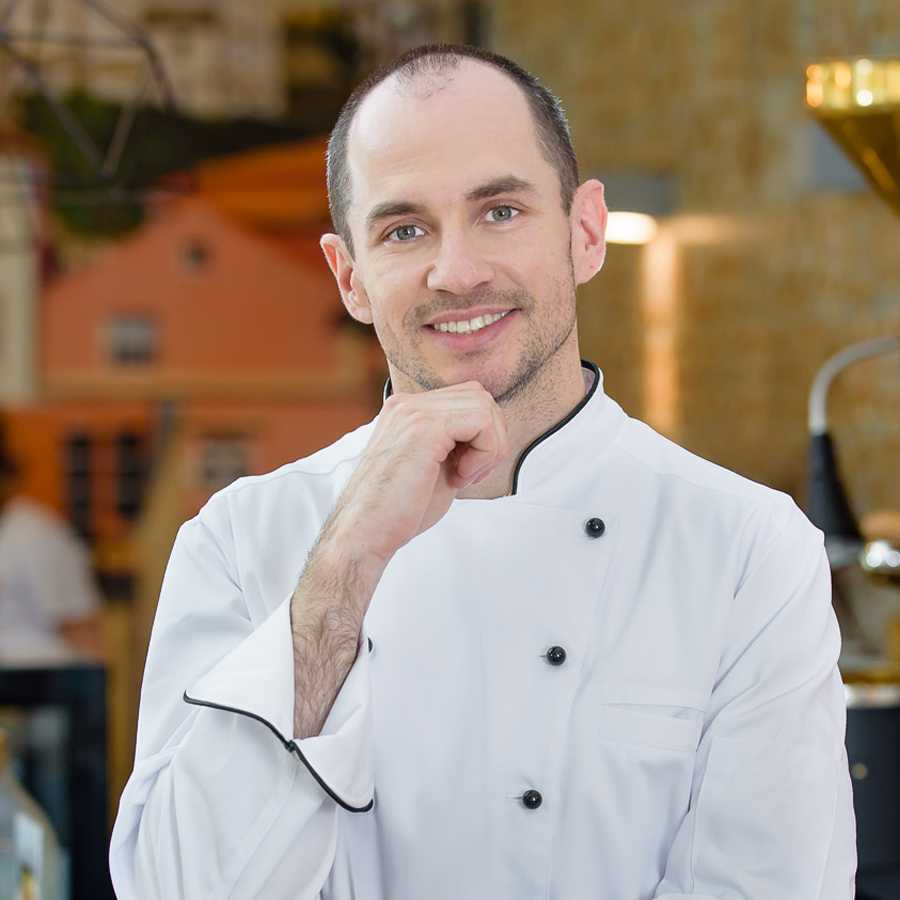 Reviews from Michal Expondo Expert (25 Mar 2019)
Not just for kids!
Frozen margaritas or daiquiris are every bartender's worst nightmare when they have to be made from scratch every time. Thanks to the slush machine, now you can keep these popular frozen drinks prepared and serve them up in the blink of an eye. You can freely adjust the temperature and consistency to your specifications. That's why I recommend the slush machine not only for ice cream parlours, but also for high-end bars.
Head chef of prestigious restaurants in Sydney and Warsaw. An experienced and professional restaurateur
How long can the machine operate?
The machine has been designed for a long operation. It has a duty cycle of 8 to 12 hours.
Is the device easy to use?
The devices from other competitors are often difficult to operate. However, operating the slush maker machine from Royal Catering is extremely easy – you only need to use two buttons! All the other processes take place automatically.
What do I do in case the device is no longer functional?
We offer our customers a 3 years guarantee, as well as provider services across the whole of the European Union. Should you have any queries, do not hesitate to contact us!
★
★
★
★
★
Write the first review for this product
---
---
Leave a review (5 stars is highest, 1 is lowest)
★
★
★
★
★
Click on the link sent to your e-mail address and confirm your opinion! It will be published after verification.
Still not sure?
Our experts are ready to help!
Mon - Fri 09:30am - 04:30pm
This product
Capacity: 3 x 12 litres

Power: 980 W engine

Temperature range: -2 to -3 °C

LED lights

BPA-free
Slush Maker Machine - 3 x 12 L - LED
Capacity: 3 x 12 litres

Power: 980 W engine

Temperature range: -2 to -3 °C

LED lights

BPA-free