Popcorn machine - Red Roof
Manufacturer: Royal Catering | item number: EX10010087 | Model: RCPR-16E
High-powered - due to 1,600 W for up to 5 kg of popcorn per hour
Incl. accessories - Delivery includes measuring spoon and shovel
Operative safety - Teflon coating, mixing system and overheat protection
Convenient - comfortable operation with interior lights
Easy to clean - Stainless steel construction and well thought out design
Popcorn machine – POP, POP, POP!
What's red, retro and an absolute eye-catcher? The popcorn machine RCPR-16E from Royal Catering! Its upbeat design and perky red enamelled roof are sure to be a hit, not to mention it's heated, has an illuminated chamber, a stirring system and an automatic thermostat. This popcorn machine is powered by 1,600 W and reaches the operating temperature quickly thanks to its high-performance values and automatic thermostat. You can produce as much as 16 L of popcorn per hour (about 5 kg/h). Whether you are making white or yellow popcorn or making different flavours of popcorn – this popcorn machine makes anything possible.Best of all, the pot is Teflon-coated and prevents the popcorn from burning. It has a diameter of 18,5 cm and a depth of 5,8 cm and can be removed for easy cleaning. Our recommendation for crunchy popcorn: Use coconut oil, as it can withstand temperatures of 240 °C without burning.This popcorn machine is also easy to clean because of its high-quality stainless steel, which is highly robust and totally food safe. For events, parties or a night on the sofa, this popcorn machine is just what you need!
Material, casing
Stainless steel, tempered glass
Material, heating element
Aluminium
Capacity
5 - 6 kg/h (16 l/h)
Temperature range
220 - 270 °C
Functions
POWER & LIGHT
HEAT
TURN
Amount per serving
Corn: 150 g
Sugar: 50 g
Oil: 50 ml (Coconut oil recommended)
Pot, diameter
Top: 18,5 cm Bottom: 16 cm
Length, power cable
1,7 m
Dimensions (LxWxH)
56 x 42 x 76 cm
Shipping dimensions (LxWxH)
61 x 47,5 x 81 cm
Download PDF
Download PDF
Popcorn machine RCPR-16E
Popcorn shovel
Measuring cup
Kettle
Light bulb
Instruction manual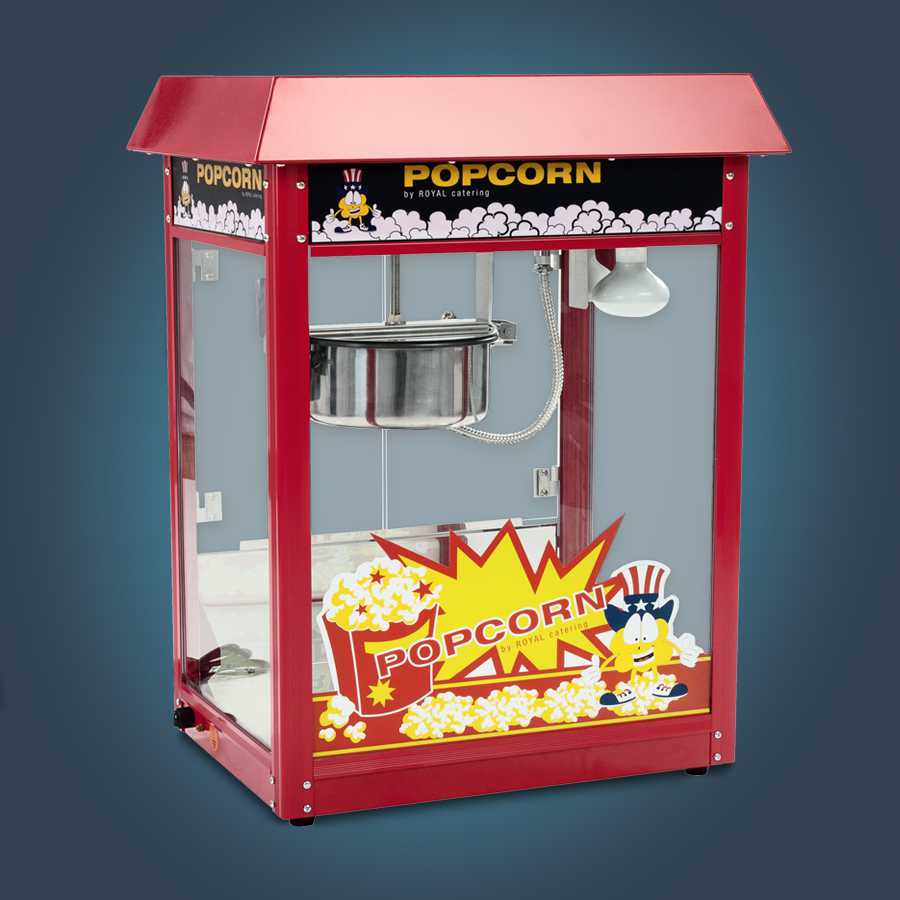 a capacity of up to 5-6 kg of popcorn per hour
very high power of 1.600 Watts
excellent popcorn presentation thanks to the lighting and the panes made of hardened glass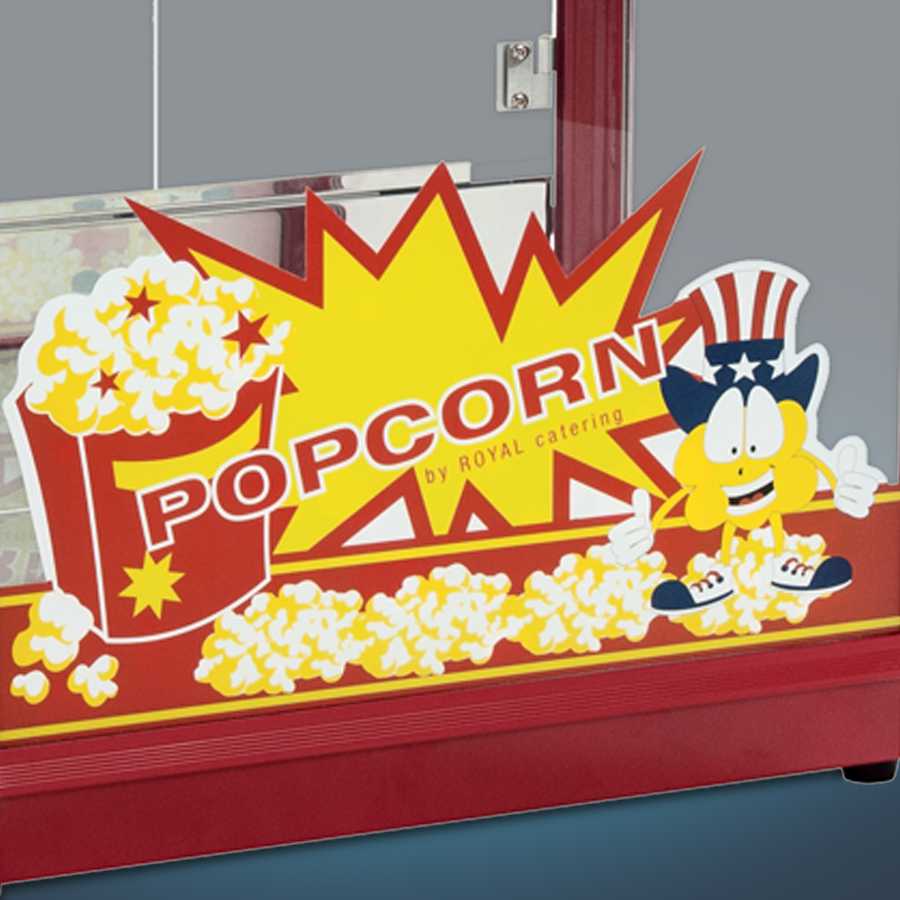 the american design catches the customers' eyes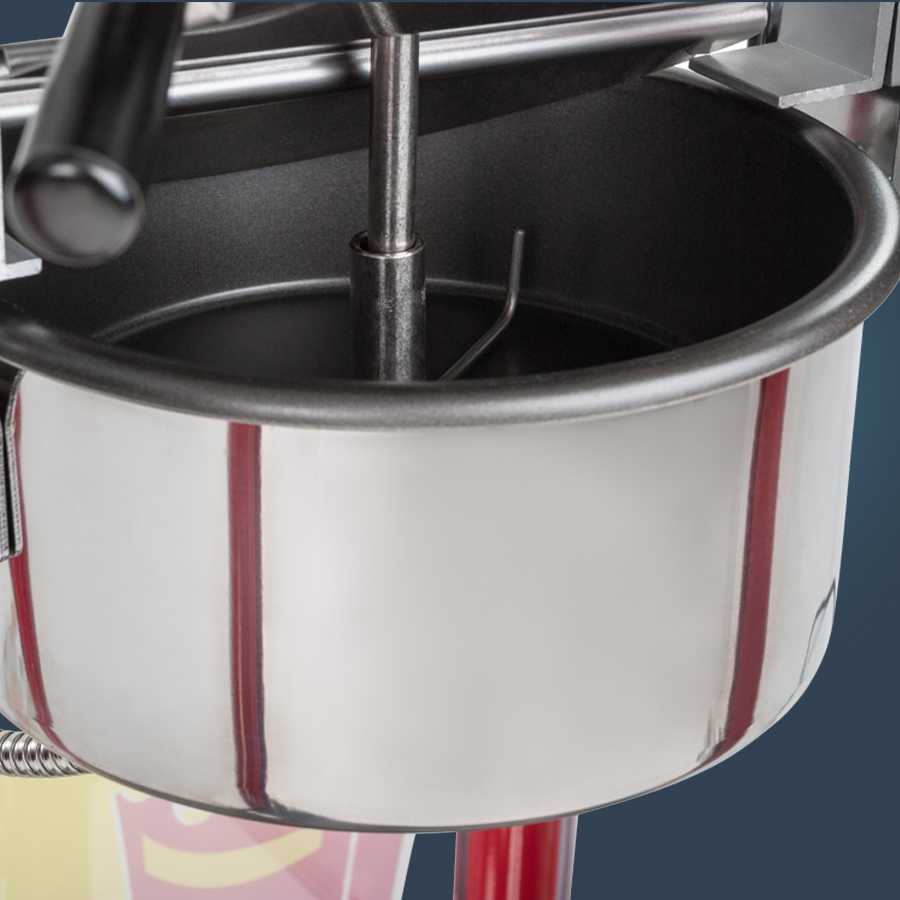 the large kettle with anti-stick Teflon is very easy to clean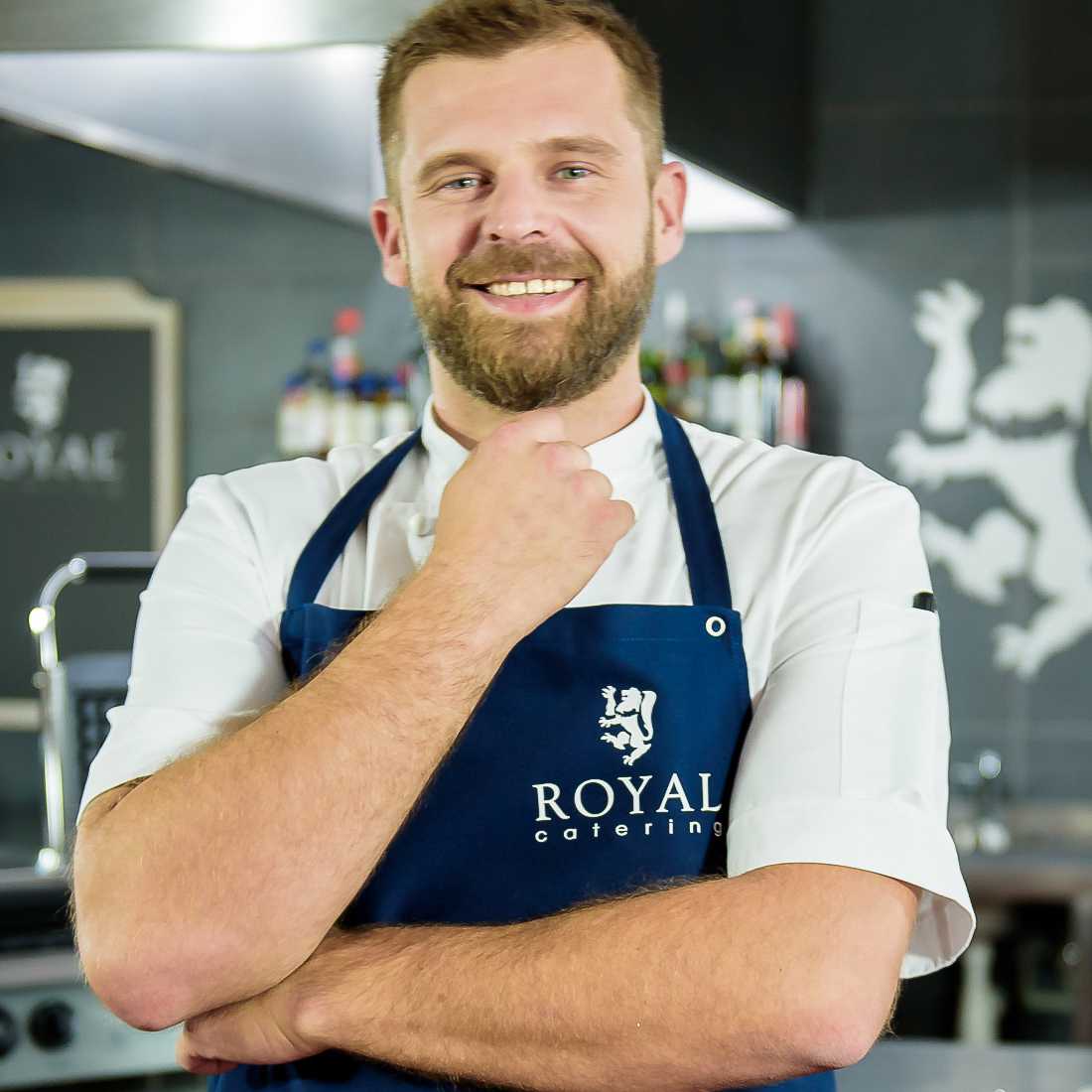 Michał Orłowski
Culinary expert, head chef for renown restaurants in Sydney and Warsaw. A professional, just like our customers.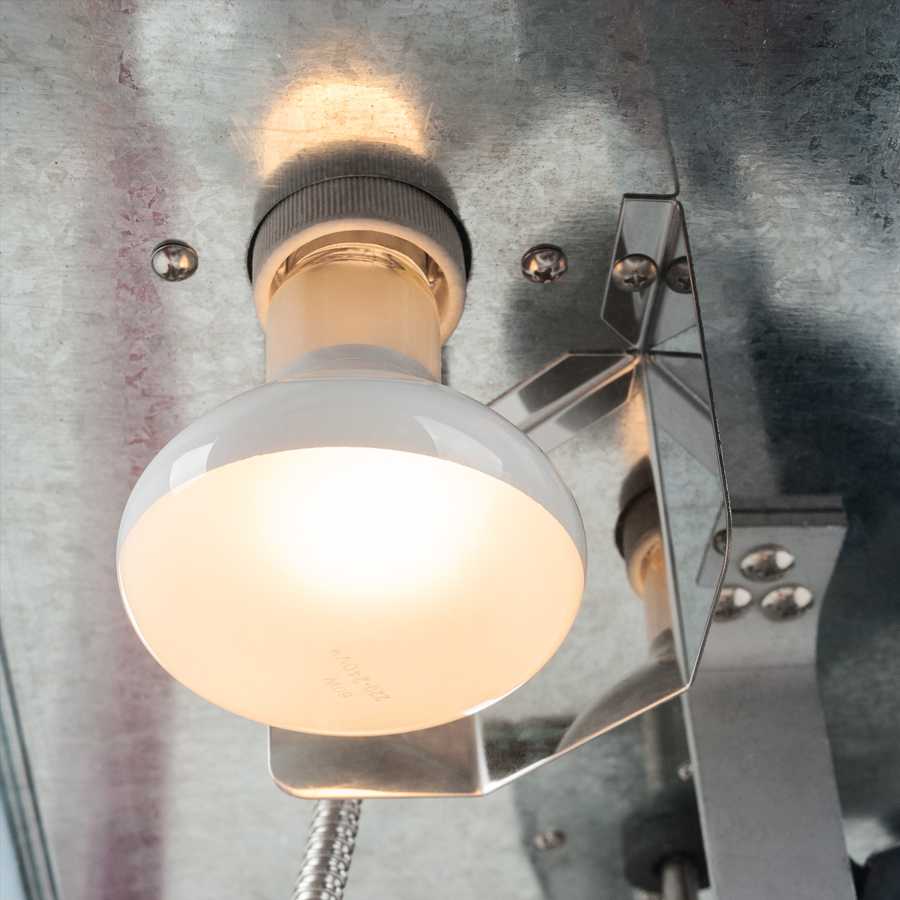 the attractive lighting especially impresses after dark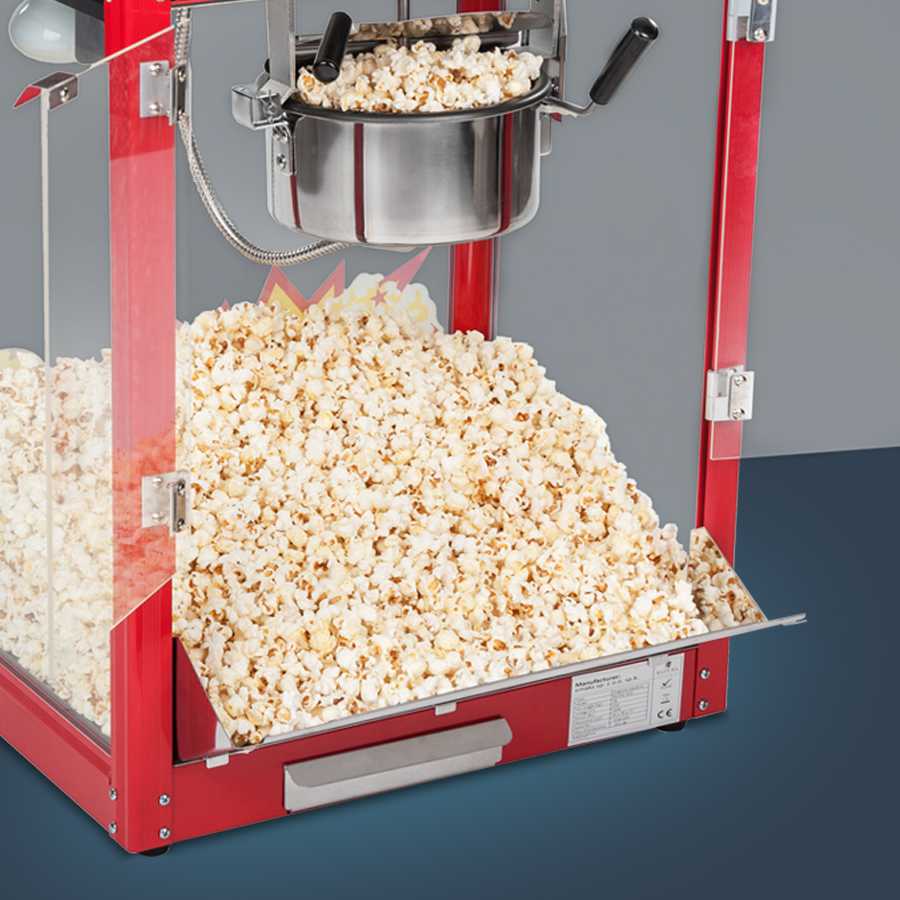 the automatic thermostat quickly reaches the operating temperature
a stable, hardened glass for safety in crowded places
the roof guarantees comfort outdoors
PRO TIP
If you want to prepare delicious, crunchy popcorn, use coconut oil with a spoon of salt per 50 ml.
To increase your flavourful attractivity, we recommend you to experiment with mixed spices. Your popcorn will then taste unique.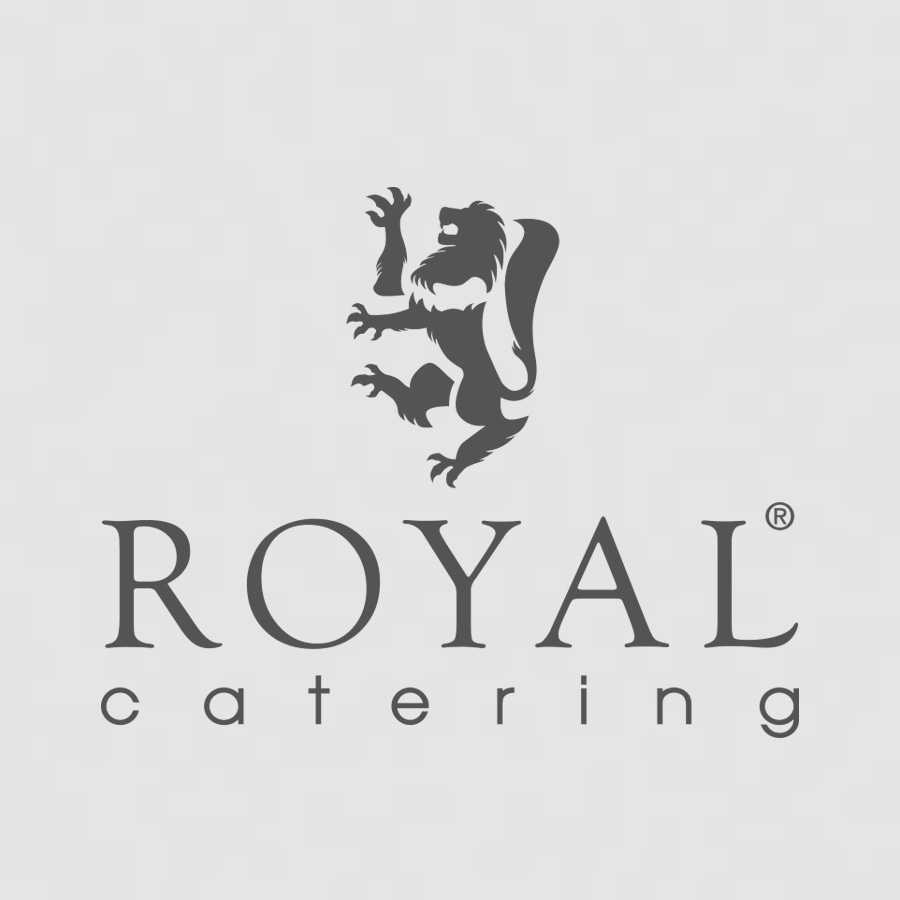 the practical shovel enables you to quickly fill the kettle with popcorn
with the measuring cup you can measure a portion of maize in a few hand movements
the practical drip tray makes cleaning easier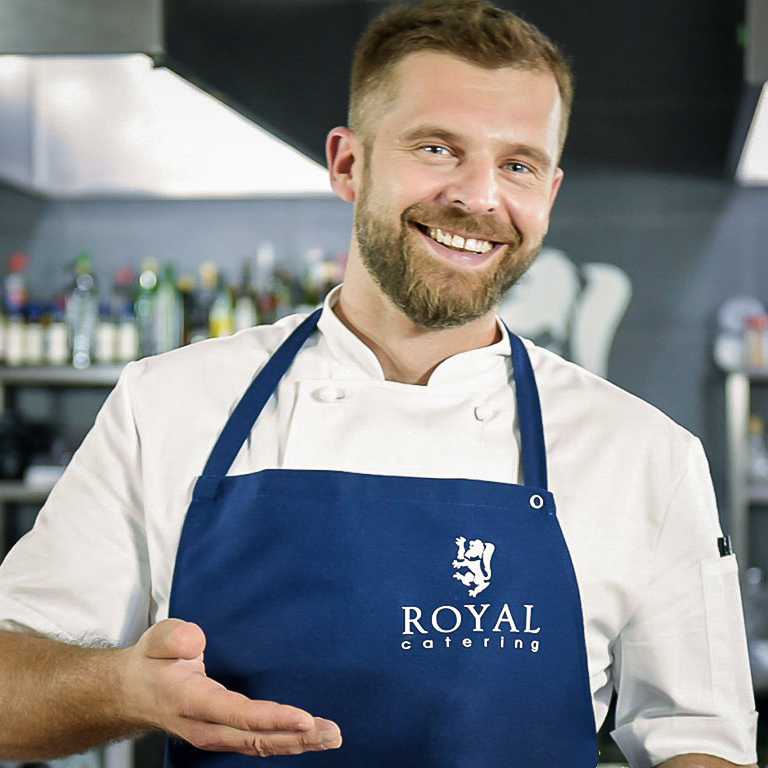 How long does it take to prepare one serving?
It takes about 2 minutes to prepare a portion of 150 g corn kernels.
How should the device be cleaned?
Turn off the machine and disconnect the plug from the socket to prevent accidents during the cleaning. For external cleaning use a damp cloth. Do not clean the machine directly with water, as this may damage the electrical functions.
---
Sort by...
---
Leave a review (5 stars is highest, 1 is lowest)
★
★
★
★
★
Click on the link sent to your e-mail address and confirm your opinion! It will be published after verification.
Reviews from Felici e Contenti (23 Nov 2021)
Reviews from Felici e Contenti (23 Nov 2021)
macchina popcorn
Ottimo prodotto presa per la mia attivita, facendo noleggio di gonfiabili ho pensato di offrire un servizio maggiore integrando una macchina per popcorn e una per lo zucchero filato e la proposta ha dato subito i suoi ottimi risultati, uso abbastanza intuitivo sono pienamente soddisfatto del prodotto
Reviews from María Guadalupe Zavala (26 Sep 2021)
Reviews from María Guadalupe Zavala (26 Sep 2021)
Palomitera excelente
Fue un envío rápido , perfectas condiciones, muy buen producto, especial para nuestra necesidad
Reviews from Amazon Customer (19 Nov 2019)
Reviews from Amazon Customer (19 Nov 2019)
Tolles Ergebnis
Zufrieden mit der Ware
Reviews from Amazon Customer (22 Sep 2019)
Reviews from Amazon Customer (22 Sep 2019)
perfekt
Komplett die Erwartungen erfüllt
Reviews from Amazon Customer (13 Sep 2019)
Reviews from Amazon Customer (13 Sep 2019)
ottimo prodotto
come da descrizione
Reviews from Amazon Customer (6 Jun 2019)
Reviews from Amazon Customer (6 Jun 2019)
Facile
Ottimo
Reviews from Amazon Customer (5 Jun 2019)
Reviews from Amazon Customer (5 Jun 2019)
Super Maschine, tolles Preis-Leistungs-Verhältnis!
Alles in allem eine super Maschine, das Popcorn schmeckt super, sie ist leicht zu reinigen, und das Preis-Leistungs-Verhältnis ist auch richtig gut! ihr bekommt aber dieselbe Maschine bei expondo für 185 €.
Reviews from Amazon Customer (20 Dec 2018)
Reviews from Amazon Customer (20 Dec 2018)
Hot Dog da professionisti
La macchina è ottima e la consigliamo a chi fosse interessato
Reviews from Amazon Customer (27 Oct 2016)
Reviews from Amazon Customer (27 Oct 2016)
Geilomat!
Wat'n Teil! Im Ernst, am Anfang war ich etwas skeptisch, zumal ich beim Auspacken gleich Glassplitter im Innenraum fand. Aber diese waren scheinbar Rückstände eines Unglückes beim Verpacken. Auf jeden Fall war und ist alles heil und funktioniert super.Scharfe Kanten konnte ich nicht feststellen. Das einzige, was man vielleicht machen sollte, ist die Halterung des Topfes genauer zu betrachten und evtl etwas "nachzubiegen"; denn mir ist einmal der Topf während des Vorganges aus der Halterung gesprungen und das ganze Fett hatte sich schön an die Scheiben verteilt. Grund war, das der Deckel sich beim Aufpoppen des Popcorns irgendwie verklemmte und dadurch den Topf aus der Halterung zwang. Aber das war ein einmaliges Ding.Die Popcornmaschine verrichtet ihren Dienst perfekt und der Geschmack wir von allen geliebt ..."...besser als im Kino..!" ist nur eine Aussage!
Reviews from Amazon Customer (29 Sep 2016)
Reviews from Amazon Customer (29 Sep 2016)
Buon rapporto qualità/prezzo per uso semi professionale
Buona macchina per pop corn per uso semi professionale:MATERIALI: realizzata con materiali solidi e di qualità. Tutta la scocca è in resistente metallo e la verniciatura a polveri è molto resistente.FUNZIONAMENTO: la macchina è semplicissima da usare e grazie ai tre tasti è possibile isolare le varie funzioni che comprendono luce e riscaldamento dei pop corn fatti, riscaldamento della pentola, rotazione delle pale per mescolare i semi. Una volta avviata la macchina basta chiudere il coperchio e mano a mano che si espandono i semi vengono espulsi. Quando smettono di scoppiare basta sganciare il pentolino (che ruota di 90°) e tutto il contenuto si svuota velocemente.PULIZIA: la macchina si pulisce facilmente, grazie alle superfici in vetro, il fondo in acciaio inox con dei fori per racogliere sale e semi non scoppiati in un cassettino, e il pentolino con fondo antiaderente.Il venditore è lo stesso che gestisce lo store online ufficiale della royal catering, quindi massima affidabilità e serietà.In definitiva posso consigliarla per medi quantitativi e per l'uso in piccole fiere o sagre di paese.
Reviews from Amazon Customer (7 Aug 2016)
Reviews from Amazon Customer (7 Aug 2016)
Top Maschine, super Preisleistungsverhältnis
Streßtest bestanden.... Ich hab die Maschine vor einer Woche bekommen, zwei mal daheim Popkorn gemacht, meine Kids waren begeistert. Einfach wie in der Anleitung. 150g Mais, 50g Zucker und 50ml Öl in den Topf geben. Los geht's. Einkleiden Tip. Sobald es zu Poppen aufhört sofort auskippen sonst verbrennen sie. Gestern hatten wir ein Firmenfest, Ca. 300 Leute und viele Kids. Die Maschine war 6 Stunden im Dauereinsatz, wir haben 8kg Popkornmais verbraten Ca. 180 kleine Tüten. Hat alles perfekt funktioniert. Lampe ist leider durchgebrannt, aber das kommt halt mal vor. Preisleistung ist top, gute Verarbeitung. Reinigung paßt auch. Topf kann man ausbauen und einweichen. Ich kann die Kiste nur weiterempfehlen.
Reviews from Amazon Customer (15 Jan 2016)
Reviews from Amazon Customer (15 Jan 2016)
Sehr schön...
Wirklich eine tolle Maschine...Schnelle Lieferung, einfach "aufzubauen" tolles Ergebnis...Leider war die Maschine für uns etwas zu groß & schickten "Sie" problemlos zurück!Super weiter Empfehlung!!!
Reviews from Amazon Customer (6 Jan 2016)
Reviews from Amazon Customer (6 Jan 2016)
Ganz gut aber leider...
Ganz gut, leider hängt der Topf zu hoch das einfüllen von Maiskörnern Zucker und besonders von Öl ist dadurch erheblich beschwert. Nach jedem gebrauch besonders den Topf und den Rührer von Zucker gut reinigen da der Rührer stark mit Zucker verklebt und die Beschichtung von dem Topf durch kratzen beschädigt. Der Topf wird sehr heiß mann sollte wenn der Mais anfängt zu popen die Temperatur abstellen und nur den Rührer anlassen, sonst verbrennt der Mais der auf dem Boden vom Topf liegt. Sieht aber sehr schön aus, die Lieferung war sehr schnell und die Machine ist ohne Beschädigung bei mir angekommen
Reviews from Amazon Customer (23 Sep 2015)
Reviews from Amazon Customer (23 Sep 2015)
ottimo prodotto
questa macchina è davvero simpatica è bello vedere l'acquirente dei pop corn che si ferma a guardare incuriosito il funzionamento e la sua struttura attira le persone ad acquistarla. per la ns assiciazione di volontariato in due uscite si è già ampiamente pagata.
Reviews from Amazon Customer (11 Jun 2015)
Reviews from Amazon Customer (11 Jun 2015)
Toll
Wir hatten die Maschine zwei Tag a 8 Stunden im Dauereinsatz und ich muss sagen, dass Popkorn war sehr lecker. Die Maschine macht klasse Popkorn und ist für diesen Preis einfach unschlagbar, würde Sie sofort wieder kaufen.Bis auf die Reinigung, da muss man ein bißchen schrauben und auseinanderbauen, aber nach 16 Stunden ohne Pause ist das mehr als annehmbar.
Reviews from Amazon Customer (1 Jun 2015)
Reviews from Amazon Customer (1 Jun 2015)
Fazit durchwachsen...
Kürzlich wurde diese Maschine zum Gebrauch auf Schulfesten in einer Grundschule erworben.Der erste Eindruck nach dem Auspacken war durchaus positiv, die mehrfach schon bemängelten scharfen Kanten der verarbeiteten Bleche kann ich bestätigen. Das Risiko, sich hierdurch zu verletzen halte ich jedoch für eher gering, sofern man sich dieser "Gefahr" bewusst ist und insbesondere beim Reinigen der Maschine (dazu unten mehr) entsprechend vorsichtig arbeitet und nicht blind draufloswischt.Wenn man den Preis der Maschine von gut 200 Euro berücksichtigt, muss ich solche Mängel trotz Produktion in Fernost selbstverständlich akzeptieren. Mit ein wenig Schleifpapier ließe sich die Gefahr aber buchstäblich etwas entschärfen.Nach dem ersten Einschalten der Maschine verbreitete diese einen starken "Duft": Ein typischer Elektroneugeräte-Geruch, verursacht durch die Warmhalte-Heizung, der jedoch so intensiv war, dass ich mich trotz 300 Quadratmeter-Werkhalle dazu veranlasst sah, das Gerät nach draußen zu verfrachten, um dort ein "48 Stunden Entstinken" durchzuführen. Auch ein Tribut an fernöstliche Billigproduktion. Nachdem sich der Gestank nach zwei Tagen tatsächlich verzogen hatte, kehrte der Apetit auf frisches Popcorn zurück.Also: Topf gründlich reinigen, anschließend nach Anleitung vorheizen. Erneut starker Geruch nach irgendwelchen verbrennenden Rückständen und Rauch, dies bestärkt mich in meinem Entschluss, die ersten beiden Popcorn-Produktionen und darin enthaltenen eventuellen ungesunden Rückstände direkt zu entsorgen.Die eigentliche Popcorn Herstellung funktioniert tadellos, praktisch alle Körner poppen dank des Rührwerkes. Der Geschmack ist sehr gut, Zucker schön karamellisiert, ich könnte mich glatt reinsetzen... Die stärke der Karamellisierung kann man noch steigern, indem man zuerst Öl, dann Zucker in den Topf gibt, eine halbe Minute wartet und dann erst den Mais hinzufüllt. Korregierend zu dem mitgelieferten Rezept habe ich sowohl Zucker als auch Ölmenge etwas reduziert.Nach dem ersten 2-Stunden-Einsatz auf dem Schulfest die Reinigung: Dies ist eine durchaus zeitaufwändige Angelegenheit. Alles was geht, abbauen. Rührer, Topf, Schublade, Klappe vorne... Alles sollte natürlich so sauber wie möglich werden, vor allem möglichst fettfrei. Denn wenn das Gerät in einem Jahr erneut auf dem Sommerfest benutzt wird, soll es nicht ranzig riechen. Hier zeigte sich, dass dies eine durchaus zeitaufwändige Angelegenheit ist. Bis ich das Ding mit gutem Gewissen einpacken konnte, vergingen 2 Stunden. Fett überall. Wie sich zeigte, sogar unten im Gehäuse, wo sich die Warmhalte-Heizspirale befindet. Zum Säubern kann die Edelstahl Bodenplatte mittels zwei Schrauben entfernt werden. Wo ich einmal beim demontiern war, habe ich auch noch einen Blick in die Elektrobox geworfen, die durch das entfernen eines weiten Bleches zu erreichen war. Mein Urteil als alter Elektriker: Durchaus OK. Hier lüftet sich auch das Geheimnis um die mitgelieferte Ersatzsicherung, die in der Bedienungsanleitung nicht erwähnt wird. Hier kann man diese bei Bedarf auswechseln.Das Urteil Bisher: Absolut OK, aber nicht super, wenn ich Preis / Leistung berücksichtige. Für unsere Schule zu Festlichkeiten geeignet. Für zu Hause? Wohl eher nicht. Hier reicht ein Kochtopf mit Deckel.Für Profis, die Geld verdienen wollen? Eindeutig nein, denn Popcorn herstellen ist genau so wie Geld drucken. Da wird sich auch eine Maschine, die das 20-fache kostet schnell rechnen.Jetzt zum eigentlichen Schwachpunkt: Die Teflonbeschichtung im Topf hat sich im Bodenbereich schon großteils abgelöst. Nicht mit irgendeinem, erst Recht nicht mit falschem Besteck herausgekratzt, sondern Regelrecht weggebrannt. Nach einem Einsatznachmittag.Das ist eine echter Konstruktionsfehler. Ich glaube, hier wäre Edelstahl eher angebracht. Ich unterstelle einmal, dass der Hersteller diese Probelmatik kennt. Aufgrund des Rührwerkes bleibt das Corn ja in Bewegung, daher brennt nichts direkt an - aber schön aussehen tut's nicht. Auf eine Rekalmation verzichten wir erst einmal, denn ein neuer Topf wird in Kürze genau so aussehen.Alles in Allem gibt's 3 Sterne.
Reviews from Amazon Customer (6 Apr 2015)
Reviews from Amazon Customer (6 Apr 2015)
Per ottimi popcorn !!!
Prodotto ben realizzato e dal perfetto funzionamento presenta un look classico ma sempre gradevole ... semplice e pratico nel funzionamento, consigliato.
Reviews from Amazon Customer (5 Feb 2015)
Reviews from Amazon Customer (5 Feb 2015)
Top Maschiene, super lecker, super praktisch, kleine Mängel zu verkraften.
Anfangs habe ich mich extrem Verunsichern lassen von den, scheinbar, schlechten Eigenschaften dieser Maschiene. Aber ich muss sagen das ich nichts davon nachvollziehen kann. Ja, die Kanten und Bleche sind Scharfkantig. Muss man halt vorsichtig sein. Ja, Zucker kann sich in den Topf einbrennen. Muss man halt aufpassen und die Maschiene rechtzeitig abschalten.Aber alles egal, ist eine HAMMER Maschiene. Macht super Popcorn. Das Glasscheiben und Fett schwer zu reinigen sind, ist klar, oder? Aber auch das geht.Alles im allen, sehr zufrieden, zu empfehlen, immer wieder, alles gut.
Reviews from Amazon Customer (18 Aug 2014)
Reviews from Amazon Customer (18 Aug 2014)
Pienamente soddisfatta.
Soddisfatta per la puntualità nelle consegne, qualità della merce ottima.Prezzo adeguato.La consiglio sicuramente.Ho solo riscontrato una leggera ammaccatura sul fondo, sicuramente cagionata, da trasporto.
Reviews from Amazon Customer (7 Jul 2013)
Reviews from Amazon Customer (7 Jul 2013)
Topartikel mit kleinem Fehler
Die Maschine wurde bei einem großen Jugendturnier eingesetzt. Die Maschine überzeugte ungemein. Bis zum Reinigen. Wie von vielen Käufern schon angemerkt, ist der Topf kaum abschließend zu reinigen.
Reviews from Amazon Customer (11 Feb 2013)
Reviews from Amazon Customer (11 Feb 2013)
Fast perfekt...
Hallo,ich habe diese Maschine im professionellen Einsatz getestet - wenn man vorher im Internet eine ansprechende und ausführliche Gebrauchsanweisung sucht, so wird man fündig.Die beiliegende Gebrauchsanweisung ist leider sehr knapp gehalten.Nach dem ersten Einsatz war ich masslos enttäuscht über den schlechten Zustand der Teflonbeschichtung,die durch den Reinigungsvorgang zerstört wurde - habe dann aber anstandslos einen neuen Topfeinsatz bekommen. Nach einer Woche Dauereinsatz ist nun leider wieder eine unansehnliche Verkrustung eingetreten - die mit einem Gastro-Grillreiniger mühelos zu entfernen wäre - was aber schlecht für das Teflon ist.Vielleicht wäre es Herstellerseits doch besser, weiterhin mit Edelstahltöpfen zu arbeiten, da kann mann dann die Verkrustungen ganz easy mit dem o.g. Reiniger aufweichen.Ansonsten bin ich suuper zufrieden - ich benutze echtes Palmfett und Mushroom Popcornmais - und mische die angegebenen Mengen vorher zusammen mit Puderzucker - das poppt!Für diesen Preis bekommt man nichts besseres!
Reviews from Amazon Customer (7 Feb 2013)
Reviews from Amazon Customer (7 Feb 2013)
Top Popcornmaker
Wer richtige Popcorn haben möchte, die wirklich mit Zucker überzogen, also karamellisiert sind - und nicht mit Zucker nur überrieselt werden, sollte unbedingt zu dieser Machine greifen. Hier werden wirkliche Poporn gemacht und nicht nur Puffmeis mit Zuckerstreusel. Von den Ausmaßen ist das Gerät nur noch bedingt Haushalttauglich - jedoch wer gerne einen Kinoabend mit Freunden zu Hause veranstaltet, oder eine Handvoll Zwerge regelmäßig zu Hause herumtoben hat, oder mal öfter für einen Kindergeburtstag eingeplant ist, ist mit dieser Maschine genau richtig bedient. Vom Gewicht her sicherlich nicht einfach unter den Arm zu klemmen, aber immer noch zu zweit locker transportabel. - Es bietet sich also an diese Maschine auf einen stabilen Tisch mit Rollen zu stellen, dann kann man sie ganz einfach nebem dem Fernseher werkeln lassen und am Ende des Kinoabends wieder in die Abstelkammer zurück rollern.Die Maschine ist so groß, das man sich nicht die Hände am Gehäuse verbrennt, wie es bei einigen anderen kleinen Maschinen der Fall ist, wenn man das Popcorn entnehmen will. Von der ganzen Verarbeitung her ist die Maschine noch ihr Geld wert - insbesondere wenn man zuvor einen Preisvergleich anstellt. Wer allerdings Glasscheiben haben will, oder aber Wert auf einheitliche Spaltmaße legt, der muß wesentlich tiefer in die Tasche greifen und wird mit diesem Gerät nicht froh.Von der Reinigung ist die Maschine sehr pflegeleicht, da so ziemlich alles ohne Werkzeug auseinander gebaut werden kann. Die Antihaftbeschichtung im Topf muß allerdings wie rohe Eiern gehandhabt werden, dies ist ein wirklicher - allerdings auch der alleinige - Schwachpunkt der Maschine.Das Popcorn wird sehr schnell von der Maschine erzeugt, das Ladevolumen reicht auch für größere Veranstaltungen aus und wird durch eine Lampe von oben, sowie durch eine Heizschlange von unten weiter warm und knusprig gehalten. Weiterhin kann durch drei Schalter der jeweilige Betriebszustand der Maschine gesteuert werden, Licht mit Heizschlange, Popcorntopf und Rührer im Popcorntopf, so daß man auch das Popcorn längere Zeit noch in der Maschine warm vorhalten kann, ohne befürchten zu müssen, das die Reste im Topf anbrennen.Wer also richtiges Popcorn haben will und durchaus auch mal größere Mengen benötigt, wird an dieser Maschine seine helle Freude haben.
Reviews from Amazon Customer (17 Apr 2012)
Reviews from Amazon Customer (17 Apr 2012)
Tolles Gerät
Hallo zusammen ,ich habe mir das Gerät für unseren Verein gekauft und muss sagen für unsere zwecke voll ausreichend.Nach dem ich es erhalten habe testete ich es in meiner Familie (5 Kinder).Es war durch und durch positiv bewertet .Handhabung sehr einfach,Reinigung könnte leichter gehen.Geschmack sensationell.Mit der Rezeptur in der Anleitung kann man nichts verkehrt machen.Popcorn sollte nicht das billigste sein, weil bei den billigen nicht alle poppen.
Still not sure?
Our experts are ready to help!
Mon - Fri 09:00am - 04:00pm