Meat Slicer - Ø 300 mm - 280 W - up to 15 mm
Manufacturer: Royal Catering | item number: EX10011512 | Model: RCAM-300EXPERT
Powerful—efficient operation thanks to powerful 280 W motor and high speed of 312 rpm
Effective—excellent cutting results thanks to sharp blade measuring 300 mm in diameter
Precise—steplessly adjustable slice thickness from 0 to 15 mm
Practical accessories—integrated semi-automatic blade sharpener
Safe—sturdy construction with four anti-slip rubber feet and blade protector
Just one slice more-the high-performance meat slicer from Royal Catering
Whether it's sausage, cheese or boneless meat—there's nothing that the professional meat slicer RCAM-300EXPERT from Royal Catering's catering equipment selection can't precisely cut into thick or thin slices. And thanks to the anodised and polished aluminium, the commercial meat slicer is effectively protected against corrosion, easy to clean and meets international hygiene standards.
The high-performance multi-purpose meat slicer from Royal Catering's butchers equipment line
The powerful 280 W electric motor provides a speed of 312 rpm and ensures extremely fast and precise cutting results. As a result of this powerful performance, the sharp round blade with a diameter of 300 mm glides even through hard cheese as if through butter. You can adjust the deli slicer's cutting thickness from 0 to 15 mm using the high-quality aluminium dial so you can offer your customers and guests everything from wafer-thin ham to thick and hearty slices of salami. The device can process pieces of sausage and cheese up to 20 cm wide and up to 20,5 cm tall.
The carriage is equipped with a low-friction, quiet ball and slide bearing to facilitate your daily work with the deli slicer. This allows you to guide the carriage past the rotating blade with minimum effort. The angle of the commercial meat slicer exerts optimal pressure on the item being cut. The round blade is made of special knife-grade steel which stands out for its sharpness and durability. For safety, the cutting edges are equipped with an effective blade protector to minimise the risk of accidents. Technical highlight: You can easily regrind the blade without having to laboriously dismantle the device using the semi-automatic blade sharpener which is integrated into the top of the deli meat slicer.
Other safety features include: The robust construction and the four anti-slip rubber feet guarantee stability and secure footing while cutting. They also prevent scratches to the work surface. The large power switch is intentionally installed on the side of the device so that it can be reached quickly and easily even in an emergency.
Voltage / Frequency
230 V / 50 Hz
Material, housing
Aluminium (polished and anodised)
Material, blades
Special blade steel
Material, handles
Plastic, aluminium
Cutting thickness
0 - 15 mm (infinitely variable)
Blade sharpening unit
Integrated, semi-automatic
Bearings
Slide and ball bearings
Max. cutting length
200 mm
Max. cutting height
205 mm
Dimensions (LxWxH)
57 x 46,5 x 44,5 cm
Shipping dimensions (LxWxH)
53 x 62 x 51,5 cm
Download PDF
Meat slicer RCAM-300EXPERT
Instruction manual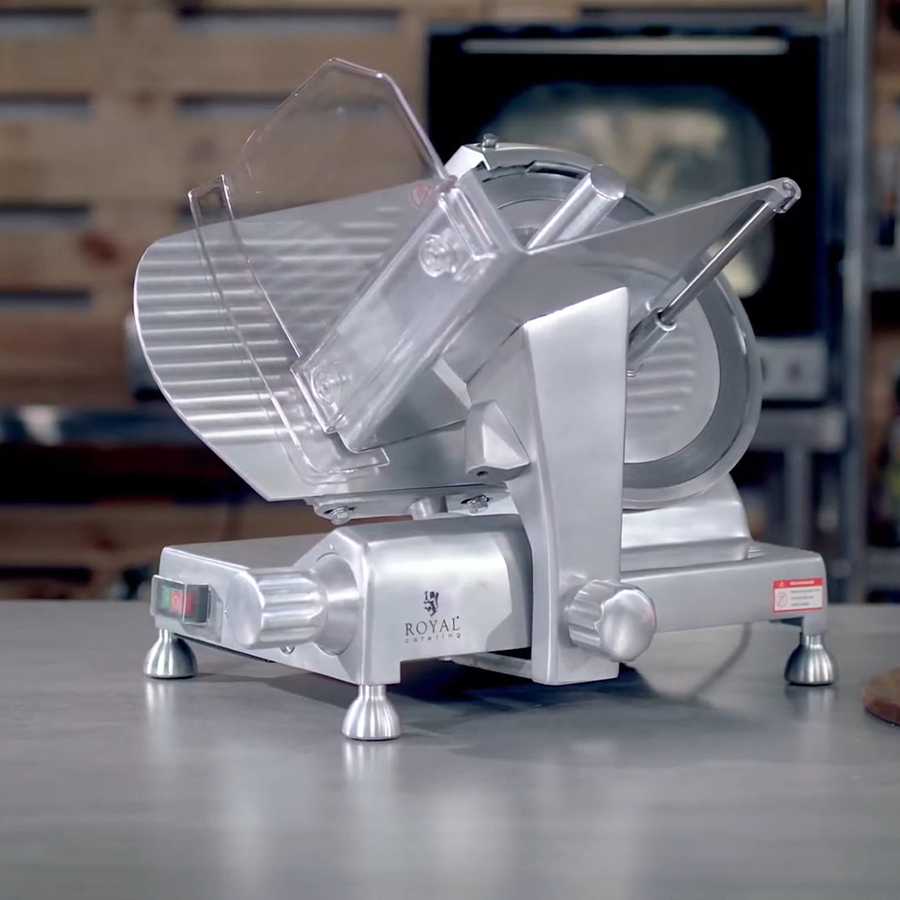 Efficiency: 280 W output for rapid work
Large cutting discs measuring 200 x 205 mm
Perfectly suited for sausage, meat, cheese, etc.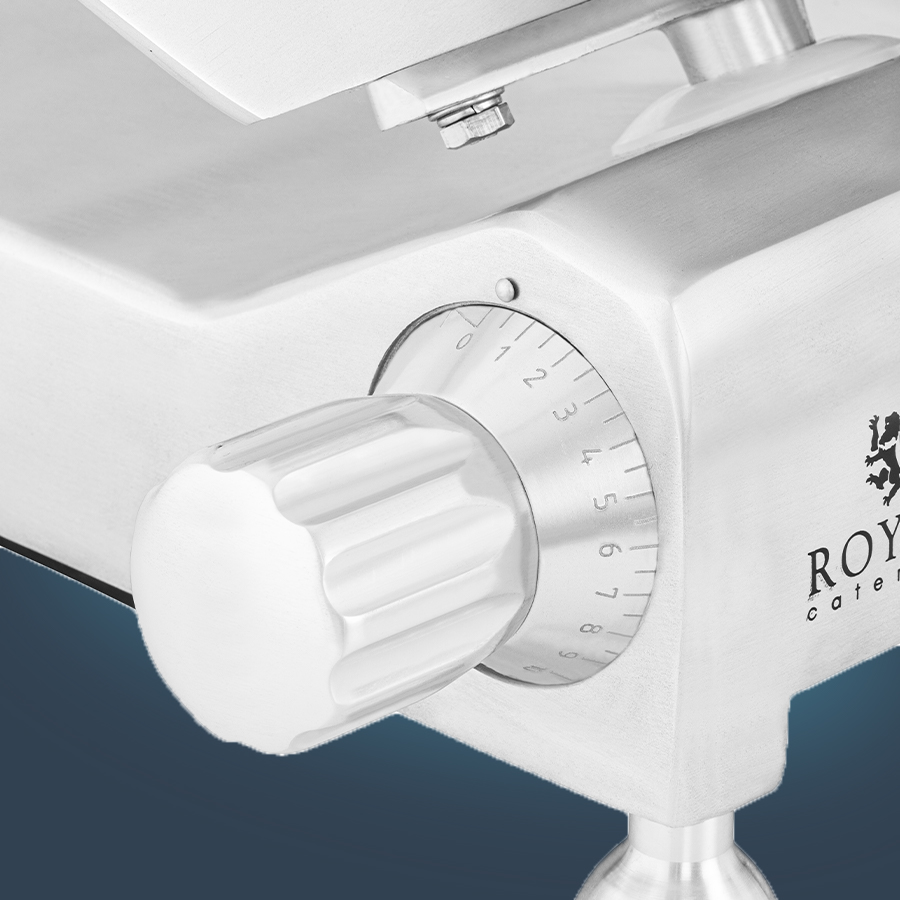 Cutting regulator with easy-to-read scale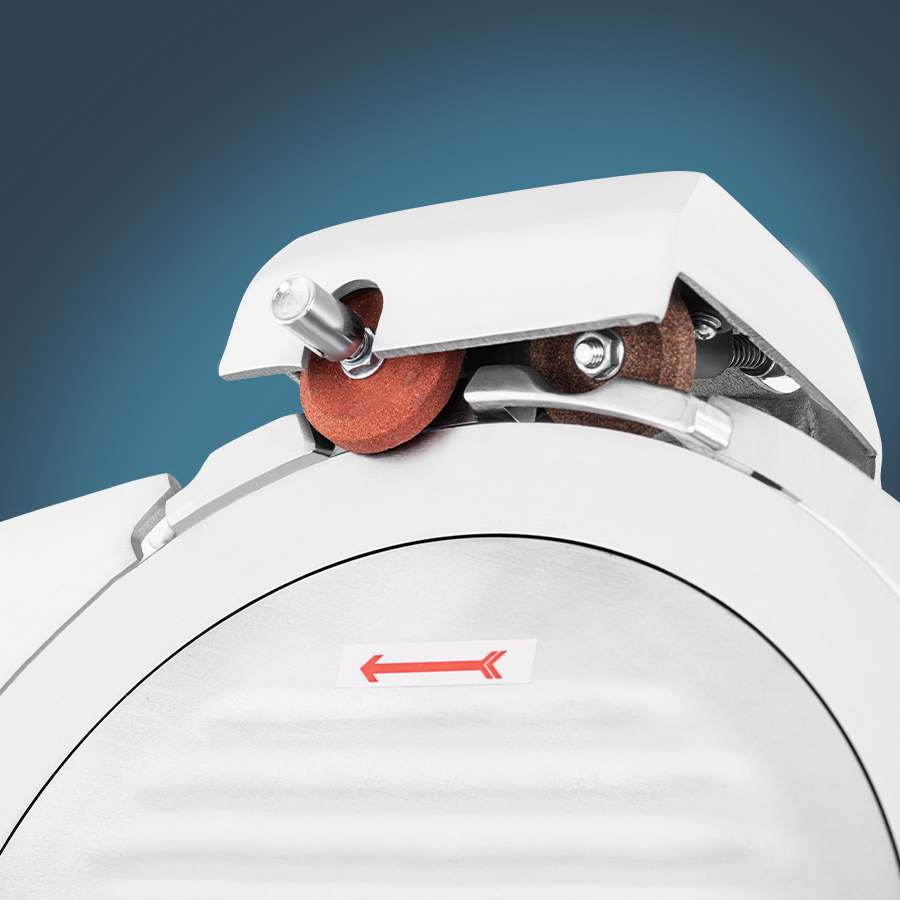 Practical built-in sharpener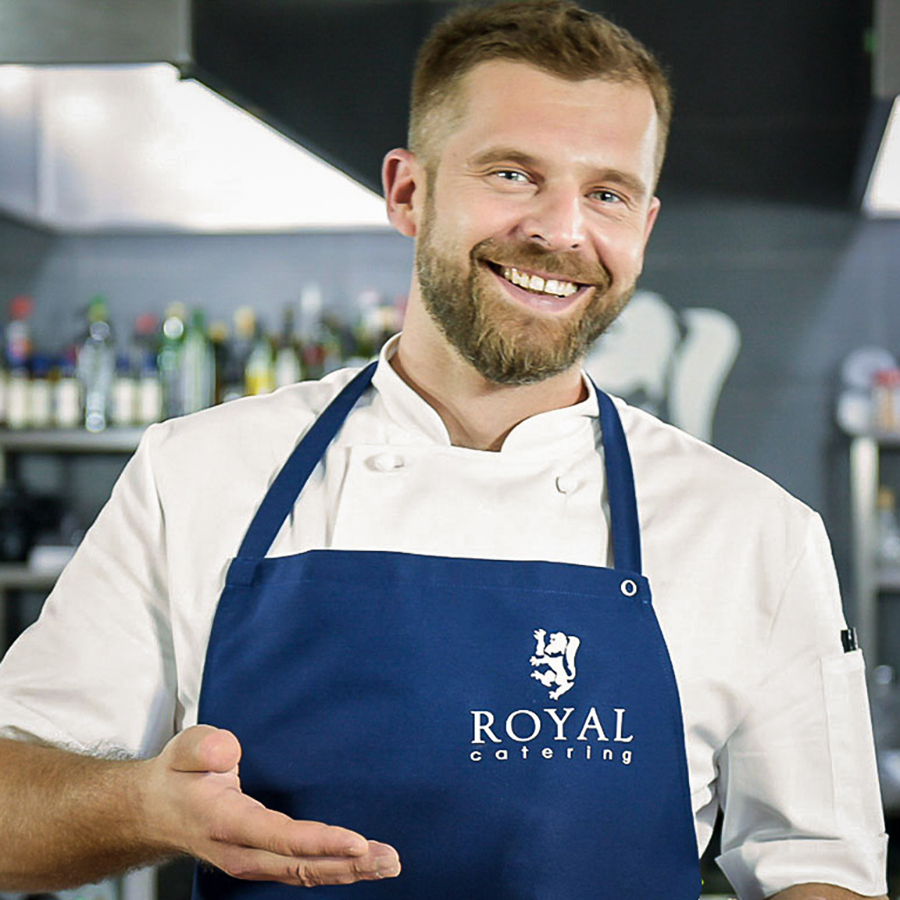 Tested by Michał Orłowski, head chef of prestigious restaurants in Sydney and Warsaw. An experienced and professional restaurateur, just like our customers.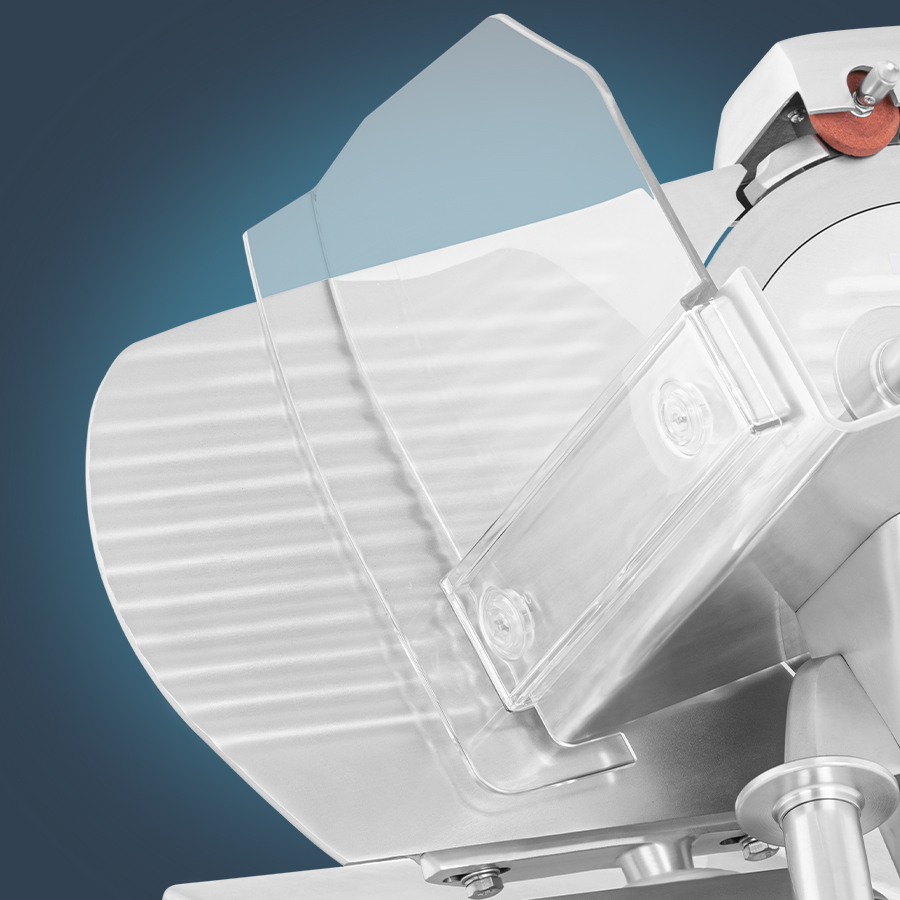 Cover ensures cleanliness in the workplace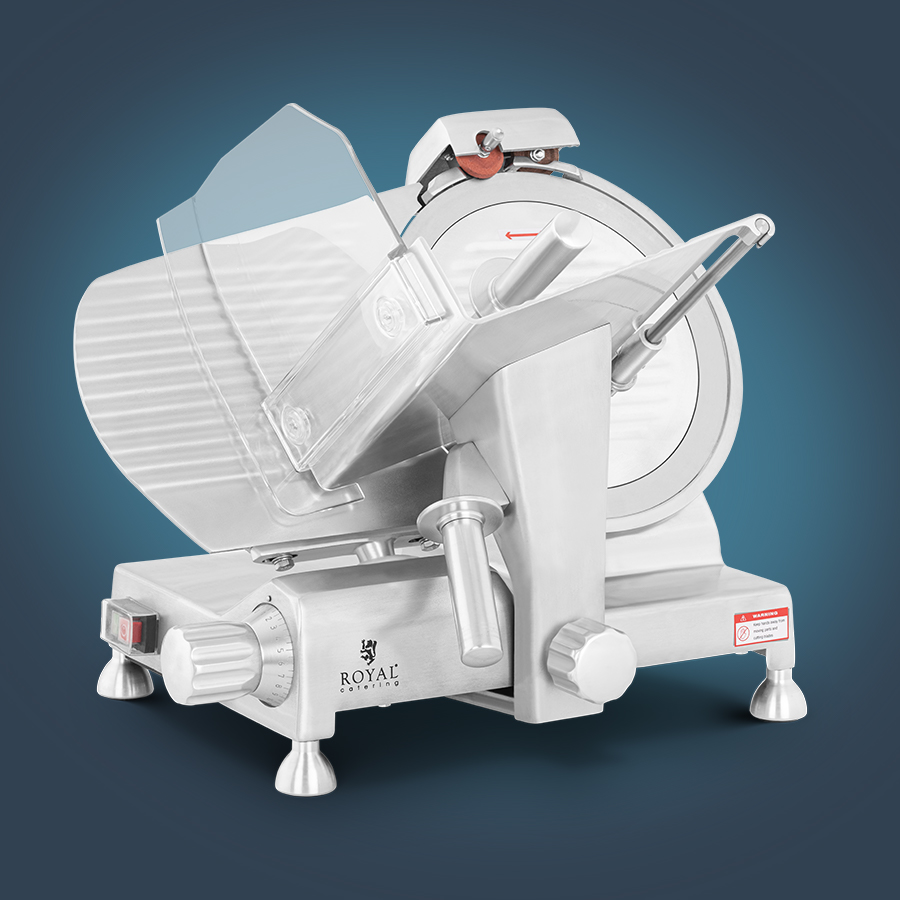 Easy cutting thanks to electric drive
Safe cutting with pusher
4 non-slip feet stabilise the device
PRO TIP
I sharpen the blade regularly to ensure that the slices have even, smooth edges.
I thoroughly wash any parts that come into contact with food. It's also a good idea to lightly lubricate moving parts with oil.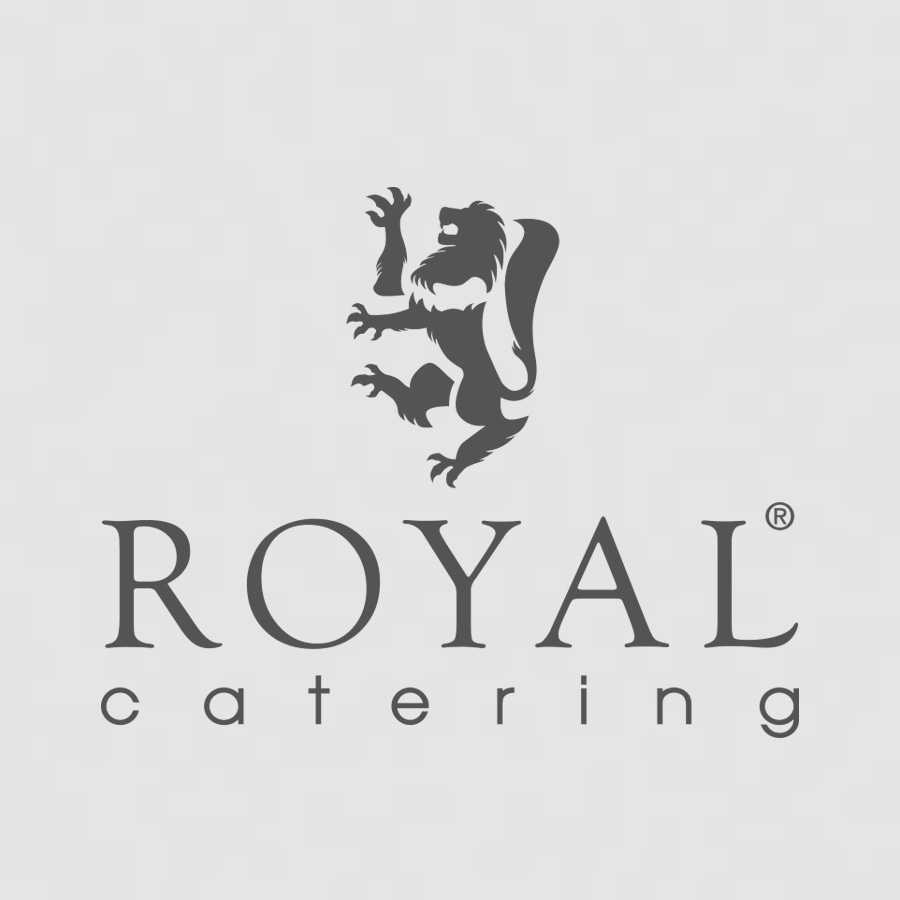 Precise adjustment of the cutting thickness from 0-15 mm
Compact device made of lightweight aluminium
Comfortable cutting thanks to practical handle
How do I sharpen the blade?
This high-quality meat slicer is equipped with an integrated semi-automatic sharpening unit on which the blade is sharpened.
Is this device easy to clean?
Yes, the meat slicer is very easy to dismantle and clean.
Can I adjust the thickness of the slices?
Thanks to the continuous adjustment you can choose a slice thickness from 0 to 15 mm.
★
★
★
★
★
Write the first review for this product
---
---
Leave a review (5 stars is highest, 1 is lowest)
★
★
★
★
★
Click on the link sent to your e-mail address and confirm your opinion! It will be published after verification.
Still not sure?
Our experts are ready to help!
Mon - Fri 09:00am - 04:00pm
This product
Knife: Ø 300 mm

Output: 280 W

Cuts: 0 - 15 mm

Speed: 312 rpm

Blade sharpener
This product is currently not available.
Meat Slicer - Ø 300 mm - 280 W - up to 15 mm
This product is currently not available.
Knife: Ø 300 mm

Output: 280 W

Cuts: 0 - 15 mm

Speed: 312 rpm

Blade sharpener